Key points:
The Osmosis crypto is a unique automated market maker protocol.
Most analysts are bullish on OSMO tokens over the next five years.
The token's current price is attractive as it could be about to bottom.
Osmosis is a blockchain network that claims to be an automated market maker (AMM) protocol that facilitates users' creation of bespoke AMMs, unlike other established market makers such as Uniswap and Bancor.

The protocol is unique in that it allows users to create bespoke staking pools, token swaps and governance protocols using a "process of experimentation and rapid iteration", where the crowds' wisdom is the fundamental guiding principle.
The protocol's mainnet was launched in June 2021, and crypto investors received the OSMO coin well. The coin rallied to its all-time highs above $11 in March this year but has lost over 80% of its value in the past three months.
However, the OSMO crypto price shows signs of bottoming as it has been recently trading sideways. Therefore, investors looking to invest in the coin may find its current price quite attractive, but there are no guarantees that they shall not fall further.
The Osmosis price prediction is based on the protocol attracting new users who want to create their staking liquidity pools and automated market maker protocols, which might be smaller crypto investment funds.
If the protocol has a rapid uptake, we could see the OSMO coin rally higher. It currently has a circulating supply of over 282 million compared to its maximum supply of 1 billion tokens.
The protocols have another significant advantage over the more prominent centralised blockchains. It is primarily driven by community governance, where token-holders get a say in what happens within the protocol.
In the past community-driven blockchain projects have done well compared to centralised blockchain projects, which could play a significant role in OSMO's future performance.
Most analysts are bullish on the Osmosis crypto, with analysts at WalletInvestor estimating that the OSMO token will reach a high of $5.74 by the end of 2022. Analysts at GovCapital are more optimistic about the token, with an end year price target of $6.45 and a five-year price target of $44.92.
*This is not investment advice. Always do your due diligence before making investment decisions.
Osmosis crypto price.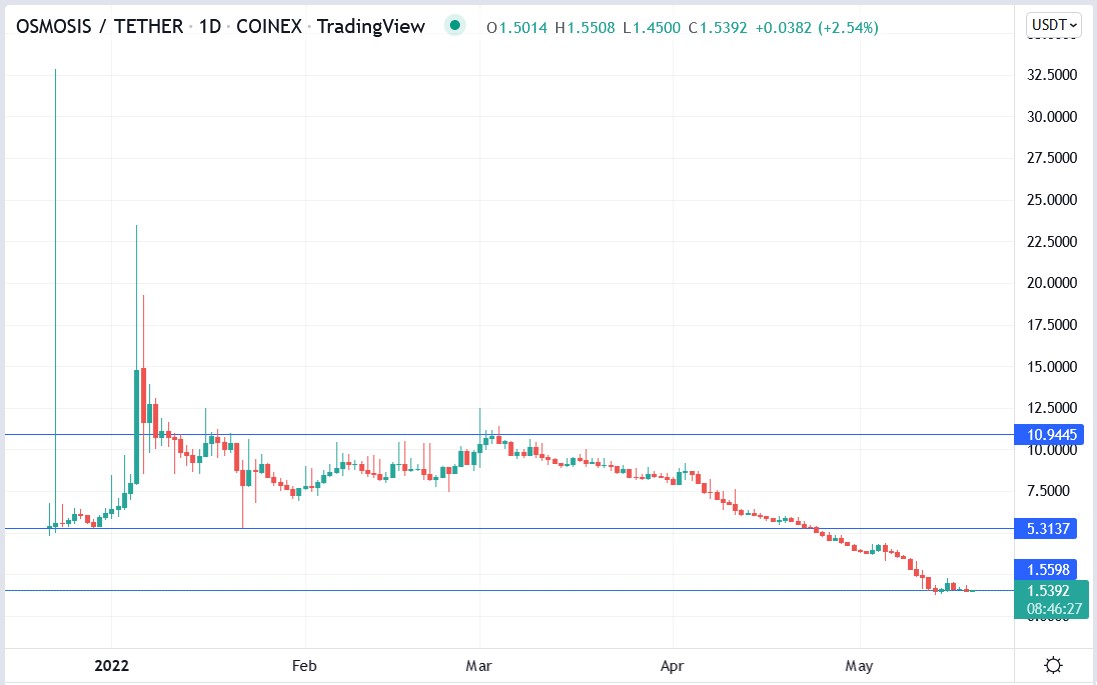 Osmosis crypto price has fallen 73.72% in one month but appears to be bottoming. Should you buy it?