Key points:
Panthera Resources today released impressive gold assay results.
The data was from its Bassala project in Mali, with high-grade gold.
However, investors are worried about the political instability in Mali.
The Panthera Resources PLC (LON: PAT) share price edged 2.61% higher after releasing the latest assay results from the Aircore drilling programme at the Bassala Project in Mali.

The company noted that the results showed high-grade gold deposits at the mine, including 5m @ 2.96g/t Au from 10m, 2m @ >8.00g/t Au from 55m at the end of the hole, 16m @ 0.90g/t Au from 40m at the end of the hole, 5m @ 1.10g/t Au from 5m among other impressive results.
Panthera told investors that it was planning to conduct a deeper RC drilling programme at the mine to define the available gold resources further.
However, Panthera's shares barely moved as investors remained concerned about the political situation in Mali after the military coup leaders led to the departure of French armed forces that has guaranteed the country's stability.
Mark Bolton, Panthera's Managing Director, said: "The current drilling is essentially "geochemical drilling" and has only targeted the upper weathered zone and a very broad line spacing of minimum 200m with holes generally 50m apart. In this respect, the numerous significant intercepts are considered to be highly encouraging."
Adding:
"Almost all of the targets tested are sizeable geochemical targets, many with economic grade intercepts already returned. Many of the intercepts were at the end of drill holes, showing the mineralisation is open at depth and representing excellent targets for deeper drilling."
The miner intends to test the discovered mineralisation via deeper and closer spaced drilling to identify zones with coherent mineralisation and define the proper mining targets.
However, many wonder whether the political instability in Mali will affect the operations of western mining companies such as Panthera Resources.
With French and European forces scheduled to leave the country officially, Mali's military rulers will rely heavily on Russian mercenaries to stay in power. They may have to hand over some of their mines to Russia as payment.
Many diplomats have cited that Russia's involvement in Mali and the broader Sahel region is motivated by the significant mineral resources in countries such as Mali, where multiple companies have recently reported finding significant gold deposits.
I wouldn't buy Panthera shares until there is some clarity about the political situation in Mali and the way forward towards a return to democracy.
*This is not investment advice. Always do your due diligence before making investment decisions.
Panthera share price.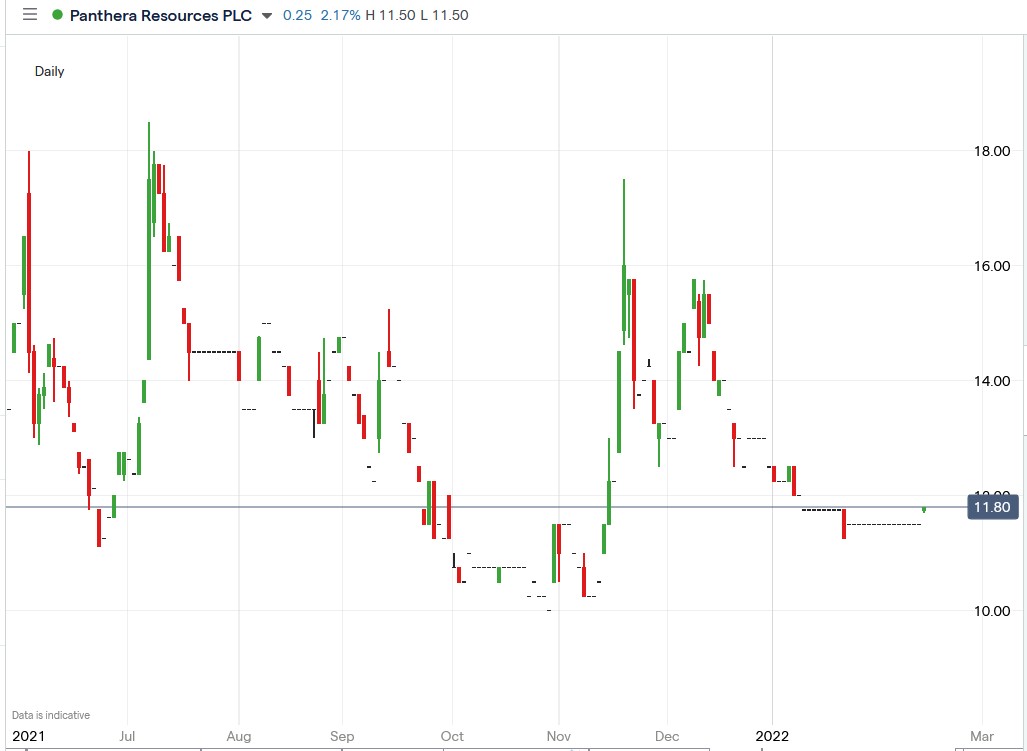 Panthera share price edged 3.91% higher to trade at 11.95p, rising from Wednesday's closing price of 11.50p.