Key points:
Peloton shares plunged after announcing plans to cut 2,800 jobs.
The company also appointed a new CEO and Executive chairman.
Today's plunge is likely to be temporary as the changes are accretive.
The Peloton Interactive Inc (NASDAQ: PTON) share price was trading down 6.25% during the premarket session after unveiling plans to fire 2,800 corporate employees to restructure the company.

The move might shock many of the affected employees, about 20% of the company's workforce, as the former CEO had promised that firing employees would be the last lever he would use as part of the firm's restructuring efforts.
Luckily for the former CEO, Peloton has announced the appointment of Barry McCarthy as its new CEO, while John Foley, the former CEO, will move up the chain to become the company's new Executive Chairman.
Investors will be relieved to see that Foley, who co-founded Peloton together with several colleagues in January 2012, will still have a significant role at the company. He has steered it to its current position over the past ten years.
In my last article on the fitness company, I mentioned that its investors were keen to see the company go private in a deal that values its outstanding shares at a significant premium to their current prices.
We also mentioned that the company could be an acquisition target for several large corporations, including Apple, Amazon and Nike, which have health and fitness units that could be expanded via a strategic acquisition.
Today's slight decline was triggered by news that Peloton intends to slash its annual operating costs by $800 million while also cutting its capital expenditures by $150 million to stay afloat.
Peloton is also expected to cancel plans for a new factory in Ohio after the demand for its stationary bikes and apparel dropped significantly, leading the company to halt production in the recent past.
Despite the adverse reaction to Peloton's multiple announcements, it is evident that the company is serious about restructuring its operations to cut costs and adapt to the changing market environment.
Today's move makes the company a more attractive acquisition or investment target as the drastic changes are likely to pay off significantly for its shareholders in future.
We can now expect to see some genuine interest in the company once it starts implementing the multiple changes announced today.
*This is not investment advice. Always do your due diligence before making investment decisions.
Peloton share price.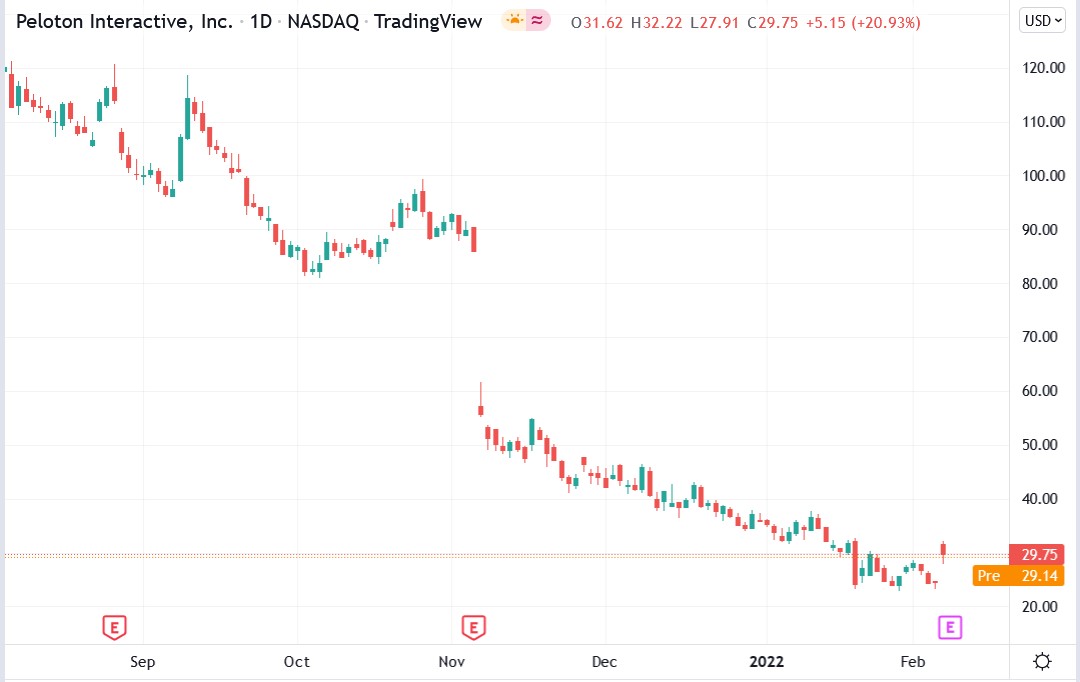 Peloton shares were down 6.25% premarket to trade at 427.89, falling from Monday's closing price of $29.75.