Key points:
The Persimmon (PSN) share price has fallen 16.7% in a week.
The home building company's shares reacted to the BoE rate hike.
So what comes next for the UK housing sector? Read on to find out.
The Persimmon plc (LON: PSN) share price has fallen 16.75% in one week after the Federal Reserve's record-setting 0.75% rate hike. As a homebuilder, Persimmon had enjoyed rising UK home prices since 2020, when demand for new houses skyrocketed as people spent more time in their homes.

The Bank of England has also been hiking interest rates, but on a smaller scale than the US Federal Reserve, after it hiked its base lending rate for the fifth consecutive time on Thursday last week to 1.25%. Some BoE monetary policy committee members advocated for a 0.50% rate hike.
The Swiss National Bank (SNB) also hiked rates by 0.50% catching investors by surprise given its previous dovish stance. The only leading central banks yet to raise interest rates are the Bank of Japan and the European Central Bank. However, the ECB is set to start hiking rates next month.
UK homebuilders are expected to start feeling the pinch as consumer incomes are stretched by the high cost of living and mortgage rates surge driven by the BoE's rate hikes. As a result, the number of buyers in the market is expected to shrink significantly as potential buyers hold off from purchasing new homes.
According to Rightmove, a UK property website, UK home prices are expected to fall, reversing months of consecutive increases. This is why PSN shares have fallen significantly in the past week.
The UK housing market is facing multiple challenges, and the situation will likely worsen. Therefore, the Bank of England must maintain its hawkish monetary policy stance until the record-high inflation figures start falling.
Therefore, investors holding shares of homebuilding companies should prepare for a rough patch, but nobody knows how long it will last,w which primarily depends on central bank policies.
*This is not investment advice. Always do your due diligence before making investment decisions.
Persimmon (PSN) share price.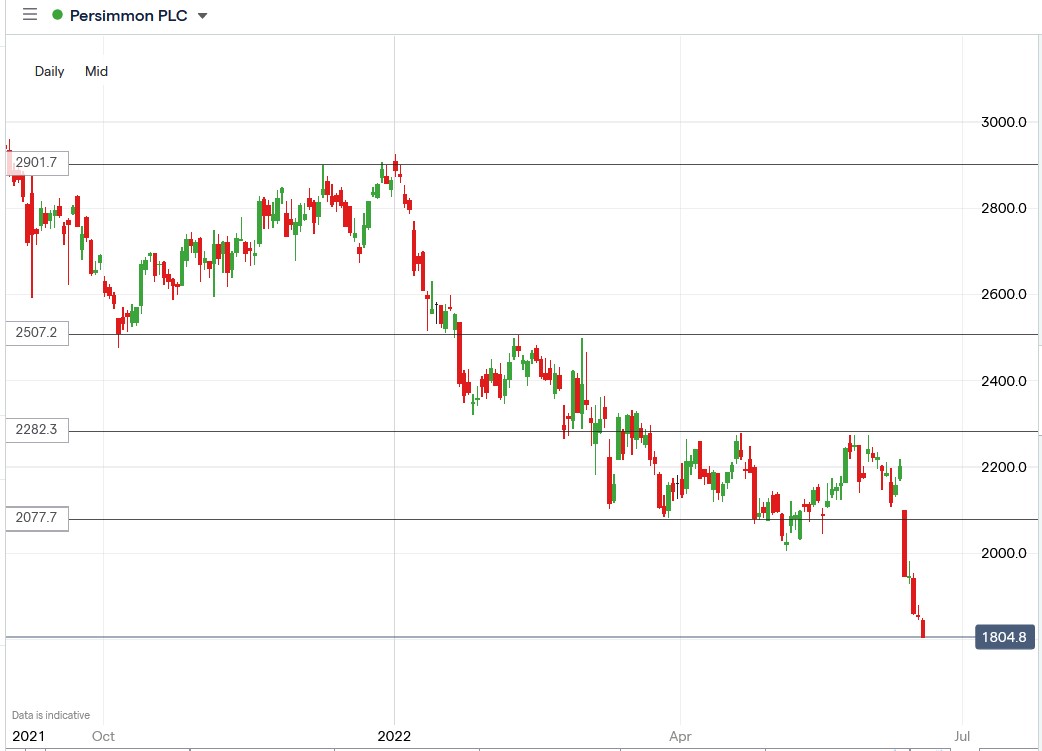 The Persimmon share price has crashed by 16.75% in the past week, bringing its losses this year to 35.51%.