Key points:
Petropavlovsk shares have fallen 91.6% in 2022 and could fall further.
The miner is unable to sell gold to Gazprombank, its off-take partner.
So the company has to figure out a way to keep selling its gold globally.
The Petropavlovsk PLC (LON: POG) share price has fallen 91.6% in 2022, and things are about to get more complicated for the gold mining company with operations in Russia.

Today, the company announced that it was facing a significant challenge after Gazprombank (GBP) was sanctioned by the United Kingdom, European Union, United States, and other countries.
Petropavlovsk has multiple loans with GBP that require Gazprombank to be the sole off-take partner for its gold, which means that it has to sell all its gold via GBP.
However, the recent sanctions have made it impossible for the firm to repay its debt to GBP, including a $560,000 interest payment on a $200 million term loan that was due today.
The gold mining company is currently in discussions with its financial and legal advisors on the way forward regarding its financial relationship with GBP going forward.
The sanctions and asset freeze implemented against Gazprombank prohibit POG from selling any further gold to GBP, leaving the company stuck between a rock and a hard place. Investors will be monitoring the situation closely to see what Petropavlovsk decides to do.
Petropavlovsk investors have suffered immense losses due to the sanctions imposed on Russian companies, including banks and prominent individuals regarded as financiers of President Vladimir Putin and his government.
Luckily, the company has not been sanctioned yet, which means that it can sell its gold to buyers outside Russia, but has to find a way to renegotiate its off-take deal with GBP to survive in the current political environment.
Given that POG shares have recently lost over 91% of their value and are trading at 1.56p, there is little room for further decline. Therefore, the shares could rally higher if GBP allows Petropavlocks to start selling its gold to other non-sanctioned entities.
President Vladimir Putin recently ordered unfriendly nations to buy Russia's oil and gas using Rubles, indicating that nothing was off-limits for the man keen to drag other western countries into the war with Ukraine, which could trigger a global war.
Meanwhile, investors should adopt a wait and see approach towards Petropavlovsk until there is a clear way forward.
*This is not investment advice. Always do your due diligence before making investment decisions.
Petropavlovsk share price.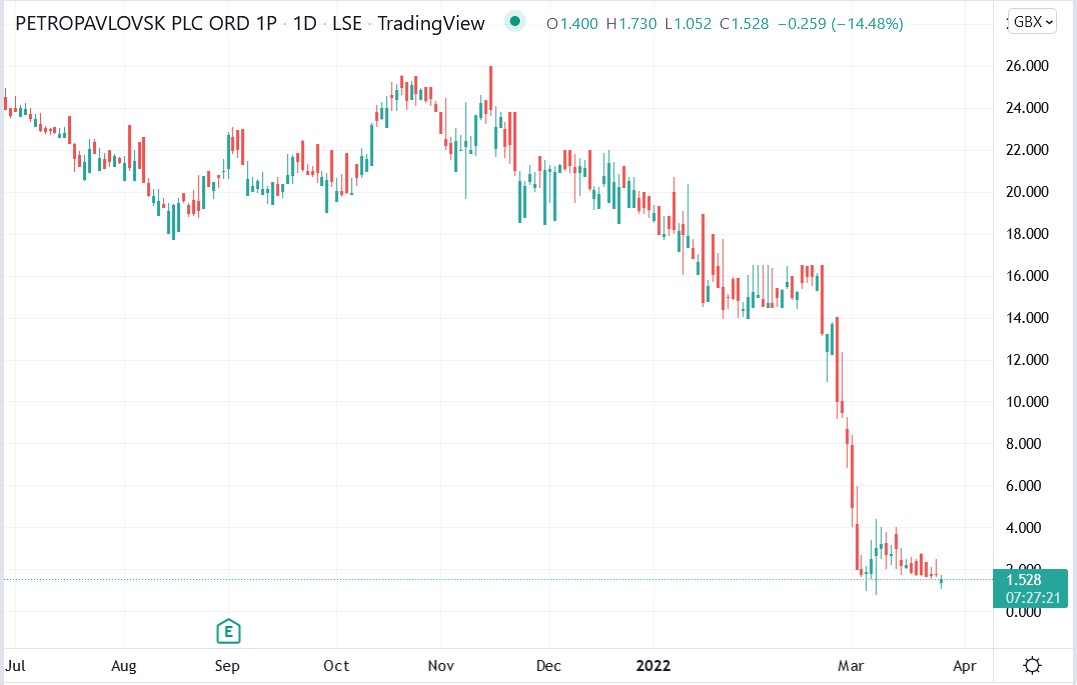 Petropavlovsk shares have fallen 91.64% in 2022 and could be headed lower. Is it a buy?