Key points:
Rainbow Rare Earths is up 13% on an economic report
Some of the assumptions might be a little brave
They key point though is that the Phalaborwa project does look to be economically viable.
Rainbow Rare Earths (LON: RBW) is up 13% on the back of their preliminary economic assessment. This is a report which doesn't prove that the project will make money, but it does give a darn good outline of how it would do so if it does. That is, we've got a description of the process, the resource, the costs of processing and the assumptions being made about output prices. This is a necessary stage in the process of gaining access to the money to actually build the plant and find out whether all those numbers and assumptions are true.

From a technical point of view within these numbers there's good news – the process is by K-Tech for example, who are people who generally do know what they're doing. Somewhat to my surprise at least the process leads directly to separated rare earths – that frees the project entirely from having to use someone else's separation plant. That's excellent news. There's possibly not enough concentration upon thorium but that might just be personal taste talking there.
What could be thought of as more controversial are the price assumptions for the output. Yes, rare earths are quite the flavour of the month but that's why there are so many projects looking to extract them. It wouldn't take all that many succeeding to tip the market into oversupply – possibly at least.
Overall though this preliminary report does show that the project is viable – assuming that we accept all of the assumptions being made.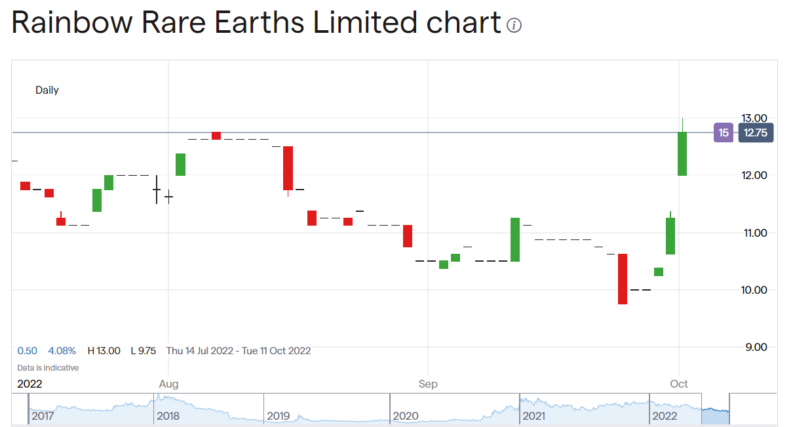 Also Read: The Best Copper And Mining Stocks to Watch in 2022
So far so good and that's why the RBW share price is up today. This is a necessary stage in showing that the project could work. But as we've noted before there's another issue to consider at Rainbow. This at Phalaborwa is not the only phosphogypsum waste pile out there. In fact just about the only hills in peninsular Florida are made of exactly the same stuff, from the same source – fertiliser production. So if Rainbow is able to show economic production in the one place there are many more such "deposits" that could equally be exploited.
This being one of those things – there are two types of mining. One is where a known technique is employed upon the one deposit. The other is where a new technique is developed – that then means there's an entire world to explore again for other such deposits the same technique can be used upon. Success for Rainbow on this one deposit therefore opens up considerable opportunities for the application of the same process elsewhere.
This means that RBW shouldn't be wholly and entirely evaluated upon the numbers from this one phosphogypsum deposit. Rather, we should also be looking at the global supply of the same material and thinking about whether they too could be so exploited.