Key points:
Rivian stock was trading 10.4% lower premarket on Q4 and FY earnings.
The automaker missed its delivery targets and issued weak guidance.
However, analysts and investors are still optimistic about Rivian's prospects.
The Rivian Automotive Inc (NASDAQ: RVN) stock price fell 10.4% after the manufacturer of electric trucks released its Q4 and full-year 2021 earnings report.

The EV truck manufacturer revealed that it delivered 909 vehicles to customers in Q4 2021, bringing its annual total to 920 vehicles.
However, the firm reported a net loss of $4.5 billion for the entire year, with over half of that loss, $2.5 billion in the fourth quarter.
The decline in Rivian's share price was driven by disappointment among investors regarding the EV manufacturer's production ramp-up after it told investors that it expects to deliver just 25,000 vehicles in 2022 due to ongoing global supply chain issues.
However, the number of vehicles it could make umps to 50,000 if the company is not significantly affected by the current global supply chain interruptions, which is quite unlikely.
Recently, the company has had multiple challenges, including the debacle with its planned price hike, which triggered a public backlash after introducing a $20,000 price increase on its vehicles.
Rivian later decided not to implement the new prices on orders placed before  March 1, 2022, after customers who had placed their orders sometimes years in advance complained about the broken trust.
The EV manufacturer is also battling a lawsuit claiming that it intentionally misled customers regarding the actual prices of its vehicles after the recent price increases resulted in many cancellations.
The lawsuit claims that the manufacturer always intended to raise prices and had quoted lower prices to attract clients and boost its market value before raising prices in future. However, it remains to be seen how the lawsuit will turn out since it is in its early stages.
Analysts are still quite upbeat about Rivian's prospects, but they are reconsidering the companies value given its weak deliveries. Still, there is demand for Rivian's trucks; hence, the firm's prospects are still promising.
Meanwhile, Rivian's shares have fallen 60.3% in 2022 and look pretty attractive to long term investors who can wait for the shares to rally again in the next few months.
*This is not investment advice. Always do your due diligence before making investment decisions.
Rivian stock price.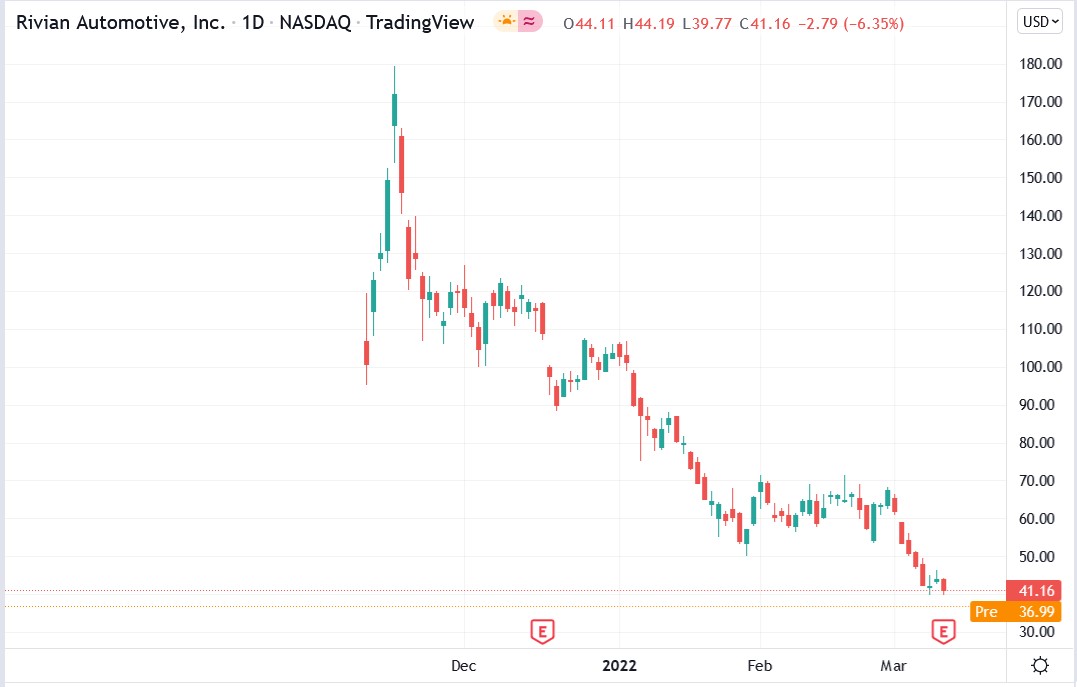 Rivian stock price had fallen 10.37% to trade at $36.89, rising from Thursday's closing price of $41.16.