Key points:
Exxon Mobil's (XOM) stock price has risen 35.9% in 2022.
However, the stock recently pulled back, and many wonder if the rally is over.
So what is next for oil prices and XOM stock?
 Read on to find out…
The Exxon Mobil Corp (NYSE: XOM) stock price has risen by 35.9% in 2022, driven by rising oil prices.

However, XOM stock recently pulled back sharply, making some investors wonder if the rally is over and what could be next for the oil major.
The situation between Russia and Ukraine has accelerated the recent rally in oil stocks, but that was not the only trigger behind the rising oil prices.
For years now, big oil companies such as Exxon Mobil have come under significant pressure from shareholders to reduce their environmental impact by investing more in renewable energy sources while cutting down on their oil investments.
The companies bowed to investor pressure and cut their carbon emissions by shutting down their less profitable wells and exiting entire regions such as the UK black sea to reduce their carbon emissions.
However, after the pandemic hit, many thought it would suppress demand for commodities and other consumer items. Still, many were shocked to see a spike in demand leading to a massive shortage of chips to make consumer electronics.
Given that many people could not fly to other countries, oil demand spiked higher as people turned to travel by road as their primary mode of transportation, leading to higher demand for oil.
After the oil price crash that occurred shortly after the pandemic stuck in April 2020, oil prices rose steadily amid high demand and have not stopped rising since then.
Oil prices have rinse from a low of $16 on April 27, 2020, to their current highs, and many are now betting that oil prices will reverse course.
We have billionaire investors such as Carl Icahn selling their entire stake in the oil company Occidental Petroleum. At the same time, Berkshire Hathaway leader Warren Buffett revealed a $5 billion investment in the oil firm.
As retail investors, we are left wondering which of the two billionaire investors is right and who among them is wrong.
We must turn to the charts to guide our future decisions in times like this. For example, Exxon's monthly chart below shows that its shares have pulled back from the $91.50 level and are headed towards the $82-$80 support level. If this level holds, I would expect the shares to rally back to the $91 level, leading to the $101.5 resistance level, the highest price at which Exxon Mobil stock has ever traded.
Many predict that XOM stock will rally past this crucial level if the current global situation does not change and oil prices rise; we could easily see XOM stock trading above $100.
However, there is a risk that oil investors must consider when trading the markets now. If there is a ceasefire, the global situation could change instantly, and we could see oil prices crash as they did in March 2020.
Investors caught on the wrong side of this trade could lose a lot of money. Investors should remember this when making bullish bets on oil trades and prices.
*This is not investment advice. Always do your due diligence before making investment decisions.
Exxon Mobil stock price.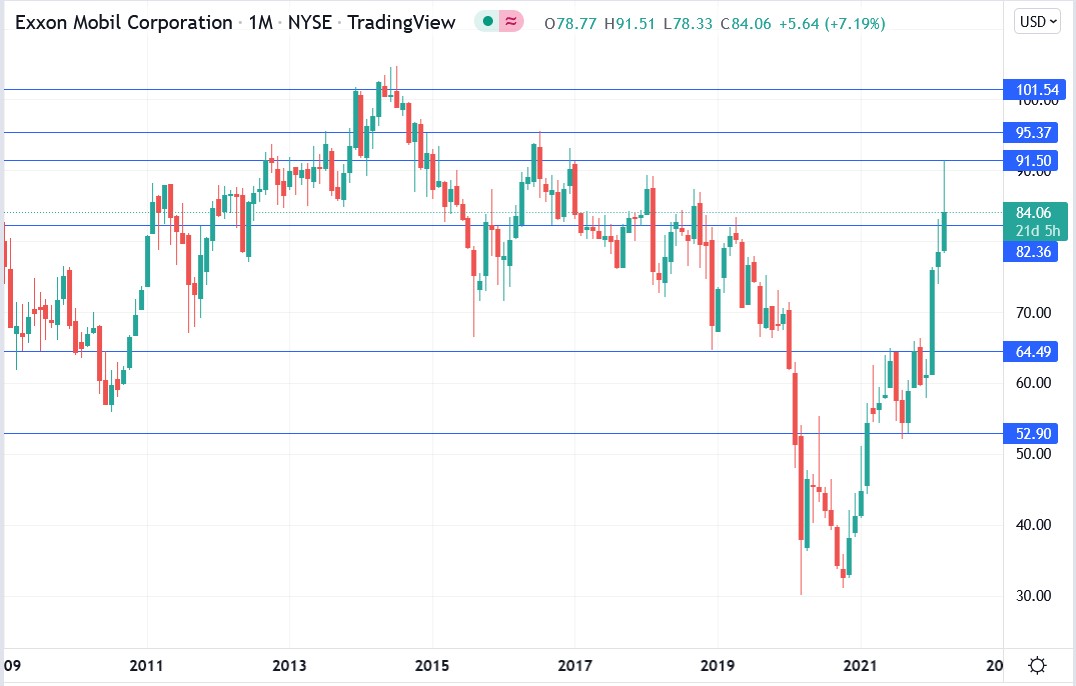 Exxon Mobil's stock price has risen 35.86% in 2022. Is the rally over following the recent decline?