Key points:
The Rolls Royce share price rose 12.6% in September.
Many hope that the rally will continue as global aviation recovers.
Will the rally continue? Read on to find out.
Rolls-Royce Holding PLC (LON: RR) shares have risen over 12% from their September lows, driven by positive investor sentiment as the global aviation industry recovers, lifting the share prices of companies operating in the segment.

The RR share price has fallen by 36.65% in 2022 amid concerns about the company's business recovery. The firm manufactures engines for wide-body planes that generally serve international flights, a small segment of the global aviation industry.
Also read: The Best Travel Stocks To Buy Right Now.
Rolls Royce does not have a presence in the narrow-body airplane market, which is the largest percentage of the airline industry. I have mentioned in past articles that the company needs to find a way to penetrate this lucrative market.
Luckily for Rolls Royce, the manufacturer also serves the military sector, which is expected to grow significantly as governments in Europe, the US and other countries aligned with the west up their military spending to counteract the global threat posed by China and Russia.
The plane engine manufacturer may also benefit from the weakening pound, given that it generates a significant portion of its revenues from overseas markets in US dollars. Hence it will benefit from the stronger dollar and the weaker pound.
Rolls Royce is also set to welcome a new CEO at the end of the year, with many worried that the company's restructuring plan may face hitches under the new leadership. However, there is also hope that the new CEO will help the plane manufacturer's income streams into other promising sectors.
RR shares have risen above a crucial resistance level, which has now turned into a support level, which could fuel a rally higher if it holds in the coming days. Investors interested in RR should monitor the price action over the next few days to see if the level holds.
*This is not investment advice.
Rolls-Royce (RR) share price chart.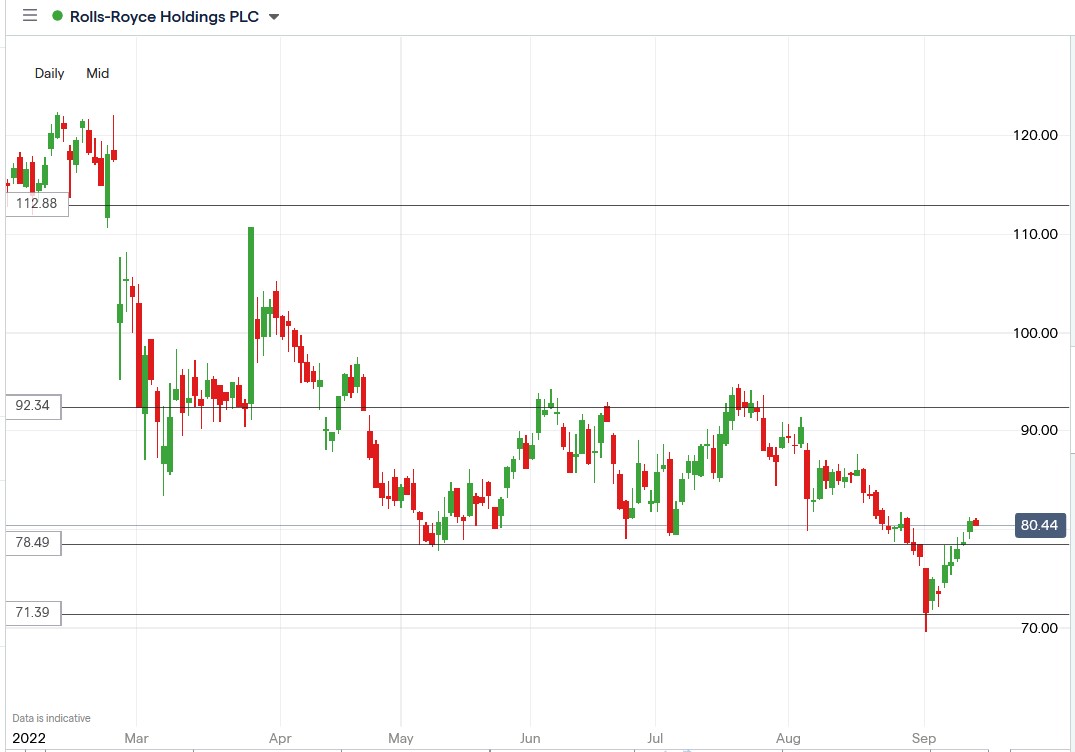 The Rolls Royce share price has risen 12.62% from a low of 71.42p at the start of September to its current price of 80.44p.