Key points:
Royal Mail's share price fell 5.87% after releasing a quarterly update.
The mail service continued to make losses, while GLS outperformed.
So, can RMG shares recover? Read on to find out.
The Royal Mail PLC (LON: RMG) share price fell 5.87% after the mail and courier company revealed that its revenues fell 11.5% in the quarter from April to June 2022, driven by lower COVID-19 test kit volumes and a general decline in the number of letters sent.

The company incurred a £92 million loss during the three months as its costs remained unchanged despite the lower volumes of deliveries during the quarter under review. The firm noted that its Pathway To Change program had stalled, creating a £100 million risk compared to £350 million benefits identified for the 2022-2023 financial year.
Also read: The Best Undervalued Stocks To Watch In 2022.
Royal Mail noted that its quarterly results had highlighted the need for it to change its strategy and take advantage of its new infrastructure to find innovative ways of matching its resources to the current workload to maintain a sustainable and agile relationship with the CWU.
Some of the positive highlights of the quarterly report included the courier company reaffirming its forecasts for the 2022-2023 financial year as it expects to generate profits of €370 to €410 million, with its revenues growing in the high single-digit percentages.
The Royal Mail holding company will also be renamed International Distributions Services Plc to reflect the dual nature of the business, which is composed of two businesses, Royal Mail and GLS.
Keith Williams, Chair, commented: "Whilst GLS delivered a solid performance in the first quarter, the performance of Royal Mail was disappointing with an adjusted operating loss of £92 million resulting from a decline in parcel volumes post the pandemic and a lack of progress in delivering efficiencies."
Simon Thompson, Royal Mail's CEO, commented: "We have made progress building the infrastructure we need for Royal Mail to compete, especially given the growing demand for larger parcels, delivering the next day – including Sundays – and in a more environmentally friendly way. But building the infrastructure is not enough. We have to transform the way we work too."
So, should you buy RMG shares? The shares look attractive since they are trading near a long-term support level. However, there are no guarantees we won't get a further decline.
*This is not investment advice. Always do your due diligence before making investment decisions.
RMG share price.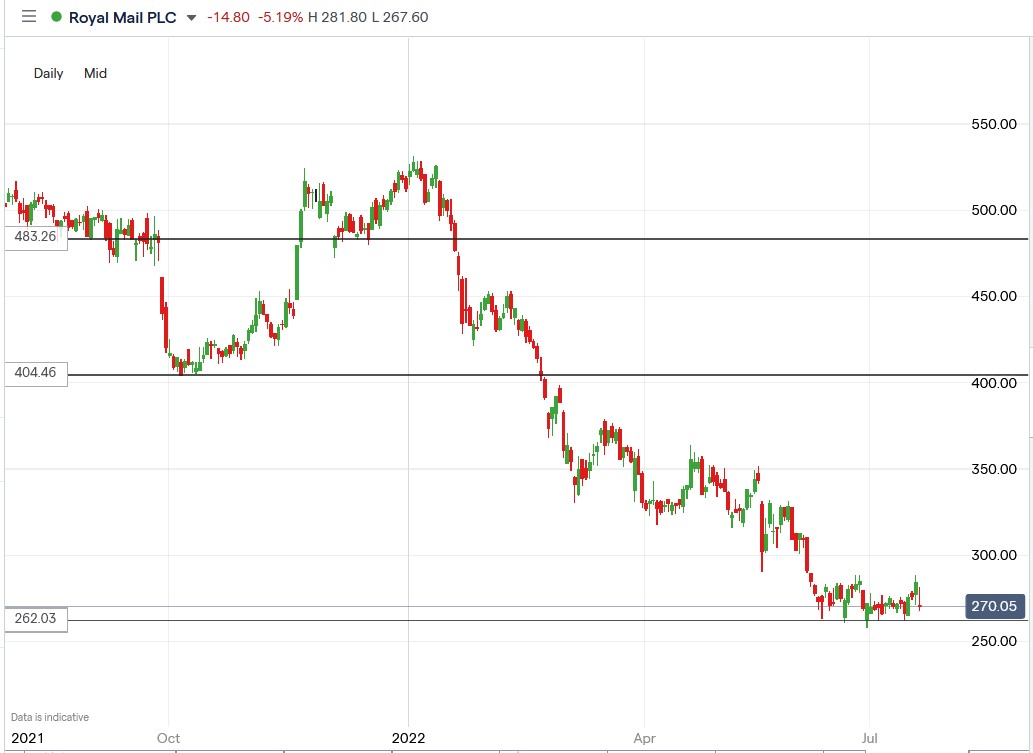 RMG share price fell 5.87% to trade at 267.6p, falling from Tuesday's closing price of 284.3p.