Key points:
Sainsbury shares were unmoved despite the looming £500m property sale.
The supermarket chain is looking to unlock significant shareholder value.
However, investors were unimpressed by the announcement.
The J Sainsbury plc (LON: SBRY) share price was largely unmoved despite LXI REIT Plc (LON: LXI) confirming that it was in advanced talks to acquire 18 freehold properties owned by the UK supermarket chain in a deal worth about £500 million.
Investors barely reacted to the news, as evidenced by the lack of movement in Sainsbury's share price. As a result, the markets might have missed the significance of the sale, which will generate a significant cash injection for the retailer.
Also read: The Five Best Recession-Proof Stocks.
The 18 properties are in prime retail locations in Southern England and will be leased back to the supermarket chain once the transaction is completed. The deal was first announced by Sky News yesterday, citing sources familiar with the negotiations.
Today's confirmation should have triggered a more significant response than what we got, and there could be several factors behind the muted reaction. First, investors were expecting such a move from Sainsbury, given that the retailer had expressed its desire to sell the portfolio a few months back.
LXI Reit expects to fund the acquisition via a mixture of new equity and debt in line with its
Current borrowing policy. The real estate investment trust (REIT) said it would raise new capital by issuing shares priced at a premium to its current trading price.
Investors ignored LXI REIT's declaration, which implies that investors are willing to pay more than its current share price to acquire a stake in the company. LXI invests in commercial real estate that benefits from long leases, with some lasting for decades.
Sainsbury shares had edged higher at writing. The supermarket chain has been under pressure to monetise its assets betters and increase the efficiency of its balance sheet; hence, the decision to sell some of its prime properties.
Investors may have been dissuaded by the lack of a firm agreement between LXI REIT and Sainsbury, which means that the deal could fall through at any time. Otherwise, if the sale is successful, the supermarket chain will have unlocked significant value for its shareholders.
*This is not investment advice.
Sainsbury share price chart.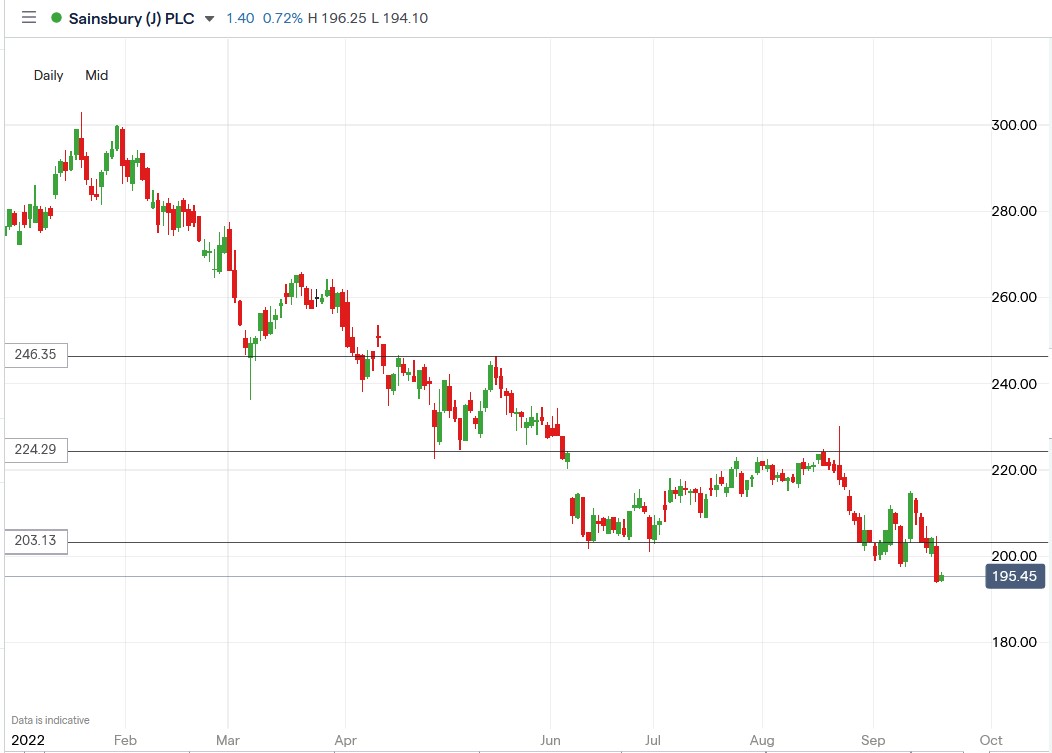 The Sainsbury share price barely moved after today's confirmation and was up 0.75%. Is it a buy?