Key points:
Sareum shares have fallen 54.9% in 2022 despite a reverse stock split.
As a result, the biotech company's shares are under selling pressure.
Many are waiting for the selloff to end to buy SAR shares.
The Sareum Holdings Plc (LON: SAR) share price has fallen 54.9% in 2022, yet those familiar with the stock may know it recently shot above 160p after a 50:1 reverse stock split.

The biotech company got shareholder approval during an extraordinary general meeting held on 28 February 2022 to effect the stock split to attract more investors.
However, it appears that nothing will save the biotech company from the sellers who are entirely in control of its share price.
Sareum investors may be disappointed to see that its shares resumed the downtrend after the reverse stock split stoking fears that the shares could be headed back to the previous levels at which it was trading around 5p.
A reverse stock split is usually the last option for a company since they usually result in significant erosion of value for existing shareholders to attract new investors to the firm.
Unfortunately, until the selloff reverses, Sareum shares are likely to continue on a downtrend. Therefore, investors may have to wait longer to see SAR shares heading higher.
Still, the company has several drug candidates under development with two Chk1-based monotherapy and a low dose gemcitabine (LDG) combination in phase II clinical studies.
Hopefully, the company will soon release positive news to provide the impetus for a bullish move. Investors will have to sit tight and wait for bullish signals before jumping in.
I would not buy at current levels until we get a sign that the downtrend has run out of steam and that SAR shares are ready to rally higher.
*This is not investment advice. Always do your due diligence before making investment decisions.
Sareum share price.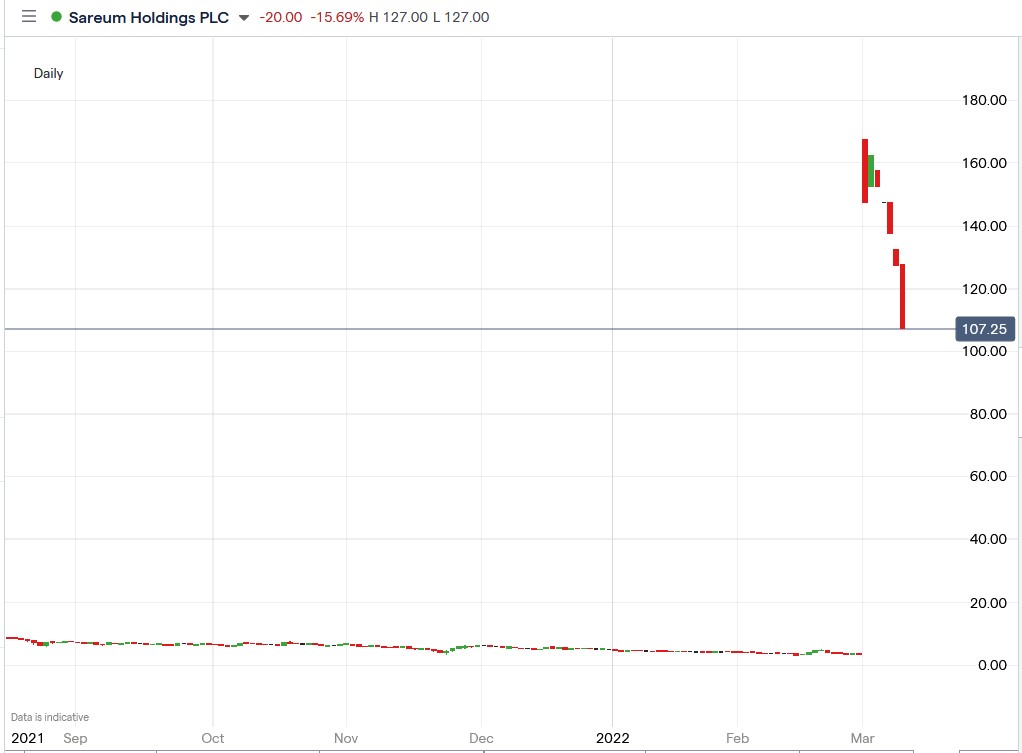 Sareum shares have fallen 54.86% but recently rose from the reverse stock split, which boosted its share price to above 160p.