Key points:
Sareum share rallied 12.3% on the European patent grant for SDC-1802
As a result, the biotech firm's shares have rallied by 52.72% in one week
What could happen next to Sareum's share price?
The Sareum Holdings Plc (LON: SAR) share price surged 12.3% after the European Patent Office granted the firm's patent application for its proprietary SDC-1802 TYK2/JAK1 inhibitor programme.

Investors cheered the patent approval, as evidenced by the rally in Sareum shares. However, investors who have been following our work know that we highlighted the rally in Sareum shares five days ago when the shares surged by 18.2% without any particular reason.
At the time, we identified that the main reason behind the rally was a bounce off a support level that had held for about one month. In addition, we did not know that the European Patent Office would grant Sareum's patent application.
However, as always, the technicals tend to front-run the fundamentals, which is what happened to Sareum shares over the past week as they have surged 52.72%.
Sareaum shares have broken above one critical resistance zone and are trading below the second significant resistance level.
The patent (EPO Patent no. EP3528806) protects the SDC-1802 molecule and any drugs developed based on the molecule, treating T-cell acute lymphoblastic leukaemia (T-ALL – a cancer of specific white blood cells known as T lymphocytes).
The SDC-1802 molecule also works on other cancers that depend on the TYK2 kinase for their survival. However, investors should know that the molecule and any drugs derived from it are still in the preclinical development stages.
Dr John Reader, Sareum's Chief Scientific Officer, commented: "This newly issued European patent for SDC-1802 expands our already broad and robust patent portfolio covering both our novel TYK2/JAK1 inhibitor candidates and further supports their commercial potential as new treatments for autoimmune diseases and cancer. Building a strong intellectual property portfolio around our TYK2/JAK1 assets is a core strategic focus for Sareum that we believe is creating important value for our shareholders."
Investors who missed the latest rally should not worry much since we will likely get a pullback before the next rally phase. Furthermore, Sareum shares are currently trying to break above the 192.6p resistance zone; a break above this level could lead to more gains.
However, we will likely get a decent pullback before breaking above the level. A pullback to the 152p support level would present an excellent entry opportunity. If we do not get a decent pullback, another entry opportunity would be on a break above the 192 level.
*This is not investment advice. Always do your due diligence before making investment decisions.
Sareum share price.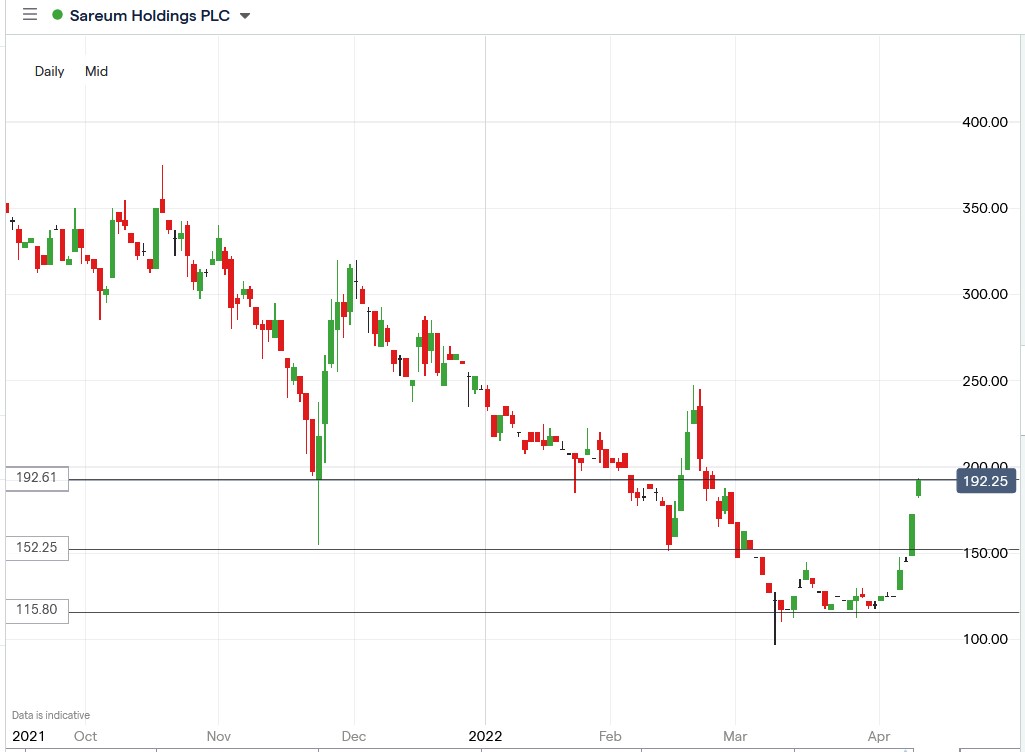 The Sareum share price rallied 12.31% to trade at 193.75p, rising from Friday's closing price of 172.50p.