Key points:
Progenity stock has fallen 24.9% in 2022 but has 12-month losses of 72.9%.
The company has a host of approved patents and is making good progress.
PROG shares look attractive at current prices for both traders and investors.
The Progenity Inc (NASDAQ: PROG) stock price has fallen 24.9% in 2022, but its losses over the past 12 months are 72.9%. So is the oral biotherapeutics firm still a good investment?

The short answer is Yes. Progenity is an attractive investment at current prices, especially following the massive selloff. Moreover, the company's fundamentals have been improving over time regardless of what has been happening to its stock price.
The oral biotherapeutics company has done an excellent job of reducing its overall losses, although it is yet to return a profit.
Analysts expect the company to report a $0.13 loss per share in the current quarter compared to the $1.53 loss per share reported in a similar period last year.
Another positive factor for the Porgenity is the recent award of an additional patent for its single-molecule detection assay platform, which is still being developed. The platform promises to revolutionize the way doctors and lab technicians count target analytes, including cell-free nucleic acids.
Progenity is progressing on various fronts and looks like a bargain at current prices. However, looking back at its stock price, the company was a darling of retail traders who pushed its prices higher last year during the meme stock rally.
The company's shares sold off after many retail traders retreated from the markets due to the massive selloff in growth stocks amid the cyclical rotation from growth to value stocks.
Looking at Progenity's daily stock price chart, we can see that the shares recently bounced off a crucial support level that has been in place since September 2021 and many hope that the bounce will turn into a long term rally.
Progenity is scheduled to release its following earnings report on March 17, 2022, and analysts expect the company to report an annual loss per share of $1.84, shrinking to $0.95 per share in 2022.
Analysts at Zacks Investment Research have a hold rating on the shares after downgrading the stock from a buy. H.C. Wainright analysts have a buy rating on the stock and a price target of $4.00.
Progenity has over 180 patents related to different aspects of its testing products and biotherapeutics treatments and has over 220 pending approval.
The stock looks attractive at current prices. I would buy it based on the company's fundamentals and the technical picture.
*This is not investment advice. Always do your due diligence before making investment decisions.
Progenity stock price.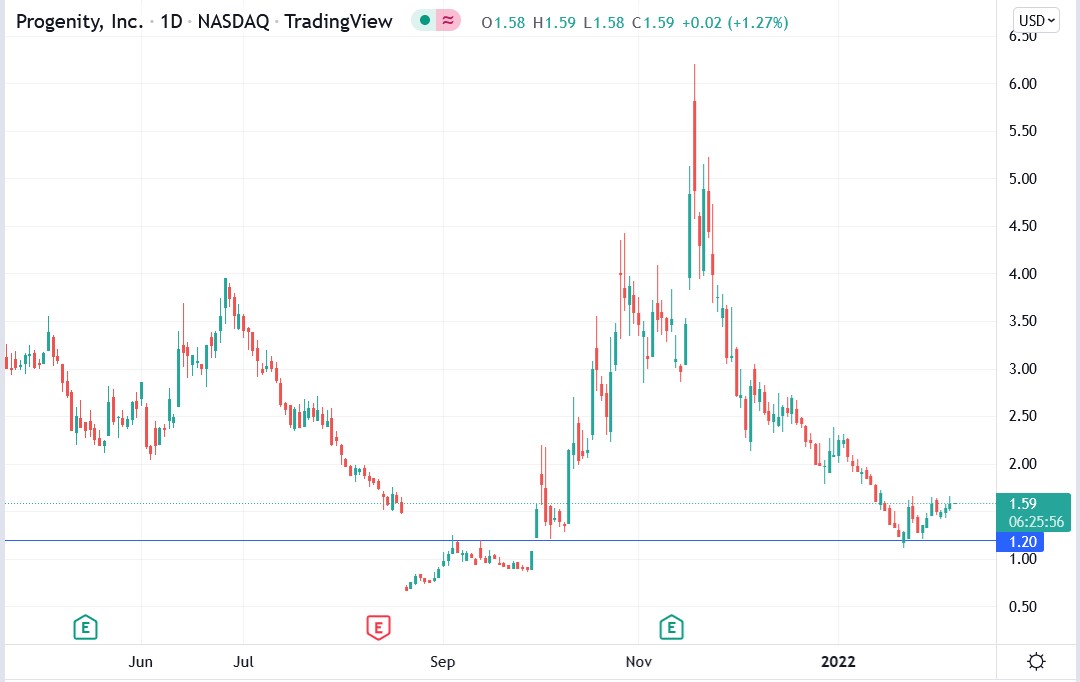 Progenity stock price has fallen 24.88% this year, but their cumulative 12-month losses are 72.88%.