Key points:
SOXL stock has plunged 36.2% this year but could have bottomed.
The ETF tracks semiconductor firms that have rallied in recent days.
SOXL prospects are promising amid the high demand for chips.
The Direxion Daily Semiconductor Bull 3X Shares (NYSEARCA: SOXL) stock price has fallen 36.2% since the year started but could have bottomed on January 28, 2022. So should you buy the ETF that holds semiconductor companies?

Let's split the question into two and answer it correctly. Firstly, SOXL stock appears to have bottomed on January 28th at a long-term support level that has been in place since May 2021, when the price crossed above it.
Whether the recent bottom lasts over the long-term or are just a short-term feature will be seen over time. As always, there are no guarantees in the markets. However, we can react to what we see on the charts as short-term traders and long-term investors.
The massive drop in SOXL's stock price is because the ETF multiplies the underlying movements of the stocks its holds by three since it is a 3X long ETF. Unfortunately, while this feature helps multiply investors gains, it also multiplies investor losses.
Therefore, while some of its largest holdings, including Broadcom, Qualcomm, Nvidia, Intel and AMD, have not registered such massive losses, the ETF has incurred significant losses due to the 3X nature of its calculation.
Now to the good stuff, should you buy SOXL stock now that it seems to have bottomed? The answer from a short-term traders perspective is that you can buy the stock on pullbacks.
However, you should exit your positions if the stock falls below the $36.30 support level, fueling the current uptrend. A break below this level indicates that the buyers are in control, and the stock could be headed lower.
From a fundamental perspective, SOXL tracks the stocks of semiconductor companies that have fallen in the recent stock market selloff. However, these stocks have rebounded in the recent stock market bounce in a move that is reflected in SOXL.
The long term prospects of semiconductor companies are pretty promising. Demand for semiconductors is expected to remain high for the next few years as the chip shortage affects global supply chains.
The demand for chips is also being driven by higher demand for vehicles and electronics from consumers across the globe. Hence, I expect semiconductor companies to keep doing well over the next few years.
Therefore, while we cannot be sure exactly when the cyclical rotation out of growth and tech stocks will end, I would bet my money on chip companies continuing to perform well in future.
*This is not investment advice. Always do your due diligence before making investment decisions.
SOXL share price.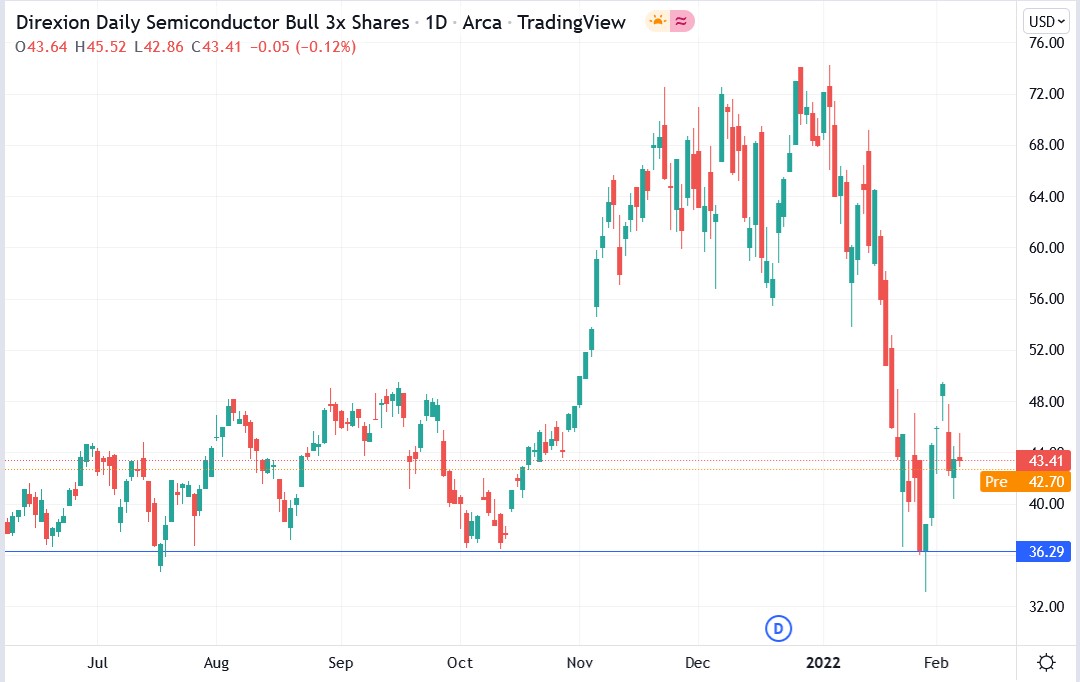 SOXL share price has plunged 36.17% since the year started, but could the stock have bottomed?