Key points:
Snowflake shares crashed 21.8% on weak FY23 revenue growth forecasts.
Investors ignored the company's upbeat Q4 revenues to focus on guidance.
Like most tech startups, Snowflake is judged based on its revenue growth.
The Snowflake Inc (NYSE: SNOW) share price crashed 21.8% after the company forecast lower product revenue growth for its current financial year after releasing the results for the fourth quarter of its previous financial year ending January 2022.

The data warehousing company whose services are hosted on the cloud revealed that it generated revenues worth $383.8 million in its fiscal Q4 ended January 31, 2022, beating analysts' estimates of $372.6 million.
However, investors were uninterested in the company's past performance and were more focused on its future performance, which they found lacking based on its forecasts.
Snowflake's revenues grew 101% in its fiscal Q4, much lower than the 110% growth experienced in Q3 2022.
Still, the data company's forecast of 79% to 81% product revenue growth in Q1 triggered the massive selloff in its share price. Investors were disappointed by the low growth figures, which indicate that demand for Snowflake's products is declining.
Most investors are concerned that, unlike many other startups, demand for Snowflake's services is slowing down before the company can become profitable, making it that much harder for the firm to become profitable.
Like many other high-growth tech companies, investors are usually willing to pay a premium for companies that promise significant future growth instead of those with declining growth, which explains the selloff in Snowflake shares.
Nobody wants to pay a premium for a company with declining growth that has no profits or dividends. However, there is still hope for Snowflake if it can get its existing customers to buy more services, hence, boosting its revenues.
Snowflake grew the number of employees on its roster to almost 4,000 in the past year, a 60% jump, as its CEO focuses on delivering better services to its clients. The CEO is betting that providing higher quality services will make customers move more of their workload to Snowflake. Only time will tell if this bet will work.
Snowflake also announced that it is acquiring Streamlit, a data startup, for $800 million to allow developers to build data applications. The two companies will work together, capitalising on each other's strengths to ensure that developers have an easy time building data applications.
The Streamlit acquisition is a bold move in a different direction that could pay off over time as more developers join the platform if they make it easy for clients to build data-intensive applications effortlessly.
Again, only time will tell if Snowflake will successfully integrate and exploit Streamlit's unique business proposition.
Snowflake shares were trading at lows last seen in May 2021 at writing, but we cannot rule out a further decline. Still, the company's prospects remain promising.
*This is not investment advice. Always do your due diligence before making investment decisions.
Snowflake share price.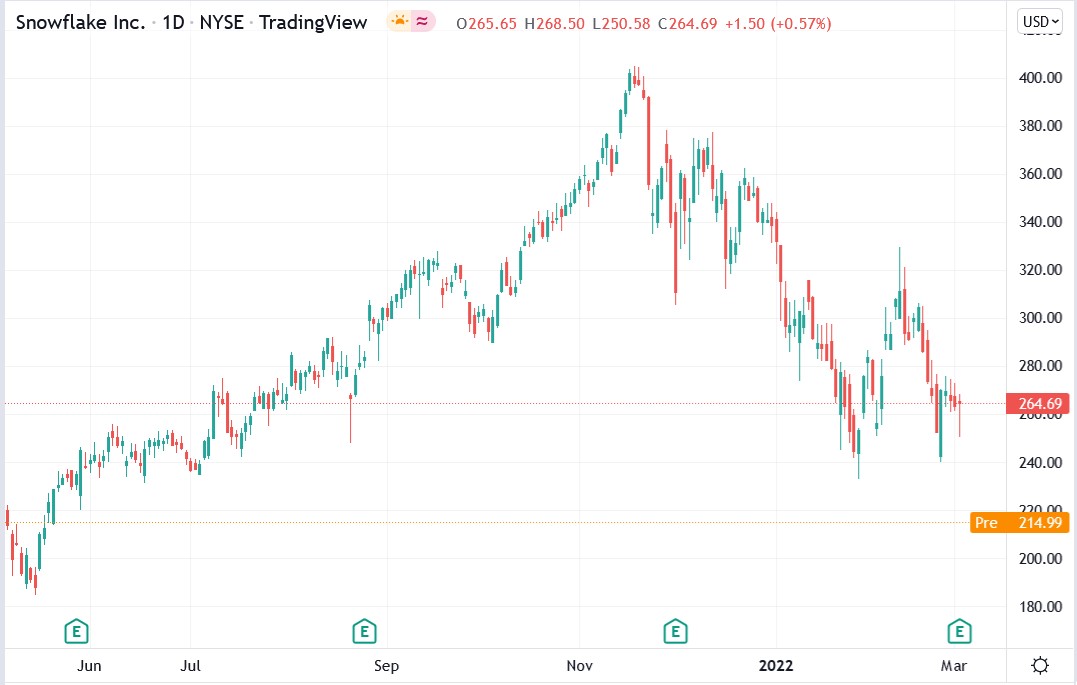 Snowflake shares fell 21.83% premarket to trade at $206.89, falling fromWednesday'ss closing price of $264.69.