Key points:
TD Holdings stock price should rise 500% today
This repeats what GLG did back in 2019
But it's a change in the nominal price, not the real
The TD Holdings (NASDAQ: GLG) stock price should rise 500% today but the real price could go in any direction. That's the interesting difference between nominal and real prices. This is also something that GLG seems to make a habit of, for they did this before back in 2019. Moved that nominal price without achieving a great deal for actual and real prices. The reason they need to do this is NASDAQ regulations of course.

TD Holdings does commodity trading and supply services inside China. We'd all think that perhaps this was something of a hugely profitable business, after all China's economy has been booming this past couple of decades. However, China's also a difficult place to make a profit – there's a lot of competition once you come down from the commanding heights of the economy where the CCP likes to take an interest. We've just had the quarterly results for TD Holdings and while not terrible they weren't lovely either. Revenue of $53.58 million, well, OK, but profits on that, or earnings per share of $0.01, really isn't all that much to get excited about.
TD Holdings stock is down 60% on the year and we might ascribe that to just general not very good performance. Or, we could be kinder and think of lockdowns and economic interruptions. The effect is the same though. The GLG stock price fell well below the NASDAQ minimum offer price of $1 (to perhaps 27 cents) which means that something must be done in order to maintain the listing on NASDAQ. So, something was.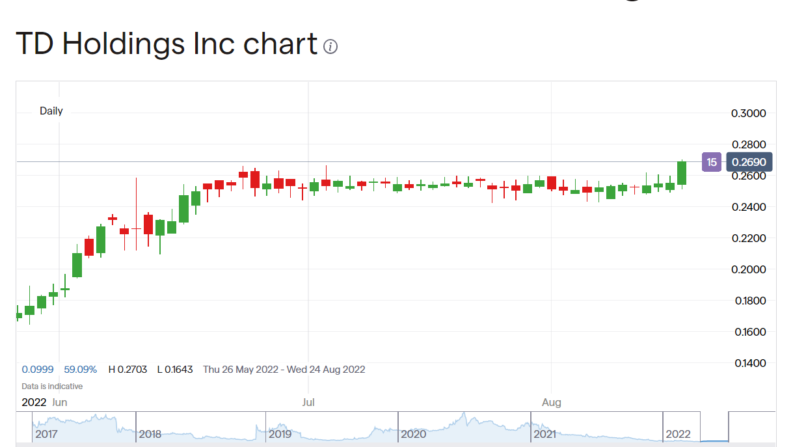 Also Read: 30 Global Stocks That Warrant Your Consideration
The something is a reverse stock split. This simply says that everyone who had five shares yesterday now has one. This is what the Brits call a consolidation, which linguistically makes more sense. This doesn't change the valuation of the GLG corporation as a whole, nor does it – in and of itself – change the valuation of any particular holding. It just changes the number of pieces of stock in existence and therefore the price of each one of them. Given that this is a 1 for five (which is an odd way to measure it, but that is the way NASDAQ does it, more logical would be 5 for one) reverse split then that should mean a 500% price rise. But a purely nominal price rise, not a real one at all.
The real price change will be whatever the price change isn't exactly 500%.
NASDAQ itself says the stock split takes effect today for GLG. "TD Holdings, Inc. (GLG) will effect a one for five (1-5) reverse split…. effective on Wednesday, August 17, 2022".
As to why this reverse split – and the one TD Holdings did back in 2019 – it's simply fashion. The American stock markets think that stocks below a dollar are "penny shares" – which, logically they are of course – and that this has negative connotations of dodginess or risk. So, your stock price must be over $1 to remain on a major exchange. Even if that does just mean playing with the number of pieces of stock rather than actually sorting out the underlying business.