Key points:
Tenneco stock surged 98% on a $7.1 billion takeover offer.
The deal valued each Tenenco share at $20, double its current price.
The takeover still has to be approved by Tenneco's shareholders.
The Tenneco Inc (NYSE: TEN) stock price surged 98% after accepting a $7.1 billion takeover offer from a private equity consortium led by Appollo Investments.

The shares surged to trade at $19.60, just 40 cents shy of the $20 purchase price offered by the group acquiring the company.
Apollo will also assume all the debt owed by Tenneco, with the takeover being an all-cash deal that will see Tenneco's shares delisted from the New York Stock Exchange (NYSE).
The deal comes when the automotive industry struggles with significant supply chain issues that have affected most automakers.
Tenneco is an auto parts manufacturer, and it is clear that the private equity consortium wants to capitalise on the massive demand for auto parts from most car manufacturers.
The question in most investors' minds is, will Apollo do the right thing by investing further resources into Tenneco to ensure that it can ramp up production and become a more prominent player in the automotive supply chain?
Most private equity companies buy a company and sell off all its profitable divisions to make a quick return while loading up the remaining shell with significant debt before selling it off again or listing it on the public markets.
Tenneco has significant growth potential, and many would like to see Apollo tap into this potential by investing heavily in the company to unlock more value and make it profitable over the long term, but this may be a pipe dream given how PE firms operate.
The company employs 71,000 people across 260 locations globally and supplies parts for light vehicles, motorsport cars, trucks and aftermarket modifications. The firm reported a quarterly loss of $35 million on revenues of $4.39 billion.
The loss was triggered by the massive shortage of computer chips that power most cars resulting in lower production and sales. The deal is expected to close in the second half of 2022 since it has to win the approval of Tenneco's shareholders.
*This is not investment advice. Always do your due diligence before making investment decisions.
Tenneco stock price.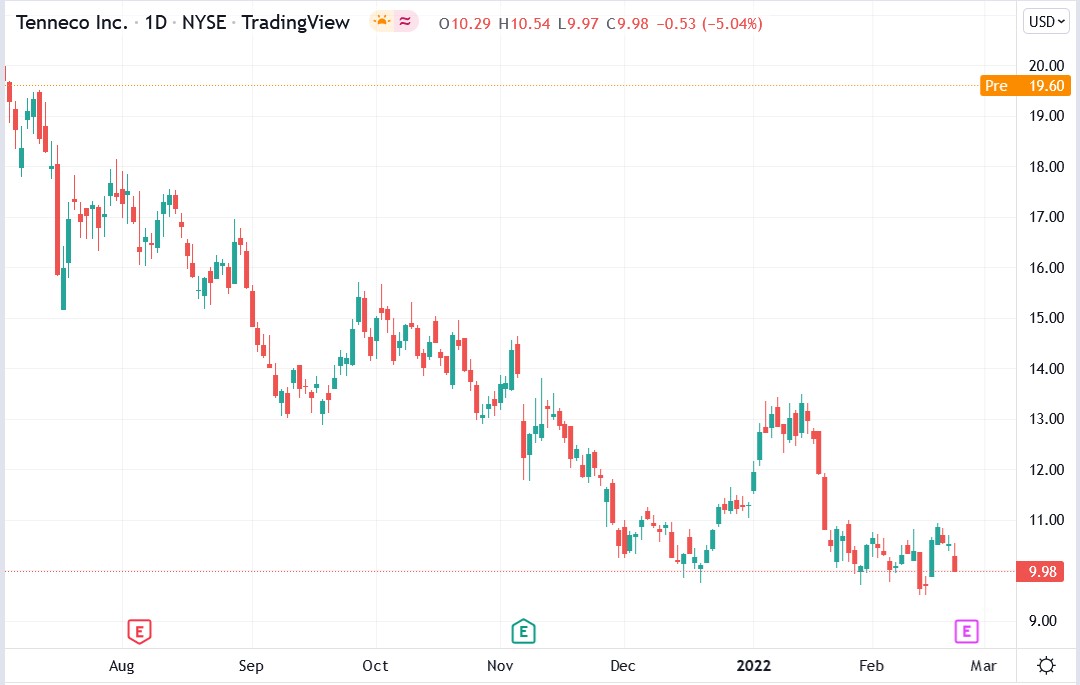 Tenneco's stock price surged 98% to trade at $19.60, rising from Tuesday's closing price of $9.98.