Key points:
Tern shares rallied 6.67% higher on positive portfolio update, later fell.
The IoT investment firm revealed that its portfolio firms were progressing.
However, Tern shares later fell amid negative investor sentiment.
The Tern PLC (LON: TERN) share price rallied 6.67% after the Internet of Things (IoT) investment fund issued a portfolio update for all its companies.

However, the gains were short-lived as the shares later fell in a surprising move, given that the value of Tern's investment in each of its portfolio companies has risen in the past six months.
The company reiterated the importance of having other companies invest in its portfolio firms at a higher valuation, automatically increasing its investment value.
Some of the report's highlights include the strategic investment made by Venafi in Device Authority in December 2021, which many Tern shareholders did not like since it only resulted in a slight increase in the value of Tern's investment.
However, Tern's CEO, Al Sisto, defended the move saying that it was a strategic investment whose main objective was to attract a strategic investor, provide Device Authority with adequate funding for 2022 and ensure that Tern remains a majority shareholder.
Device Authority partnered with Trusted Objects to integrate Trusted Objects'  TO-protect' software root-of-trust and Device Authority's KeyScaler® to enhance their cybersecurity technologies for embedded systems and cloud device management platforms.
Tern's FundamentalVR portfolio company also signed multiple contracts in recent months, including a £0.6 million contract in interventional medicine; a £1 million contract in the Robotics Assisted Surgical Systems sector; and a £0.3 million contract for a virtual education facility.
Wyld Networks joined the LoRa Alliance®, a global organisation that backs the LoRaWAN® standard* for the IoT industry. The LoRaWAN® standard was finally approved as a standard by the International Telecommunication Union.
InVMA changed its trading name to Konektio, raised £2.125 million in late December 2021 and witnessed strong demand for its AssetMinder® technology.
Lastly, Talking Medicines also raised £1.59 million on 1 February 2022 and is working on expanding its subscriber base, especially in the US, where it has a new office in New Jersey.
Investors reacted positively to the updates, but Tern shares later gave up all their gains and traded in negative territory at writing.
Al Sisto, Tern's CEO, said: "Since our last portfolio update at the end of October 2021, our portfolio companies have all made substantial progress, which I believe significantly increases the value that will ultimately be delivered for Tern shareholders in the form of exit proceeds. We consider that this value is being built via increases in monthly recurring revenues and the significant market traction which, as can be seen in this update, our companies are enjoying."
Adding:
"However, I recognise that the value that is being created is more visible with some of our companies than others. Wyld Networks, now being a publicly quoted company, has a value that can be constantly seen, and we are delighted that the value of Tern's holding has more than doubled in the past six months. We expect more to come from Wyld, and we expect that the public listing will provide an exit route over time when the time is right to maximise value for Tern."
*This is not investment advice. Always do your due diligence before making investment decisions.
Tern share price.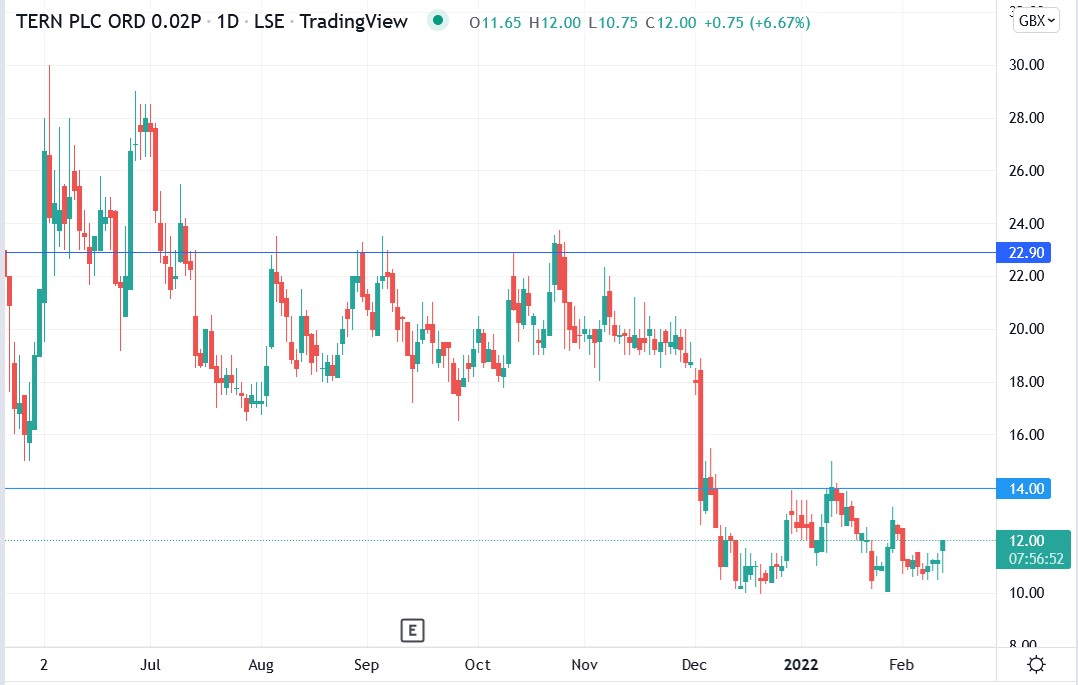 Tern share price rallied 6.67% to trade at 11.80p, rising from Thursday's closing price of 11.25p.