Key points:
Despite Elon Musk's legal troubles, Tesla's stock price is up 35.4%.
The company seems immune to Musk's constant problems.
Is now a good time to short Tesla stock? Read on to find out.
The Tesla Inc (NASDAQ: TSLA) stock has risen 35.4% in a month despite Elon Musk's legal problems related to his botched acquisition of Twitter. And the legal tussle is far from over, as Twitter just subpoenaed Tesla's internal communications regarding Musk's takeover bid.

Tesla will have to comply with the request and provide internal documents and communications regarding aspects of Elon Musk's bid, including details about the Tesla stock sales worth $8.4 billion executed by Musk to fund the deal.
Also read: The Best Electric Car Stocks To Buy.
Twitter also wants information regarding the $6.25 billion margin loan secured by Musk in May to fund the deal after he brought in some additional investors lowering the margin loan amount by half from $12.5 billion to $6.25 billion.
Twitter seeks to establish that Elon Musk chose to back out of the $44 billion takeover deal due to personal reasons fueled by "buyers remorse" as Twitter's share price fell after he agreed to pay $54.20 per share.
Musk must have felt bad after seeing Twitter's stock price plunge to trade at $32.70 in mid-July, $20 below his buying price, which means that he would have incurred a significant loss had he proceeded with the sale. However, the Twitter stock has since recovered and is now trading at $41.00.
Many investors expect Elon Musk to lose his bid to quash the deal because Twitter withheld vital information regarding spam accounts.
Some analysts have opined that Tesla's stock price is overvalued. Given its first-half profit of $20 billion and its annualised forecast of approximately $30 billion. The analysts point out that companies with Tesla's valuation tend to generate about $100 billion in profits annually.
The analysts also point out that the EV market is becoming more competitive, especially in the US$60,000 price range, giving customers more choices,w which could reduce Tesla's overall market share in the United States and other countries.
However, Tesla's story continues to defy traditional metrics, and I expect this to continue. There is a reason why short-term traders tend to avoid shorting Tesla stock for extended periods. It is never a good idea to short Tesla stock.
*This is not investment advice. Always do your due diligence before making investment decisions.
Tesla stock price.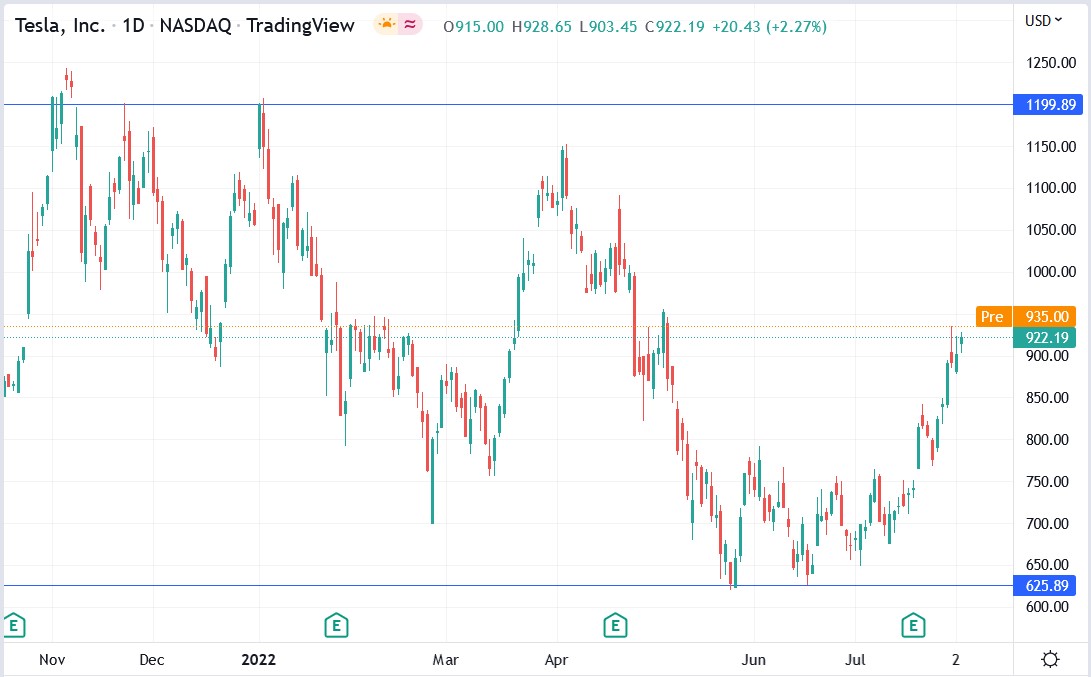 The Tesla stock price has risen 35.4% in a month. So should you short Tesla stock?