Key points:
The Accenture (ACN) stock price fell on mixed Q3 results. Is it a buy?
ACN stock fell due to the negative investor sentiment, not its results.
Should you buy ACN stock? Read on to find out what I think.
The Accenture Plc (NYSE: ACN) stock price fell by 3.6% after releasing mixed Q3 2022 results where its revenue surged 22% annually to $16.16 billion, beating analysts' estimates of $15.35 billion.

The professional services company revealed that new bookings rose 10% yearly to $17 billion. In addition, its consulting revenues rose 24% to $9.03 billion compared to last year, and its outsourcing revenues surged 19% to $7.13 billion.
The company, which offers numerous services to large businesses and governments, also revealed that it grew its revenues in all the geographical regions it operates in, including North America, Europe and other growth markets.
Accenture's different business units include communications, media & technology, financial services, health & public service division, and the resources division all reported significant improvements in their overall revenues.
The group reported earnings per share of $2.79, beating analysts' expectations of $2.74, while its operating margins remained constant at 16.1%. In addition, Accenture generated $3.06 billion in free cash flow and had a cash and equivalents balance of $6.7 billion at the end of the quarter.
Accenture announced a quarterly dividend of $0.97 per share, representing a 10% improvement from the $0.88 dividend announced in a similar quarter last year. These results should have been enough to trigger a rally in ACN stock, but they did not.
Investors focused on the company's lowered EPS guidance for its 2022 fiscal year to $10.61 – $10.70 from $10.61 – $10.81, which was still above consensus estimates of $10.28.
ACN stock was still trading lower at writing primarily due to the sour investor sentiment despite a positive quarterly earnings report. Furthermore, the markets are concerned about the macro situation globally as many countries battle record-high inflation and supply chain disruptions.
The macro concerns continue to weigh on investors, compounded by the rate-hiking policies adopted by most central banks to combat inflation. As a result, it seems like investors were not interested in putting more money into excellent stocks such as ACN despite their continuing positive performance.
I think ACN stock is a buy, but we could be in for a further decline as stock markets continue falling. So I would buy it on further weakness.
*This is not investment advice. Always do your due diligence before making investment decisions.
Accenture stock price.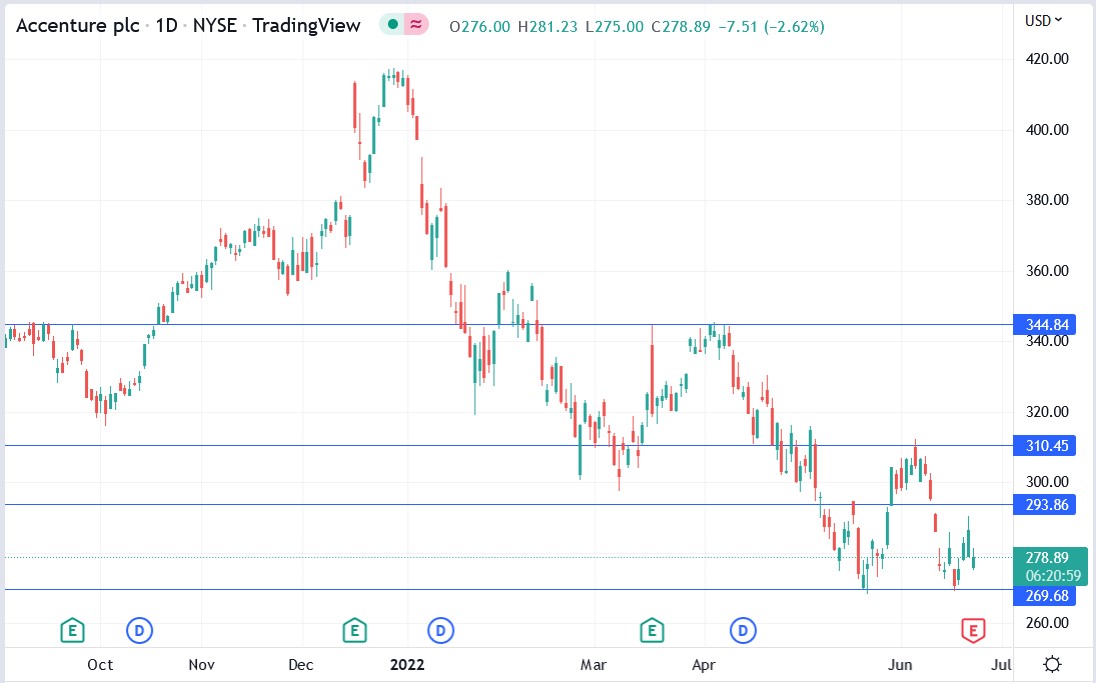 The Accenture stock price plunged 3.59% to trade at $276.06, falling from Wednesday's closing price of $286.34.