Key points:
The Best Buy stock has fallen 50% in six months. Is the worst over yet?
The worst could be over for the electronics retailer, but not the industry.
As macro factors unfold in the coming months, we will have a clearer picture.
The Best Buy Co Inc (NYSE: BBY) stock has fallen almost 50% in the past six months from its November 22, 2021, high of $142. Is the worst over for the consumer electronics retailer? The electronics retailer released its Q1 earnings yesterday and surprised Wall Street analysts by lowering its forecasts by a much lower margin than expected.

Bets Buy's revenues fell 8% to $10.6 billion in the three months to late April but were above analysts' estimates of $10.4 billion. The company also lowered its operating profit guidelines to between 5.2% and 5.4% of sales, from the previous 5.4% figure.
The retailer's inventory levels rose to 9%, handily beating Walmart's 30% inventory surge and the 40% increase recorded at Target. However, like its peers, Best Buy reported that higher transportation costs and lower consumer demand would affect its future profitability.
While we cannot say with any degree of certainty that the worst is over for Best Buy, it seems that the worst of the recent rout witnessed in the retail sector is over for the electronics retailer, given how its shares surged higher after the open today.
Best Buy stock was trading up 2.76% at writing and could be headed higher in the coming days if it has truly bottomed.
However, the fate of the broader retail industry is yet to be decided since it depends on whether the current high inflation levels in the United States will persist for many more months and if the Fed will back down on its rate hike plan.
The impact of the Federal Reserve's recent rate hikes has led to a cooling down in consumer spending as people reallocate much of their disposable income to necessities such as fueling their cars and buying the higher-priced food items.
The Fed is stuck in a problem as it works to combat inflation. There are no guarantees that inflation will cool off if the Fed stops raising rates since higher crude oil prices and wages drive higher inflation.
Meanwhile, the worst could be over for Best Buy, but for the rest of the industry, we will have a much clearer picture in the next few weeks.
*This is not investment advice. Always do your due diligence before making investment decisions.
Best Buy stock price.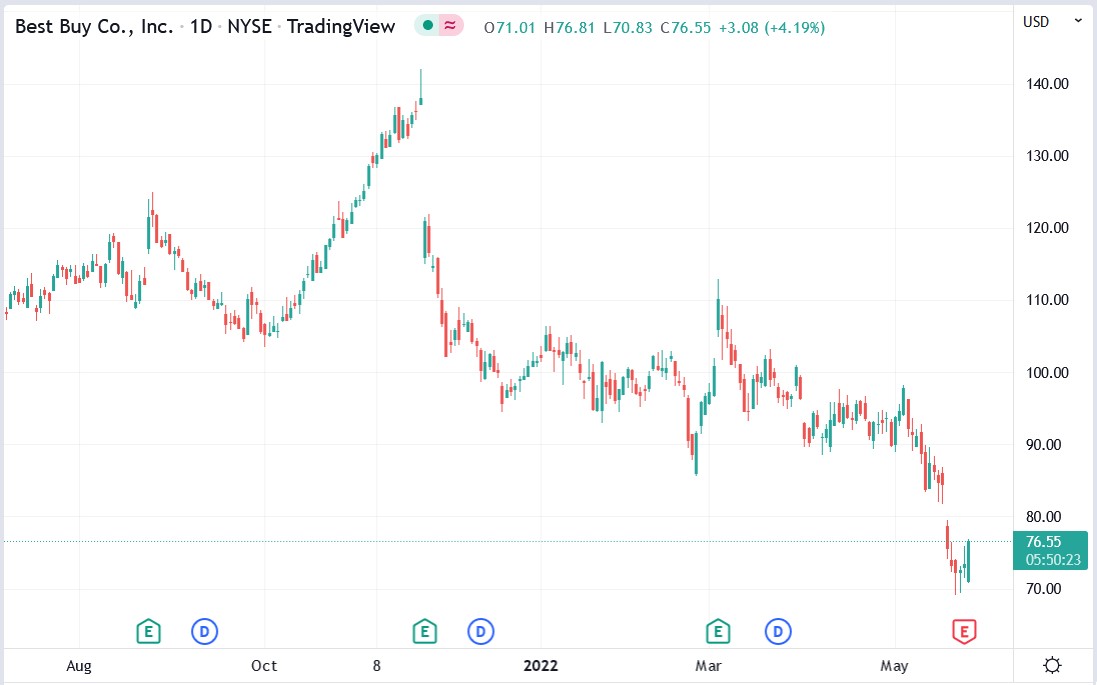 Best Buy stock has fallen almost 50% from its November 2021 high of $141.7. Is it headed lower?