Key points:
The Energy Services of America (ESOA) stock rallied 45.7% today.
Its listing on the Nasdaq fueled the rally in ESOA stock.
The firm's prospects are promising as the US increases oil production.
The Energy Services of America Corp. (NASDAQ: ESOA) stock price rallied 45.7% today after its shares were admitted to trading on the Nasdaq Capital Market.

Interestingly, ESOA stock was admitted to the Nasdaq market yesterday but started trending today as investors look for undervalued companies operating in the oil industry.
ESOA is an energy services company that serves customers in the petroleum, natural gas,  automotive, water distribution, power and chemical industries.
The company provides services such as building underground pipelines, its speciality, general contractor roles in the oil industry, and maintaining oil production and storage facilities.
ESOA's prospects seem pretty positive. The US energy sector is undergoing significant upgrades to make the company energy independent, given the current geopolitical tensions with Russia that have led to the banning of oil imports.
The Biden administration is keen to ensure that the company is energy sufficient in the coming years. As a result, it will not have to rely on the OPEC cartel and other countries for its oil imports, which could hold the country hostage in the future.
The resurgent activity in the US energy sector will be good for oil services companies such as ESOA, which will likely clinch multiple contracts to build the infrastructure needed to support the higher oil production expected in the coming months.
Douglas Reynolds, ESOA's President, commented: "We are very pleased that the company's stock has been approved to trade on Nasdaq. By uplisting our common stock, we expect shares will have a broader appeal and increased liquidity."
Adding:
"This is the first of several initiatives the Company is looking to undertake in 2022 to drive shareholder value."
ESOA is headquartered in Huntington, Virginia, and operates primarily in the mid-Atlantic and Central regions of the United States. While ESOA's prospects are promising, there are no guarantees that we will get a sustained rally soon.
*This is not investment advice. Always do your due diligence before making investment decisions.
ESOA Stock price.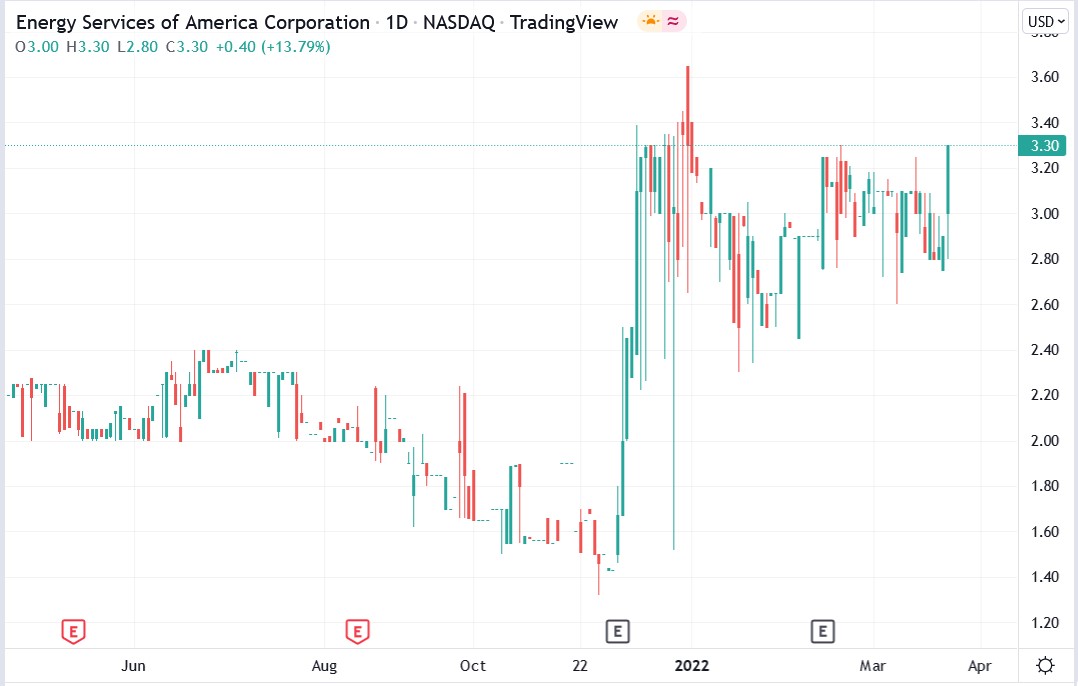 ESOA stock surged 45.76% to trade at $4.81, rising from Wednesday's closing price of $3.30.