Key points:
Nvidia was recently hacked, but its shares were largely unaffected.
Other companies, including Microsoft and Samsung, were also hacked.
Nevertheless, the chipmaker remains 1-2 steps ahead of competitors.
The NVIDIA Corporation (NASDAQ: NVDA) stock price was trading slightly lower for the day after yesterday's hacking attack that saw hackers get access to some of its source code.

Luckily for the company, the hackers did not get access to sensitive customer data and much of its sensitive project data that could pose a significant threat to its future operations.
However, Jensen Huang, its Co-founder, President and CEO, said that the company would be moving to a zero-trust network architecture where everyone accessing its networks would be regarded as a potential threat to the company.
Huang added that the company was working on technology to allow large companies to adopt zero-trust network architectures. He urged other companies to step up and start utilising the chips made by the company to make servers that can support such a network architecture without burdening the end-users.
Nvidia will rapidly implement new security measures such as multi-factor authentication for users logging in to its systems to prevent hackers from quickly gaining access to its systems. Still, it will be implementing further measures in future.
The company is regarded as one of the leading semiconductor chip designers and manufacturers, with its AI chips being considered the best chips for gaming purposes.
Nvidia's cloud computing chips are also highly regarded and are widely used by many leading companies to host their cloud architecture.
In the past, analysts at JPMorgan said that they believe that NVidia is at least 1-2 steps ahead of its competitors, which gives it an edge in the industry against other companies such as Intel and ARM Holdings.
The Lapsus$ hack also affected other leading tech companies, including Microsoft, Samsung and Okta, which was not an easily-preventable hack. The hack also raised awareness that the weakest link in any network is usually human beings.
Tech companies will be taking measures to ensure that they can tighten all the loopholes used by hackers against their workers to gain access to their systems.
Nvidia recently debuted its newest "superchip", made in collaboration with the chip design firm ARM. the chip is a combination of two powerful chips. The company claims that the two chips possess the memory bandwidth of two high-performance server chips currently available.
The Superchips code-named 'Grace' can be used for high-performance computing, including for cloud services and
Nvidia shares have risen 9.1% in the past month and are likely to rally much higher. However, after the recent rally, we could be due for a pullback anytime now.
*This is not investment advice. Always do your due diligence before making investment decisions.
Nvidia stock price.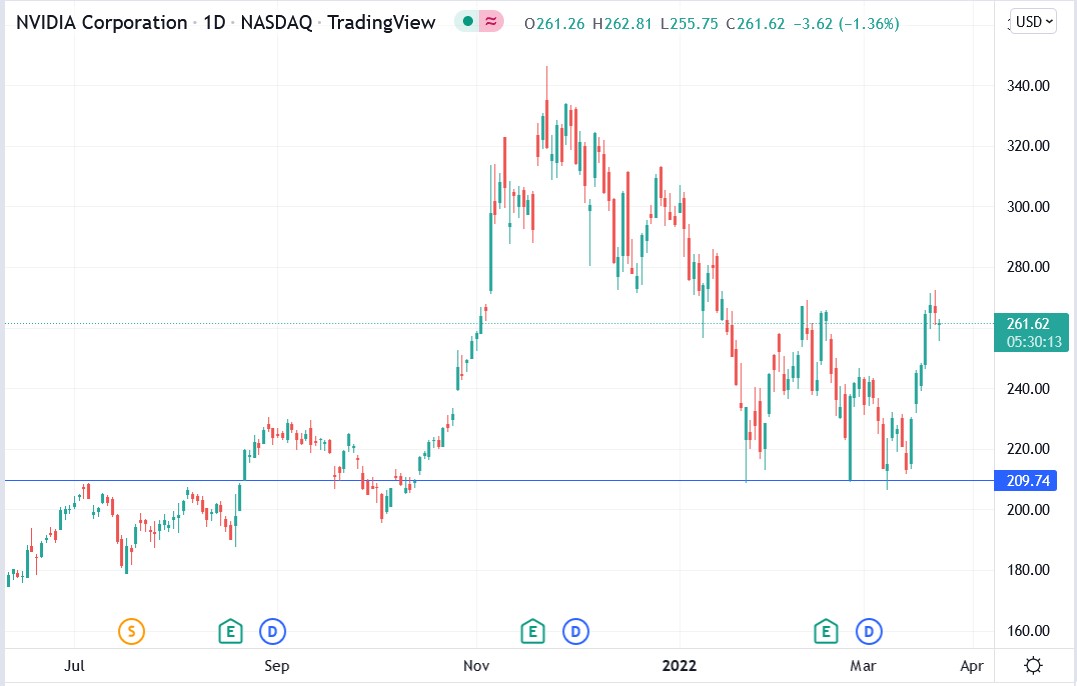 The Nvidia stock price has risen 9.10% in the past month. Is there more upside?