Key points:
The Grayscale Bitcoin Trust (GBTC) stock price has fallen 24.3% in 2022.
As a result, many wonder what's next for the leading Bitcoin ETF in future.
The fund wants to become a spot Bitcoin ETF, which could trigger a rally.
The Grayscale Bitcoin Trust (OTCMKTS: GBTC) stock price has fallen 24.3% in 2022, with its losses over the past six months adding up to 31.4%.

However, many investors ask what comes next for the Bitcoin futures ETF? The answer is that the next step for GBTC would be to get the US Securities and Exchange Commission (SEC) to approve its conversion into a spot Bitcoin ETF.
GBTC currently tracks the prices of Bitcoin futures as opposed to spot Bitcoin prices, which would bear a much closer resemblance to Bitcoin's current prices.
Grayscale Investments, which oversees the ETF, recently launched a campaign asking investors to share their opinions with the SEC to increase the chances of the regulator approving its transition into a spot Bitcoin ETF.
The fund manager has applied to have GBTC convert into a spot Bitcoin ETF and the SEC recently opened the door for investors to share their views on whether such a conversion would be helpful.
The company is urging investors to share their thoughts with SEC during the 240-day standard review period to help influence the SEC's decision in the company's favour. However, there is nothing illegal in what the company is doing by educating investors.
The SEC has been highly reluctant to approve a spot Bitcoin ETF in the past due to the massive volatility associated with the leading cryptocurrency, which could see investors booking significant losses or profits daily.
There is still a long road ahead for GBTC to win the SEC's approval to become a spot Bitcoin ETF, but such a massive change would trigger a flood of new money into the ETF, seeing the stock rally to new money all-time highs.
Meanwhile, GBTC stock seems to have formed a bottoming pattern on the daily chart below and could be headed higher in the coming days. The ETFs price action mirrors Bitcoin prices, and many hope that it shall start rising when Bitcoin prices recover.
*This is not investment advice. Always do your due diligence before making investment decisions.
GBTC stock price.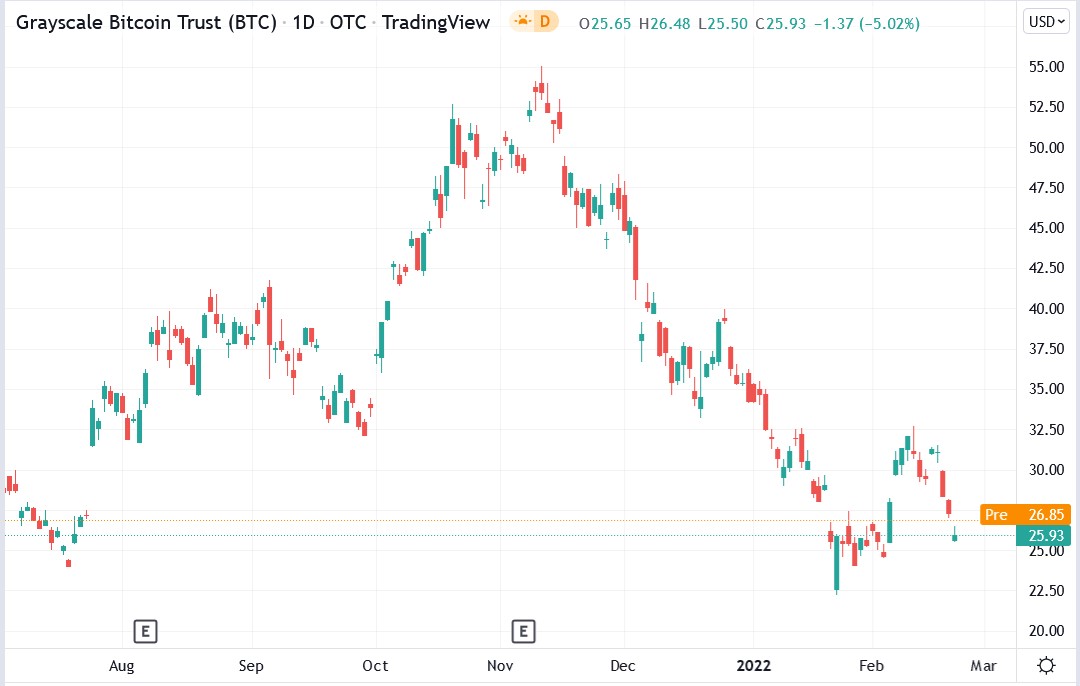 The GBTC stock price has fallen 24.29% in 2022. So could the selloff that started in mid-November be over?