Key points:
The IQE share price has risen 38.8% in two weeks despite a lack of news.
The move higher was fueled by an influx of buyers amid positive sentiment.
So should you buy IQE shares now? Read on to find out.
The IQE plc (LON: IQE) share price has risen 38.8% in two weeks, driven by positive investor sentiment given the lack of announcements from the semiconductor wafer manufacturer. The company's shares rose as buyers stepped up at a crucial support level, overpowering sellers and pushing IQE's share price above 40p. However, the price has fallen slightly over the past two days.

Looking at the company's fundamentals, it is evident that the new CEO appointed last year, Americo Lemos, has the support of shareholders as he works to turn around the chip manufacturer's fortunes.
One of the biggest problems that IQE faced in the past was its low margins compared to other chip manufacturers, which made its stock less attractive compared to other firms such as Qualcomm, Foxconn and Taiwan Semiconductors.
Many experts have pointed out that IQE needs to raise its margins to compete effectively with its global peers. In addition, the company had started consolidating its business by disposing of some of its assets that were not the main revenue generators.
The chip manufacturer had commissioned a review of its entire business last year to determine areas where it could unlock more value for investors and generate higher revenues and profits. IQE had also invested in improving some of its manufacturing facilities, which should help boost its overall output of chips.
The recent rally in IQE shares shows investors significant interest in the company despite the lack of significant releases. In addition, many expect the company to keep doing well amid a global surge in demand for semiconductor chips from multiple industries.
While the company lagged behind its peers last year, many expect to see improvements this year as demand for chips from the automotive, consumer electronics, and smart devices industries surges.
However, the recent slowdown in consumer spending could be a negative factor as demand for consumer electronics will likely be affected.
Meanwhile, those who missed the latest rally should wait for a decent pullback before buying or for a break above the 43p resistance zone.
*This is not investment advice. Always do your due diligence before making investment decisions.
IQE share price.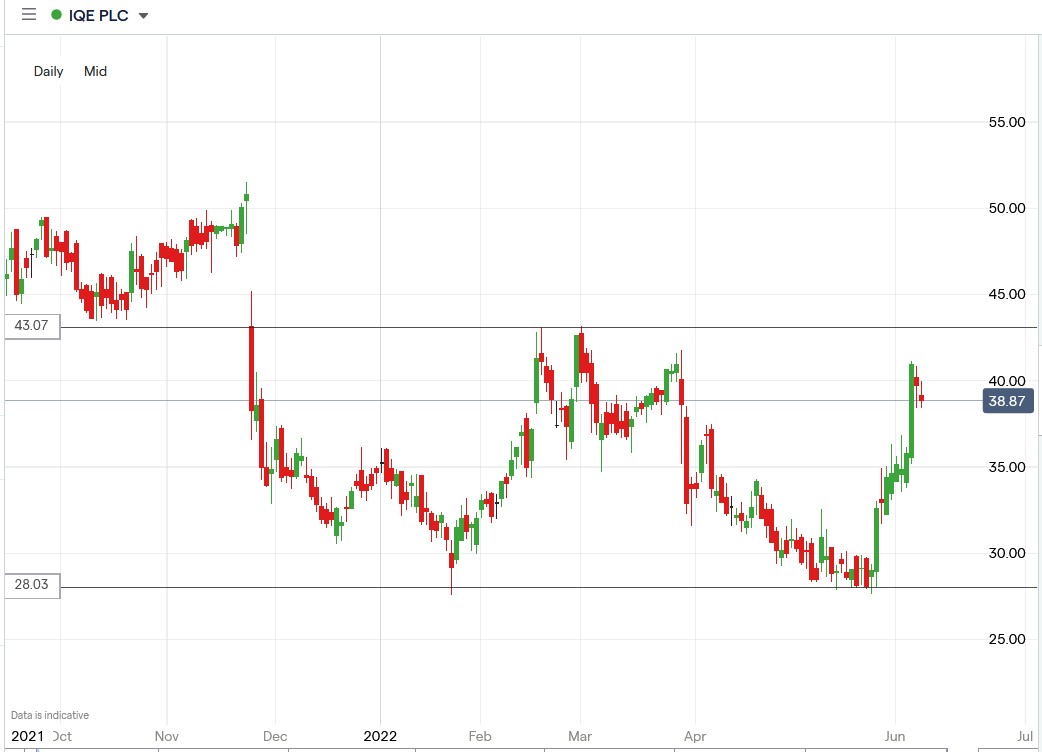 The IQE share price has risen 38.8% from its mid-May lows of 28.00p to heir current price of 38.87p.