Key points:
The Angus Energy shares rallied 8.78% today on the Saltfleetby update.
The firm is close to commissioning and exporting gas from the project.
As a result, Angus energy shares could rally higher over time.
The Angus Energy PLC (LON: ANGS) share price rallied 8.78% after announcing that it was close to commissioning its Saltfleetby gas field in the western part of the Humber River Basin.

The onshore oil and gas development company revealed that it was in the last stages of finishing the mechanical and electrical tie-ins at the gas field and was expecting to have the first flow of wellhead gas through the plant from 20 June 2022.
Investors cheered the announcement when the British government was keen to make the country energy-sufficient given the recent surge in oil and gas prices globally due to the Russia-Ukraine war.
The Saltfleetby gas field can be easily connected to the UK national grid, with the grid connection being just 10 kilometres away via an existing pipeline. Angus Energy is currently working on hydro testing (which is almost complete) and nitrogen leak testing.
Other tests being run include the function testing and final verification of all pressure equipment combined with final live gas testing via wellhead gas. The completion of these processes and the start of gas exports is only the first step for the company.
Angus Energy also plans to start drilling the upcoming side-track at Saltfleetby on 21 July 2022 to unlock additional gas resources identified via the field development plan prepared in 2016. The company estimates it can recover 10-18 BCF of gas from the gas field.
Investors will await updates via the company's Linkedin, Twitter, and RNS Reach pages. Angus Energy shares have risen 81.38% in 2022, but there could be further gains for investors.
Looking at the oil and gas company's weekly chart, one can see that ANGS shares once traded as high as 37.8p in the past. Therefore, the shares have significant upside potential.
*This is not investment advice. Always do your due diligence before making investment decisions.
Angus Energy share price.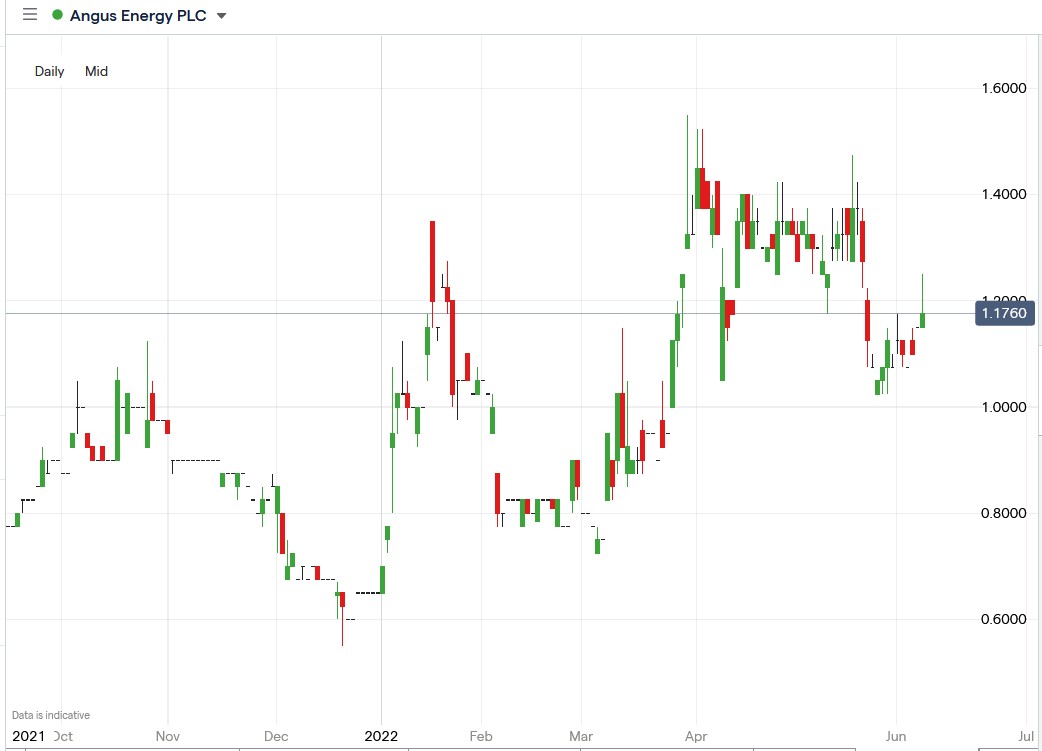 Angus Energy shares rallied 8.78% to trade at 1.2510p, rising from Thursday's closing price of 1.1500p.