Key points:
The ITM Power share price plunged 13.8% on FY22 results.
The company's losses ballooned to £36.5 million from £21.4 mln.
However, the firm accomplished multiple significant milestones.
So are ITM Power shares a buy? Read on to find out.
The ITM Power plc (LON: ITM) share price plunged by 13.8% after releasing its full-year trading and corporate update. Investors reacted negatively to the report as the green hydrogen technology company's losses ballooned to £36.5 million from the £21.4 million loss recorded in 2021.

The company's cash burn also rose to £52 million versus the £37.7 million reported in 2021. However, while there were concrete reasons for higher cash burn, such as the £7 million spent on product development, the £20 million spent on inventory build, and the ongoing WIP, investors were not happy with the results.
There is also the issue of ITM Power's valuation, which currently stands at £1.54 billion, yet the company generated revenues worth £5.5 million, which was an improvement to its 2021 revenues of £4.3 million.
Despite the adverse reaction to today's update, ITM Power made significant progress in the past year, including the launch of ITM Power Service, an aftermarket customer support service to provide its customers with after-sale services throughout the entire product cycle after they purchase electrolyser systems.
ITM merged its existing aftermarket service operations under one division based in Germany. Philip Wilson and Calum McConnell will lead the new unit as Technical and Commercial directors, respectively. The two are long-term ITM Power employees.
The company received a €2 million grant from the German government, which is used to lease a 17,054 sqft three-storey combined office in Linde, Hesse, a well known German transit state. The office will house a warehouse facility and control centre that will stock all its electrolyser spare parts for easy distribution to clients across the EU.
ITM Power also signed a 50/50 joint venture partnership agreement with Vitol Holdings SARL to operate ITM's wholly-owned subsidiary ITM Motive Limited as a joint-venture entity. Other key highlights of the report included the 160% surge in ITM's contract backlog from 290MW to 755MW, with work in progress on contracts covering 75MW, a 74% improvement from the 43MW reported in 2021.
So, should you buy ITM Power shares? The company looks like an attractive choice for investors in the sustainable energy sector.
*This is not investment advice. Always do your due diligence before making investment decisions.
ITM Power share price.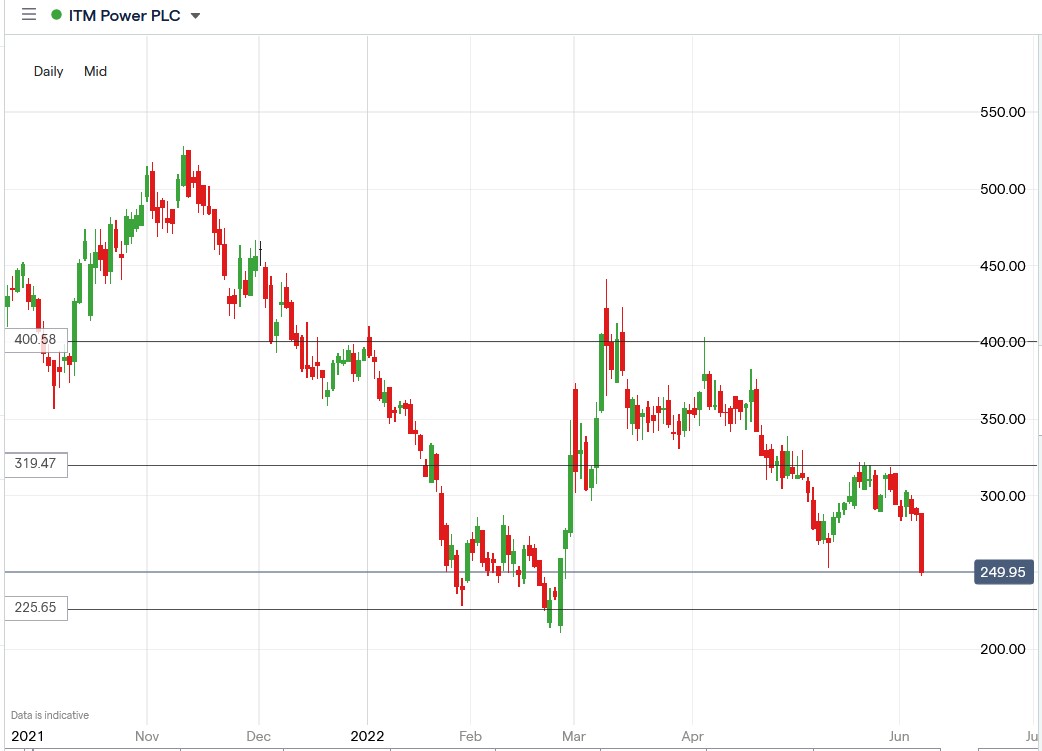 The ITM Power share price plunged 13.83% to trade at 247.85p, falling from Wednesday's closing price of 287.65p.