Key points:
Wizz Air shares are down 5% on results and worries
Can they expand staffing to meet summer demand?
Will Tui, Easyjet and IAG face the same problems?
Wizz Air (LON: WIZZ) shares are down 5% as the final results are out. Also, as the management is complaining bitterly about circumstances in the market. The bigger issue here is how these results are going to feed over into Tui (LON: TUI), Easyjet (LON: EZJ) and IAG (LON: IAG) – that last the owners of BA. For the big question is whether this is something internal to Wizz Air that is causing that specific airline problems, or is it something more general covering the airline market in general?

The answer, sadly – and whatever the shouting at Wizz Air – seems to be that it's a more general market condition. And one that might not be solved by the time of this summer's peak flying season. Which is a worry, as, of course, it's summer that pays the bills and makes the profits for all of these European airlines. Wizz Air shares perhaps being that canary in the coal mine rather than something differing from the rest of the market.
The core of the results is this: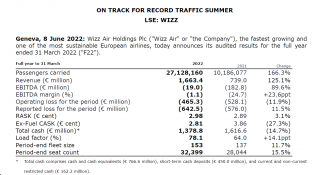 Another half a billion loss, but we knew that was coming. Last summer wasn't a good trading time for airlines, and it is the summer that makes the profits. The problem comes in the line at the top "On track for record traffic summer". This could be true, and we'd like it if it were. The problem is, can the airlines – and we're taking the result here as being indicative for all of them, Tui, IAG and EZJ as well – actually service demand? That's the point at issue here.
The problem stems back a bit. Of course, during lockdown hiring ceased, there was the normal move of people to other jobs, rather more than usual quit for other work and so on. Also, no one quite knew what demand would be like when the ability to travel freely returned. Would we all have got used to staycations? Or would we be gagging for the beaches?
As it seems to be turning out, we're gagging for Sangria and sand. Which is great. But the airlines aren't quite geared up for the volumes. Easyjet was cancelling flights by the bucketload over half term. Tui has slashed flights out of Manchester by 25%. Everyone is having difficulty staffing the flights they're already flying, let alone expanding routes or frequencies.
This does mean ticket prices are rising strongly. But cancellations can be hugely costly, and it's not obvious how the balance – that balance of the cash also being known as profits – is going to work out. It's also true that there's no great reserve army of workers who can be hired. UK unemployment is down to record low levels, plus the security requirements to get an airside pass mean it can take months to bring new staff onboard.
It's possible – possible – that these problems won't be solved by the peak summer season in only 5 or 6 weeks' time. This will mean high prices and high seat loads on those flights which do take place, but not enough flights to meet demand and cancellations in there too.
Trading in airline shares at present is really a decision on whether these problems can be overcome and full flight schedules run without staffing shortages both in the air and on the ground.