Key points:
Kidpik stock rallied 133% after advertising its products via a Disney movie.
The company's grab-and-go fashion pieces target busy parents with kids.
Investors noticed the company and rushed to buy its shares, hence, the rally.
The Kidpik Corp (NASDAQ: PIK) stock price soared 133%+ as investors became aware of the company and its products after it partnered with Disney to celebrate the release of the movie Cheaper by the Dozen set to premiere on Disney+ tomorrow.

The company issued a release highlighting the importance of its products to overwhelmed parents who can easily shop for outfits for their children and have them delivered to their doorstep.
The movie is about the lives of a family of twelve and the hassles that the parents go through raising their ten children. Some activities that take the family's time include getting the children ready and dropping them at school on time.
The family also finds itself in exciting situations, such as learning the latest TikTok moves from their twins and competing in impromptu dance-offs at basketball games as part of their fun and hectic family routines.
Kidpik offers four fashion boxes handpicked by its stylists, with a set of grab-and-go outfits suitable for different occasions. The boxes are aptly named "the Fashionista", "The Social Media Maven", "The Go-Getter", and the "Sports Fan."
The boxes are curated for girls and boys of sizes 2-16 clothing and shoes sizes 7-6. Parents can order the grab-and-go outfits and help their kids wear them before dropping them off at schools taking away the headache of choosing outfits daily.
Parents can purchase the boxes for a one-time payment that starts at $89.25 without having to subscribe for recurrent payments. Each box has seven fashion pieces that can be worn in a mix and match fashion to create multiple looks.
Kidpik chose the right movie and moment to advertise its products, evidenced by the 107% surge in its stock price at writing. However, the actual test will be whether the company can ramp up sales given that the boxes are not cheaply priced.
However, one could argue that the boxes contain seven pieces of clothing; hence, each piece is priced at $12.75, which is quite fair. The company was founded in 2016 but listed on the Nasdaq on November 11, 2021.
*This is not investment advice. Always do your due diligence before making investment decisions.
Kidpik stock price.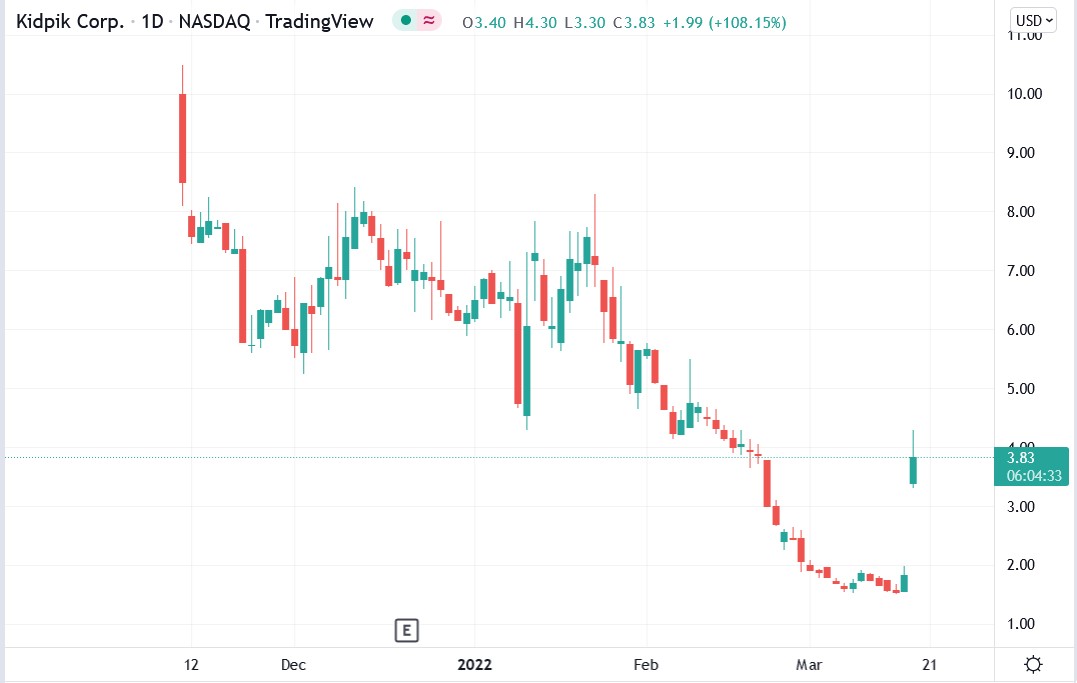 The Kidpik stock price soared 133.15% to trade at $4.29, rising from Wednesday's closing price of $1.84.