Key points:
Hut 8 Mining stock plunged  5% as the companies swung to a loss.
The bitcoin miner has been increasing its mining capacity to date.
The loss came from a revolution of liabilities, not its operations.
The Hut 8 Mining Corp (NASDAQ: HUT) stock plunged 4% after the Bitcoin mining company surprisingly swung to a loss in Q4 2021. The company reported a C$0.67 (US$0.53) loss per share, missing analysts' estimates of a C$0.17 profit per share.

Its 2021 revenues surged to $173.8 million, with $165.4 million from its self-hosted Bitcoin mining operations. The miner also doubled the number of Bitcoin mined to 2,786 Bitcoin.
The company attributed the loss to a non-cash revaluation loss on liability warrants of $114.2 million. Luckily for investors, the company's Q4 revenues surged 345% to C$57.9 million compared to 2020 but aligned with analysts' expectations.
Hut 8 Mining's share price has fallen 33.63% in 2022, reflecting the decline in Bitcoin prices from mid-November 2021.
The crypto-miner had 5,518 in Bitcoin worth $323.9 million at the end of December 2021, indicating that it mined 789 bitcoin in Q4 2021, given that it had 4,729 bitcoin at the end of Q3 2021.
The company steadily increased its crypto mining hash rate to 2.5 exahash/second (EH/s) on February 28, 2022, rising from 2.0 EH/s on December 31, 2021.
The firm's current hash rate is approximately 3.55 EH/s, including the miners it has ordered, yet to be received and installed.
Hut 8 is upgrading its Medicine Hat mining farm, focusing on the electricity infrastructure to optimise its hash rate as more MicroBT mining machines are delivered.
The company's strategy of holding on to the Bitcoin it mines could prove costly over time if Bitcoin prices do not recover to their previous highs.
For now, the world's leading cryptocurrency has formed a bottoming pattern on the daily chart and could rally higher at any minute, lifting the stock prices of bitcoin mining companies.
Meanwhile, the company will have to sell some of its Bitcoin in the future to lock in some profits, especially if Bitcoin reclaims its all-time highs of over $68,000 per coin.
The company will be holding a call with investors at the market open to give further details about its plans and expected performance this year.
Hut 8 Mining shares look attractive at current prices as many anticipate higher Bitcoin prices in future. Therefore, investors may take this opportunity to get exposure to the sector before Bitcoin rallies again.
*This is not investment advice. Always do your due diligence before making investment decisions.
Hut 8 Mining stock price.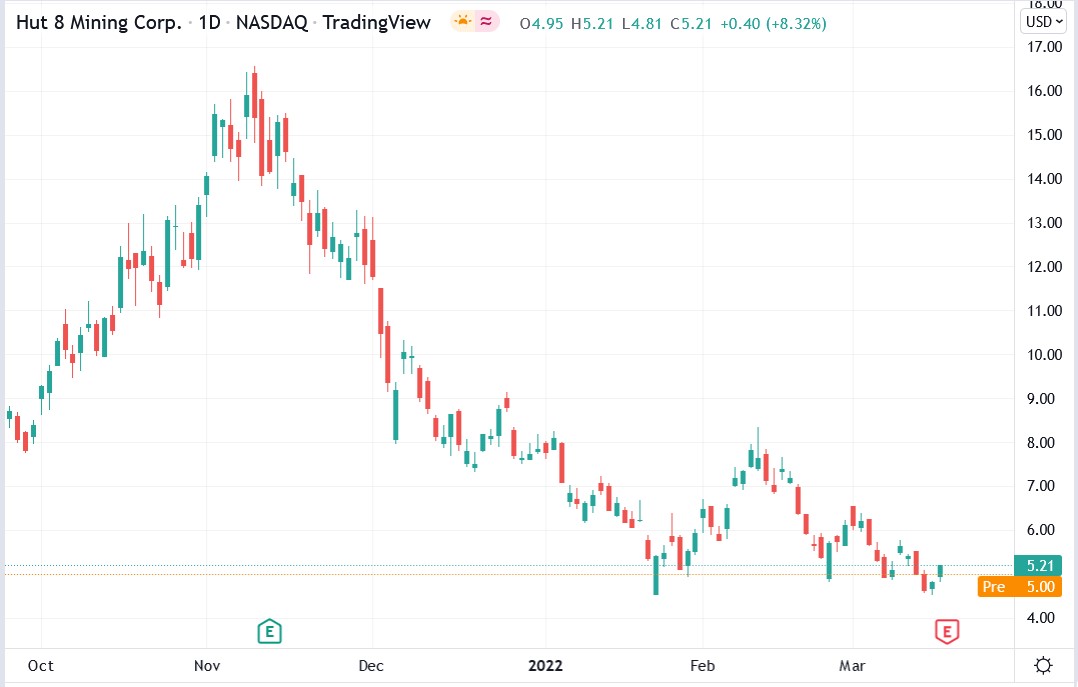 Hut 8 Mining stock price plunged 4.99% to trade at $4.95, falling from Wednesday's closing price of $5.21.