Key points:
The US Natural Gas Fund (UNG) stock price has risen 138% in 2022.
Many experts predict higher gas prices, but I'm of a different opinion.
Could gas prices have peaked? Will we see a decline in UNG stock?
Read on to find out.
The United States Natural Gas Fund, LP (NYSEARCA: UNG) stock price has risen by 137.95% in 2022, and many expect it to keep rising as demand for natural gas as an electricity source in the United States remains high.

However, could the demand for natural gas have peaked, given UNG's recent performance? The answer is yes; we could be in a period of peak natural gas demand in the US, given that UNG stock has been trading sideways since May 25, 2022, alternating between positive days and negative ones.
One of the reasons why gas prices might have peaked is that the market might have already priced in all the negative factors that have fueled the rally higher in UNG stock this year, key among them being low supply and high demand. In addition, the war in Ukraine and the resulting sanctions on Russian oil and gas have been key drivers behind the rally in natural gas prices.
However, the recent sideways trend in UNG's stock price indicates that natural gas prices are struggling to rally higher since each move higher has been met with selling pressure. Therefore, I find it easier to bet on a further decline than a rally higher.
Furthermore, we are heading into the summer season, when electricity demand is usually much lower than during the winter when there is a higher demand for electricity from consumers who heat their homes and offices to combat the cold temperatures.
Therefore, technical and fundamental factors work together to lower gas prices. But, for now, the battle between the bulls and bears continues to rage. A break below the support level at $27.50 would indicate that the bears are finally in control.
However, a break above the $32 resistance level would indicate that the bulls are now in control. Moving above this level would invalidate the bearish thesis until the price falls back within the range.
*This is not investment advice. Always do your due diligence before making investment decisions.
UNG stock price.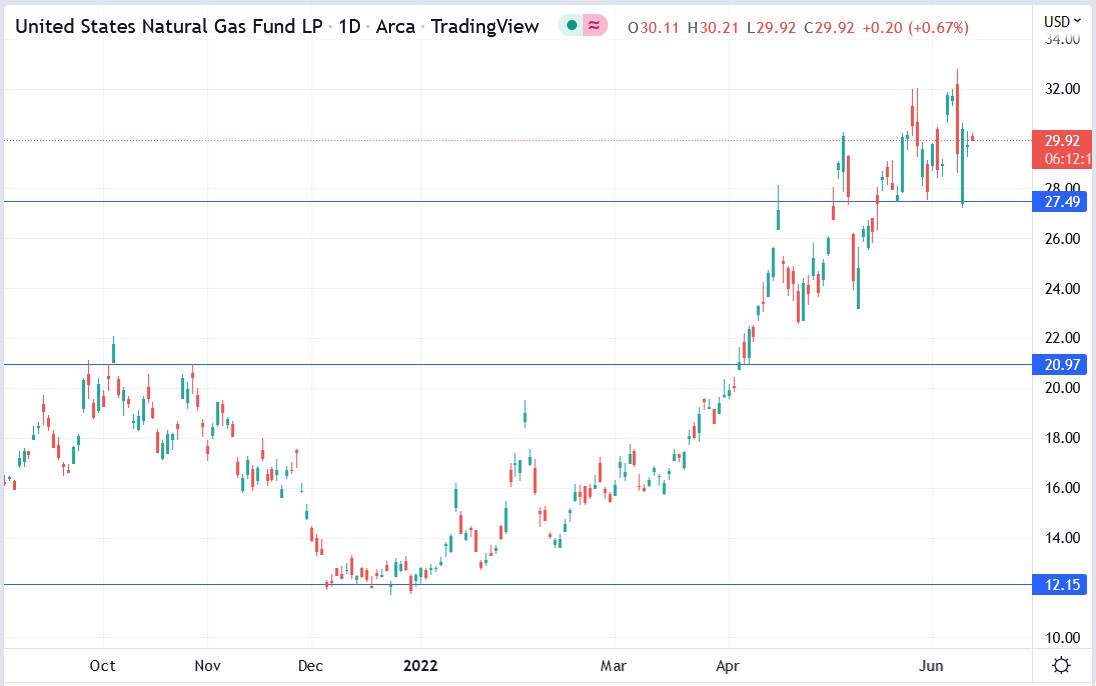 UNG stock price has risen by 137.95% in 2022, and the bullish momentum could be running out.