Key points:
The Deepverge share price rallied 18.9% on the Modern Water update.
Modern Water's sales in China and the Asia pacific rose to £3m in Q2.
So should you buy DVRG shares? Read on to find out.
The Deepverge PLC (LON: DVRG) share price rallied 18.9% after its subsidiary Modern Water had secured orders worth over £3 million during the second quarter, which it will deliver later this year. Investors cheered the announcement, as evidenced by the rally in Deepverge shares.

Deepverge said most sales were generated from tier1 partners who bought water monitoring and membrane water recovery systems. In addition, the company is now serving microchip fabrication manufacturers, representing an entirely new business vertical for Modern Water.
The company added that its sales team kept working despite multiple lockdowns in the Chinese and South Asian markets, making it difficult for the firm to communicate with its employees.
Gerard Brandon, CEO DeepVerge plc, commented: "Whilst we have continued to generate business, communication between teams, as well as supply chains, has been challenging. However, through our drive to build the business and the intensity of our marketing and selling strategy, mostly online, we are now seeing a rebound as a result of pent-up demand, which is putting the market back on track.
The CEO also attributed the higher sales to a change in strategy from focusing on selling lower ticket equipment to selling medium and large enterprise solutions. Many of its recent sales have come from customers upgrading their existing Microtox and Microtrace equipment to newer models.
The newer devices sold by Modern Water have more efficient data aggregation capabilities, including how they interface with third-party systems. They also incorporate larger SCADA operational management systems.
The company has also partnered with other local firms that have teams that can sell Modern Water's high-ticket equipment. As a result, its strategy has gained momentum and will be used to build the company's presence in the region and globally.
Modern Water wants to establish itself as a leading global provider of water testing solutions.
Deepverge shares have fallen 54.9% in 2022 and look attractive at current prices. However, there are no guarantees that we won't get a further decline.
*This is not investment advice. Always do your due diligence before making investment decisions.
Deepverge share price.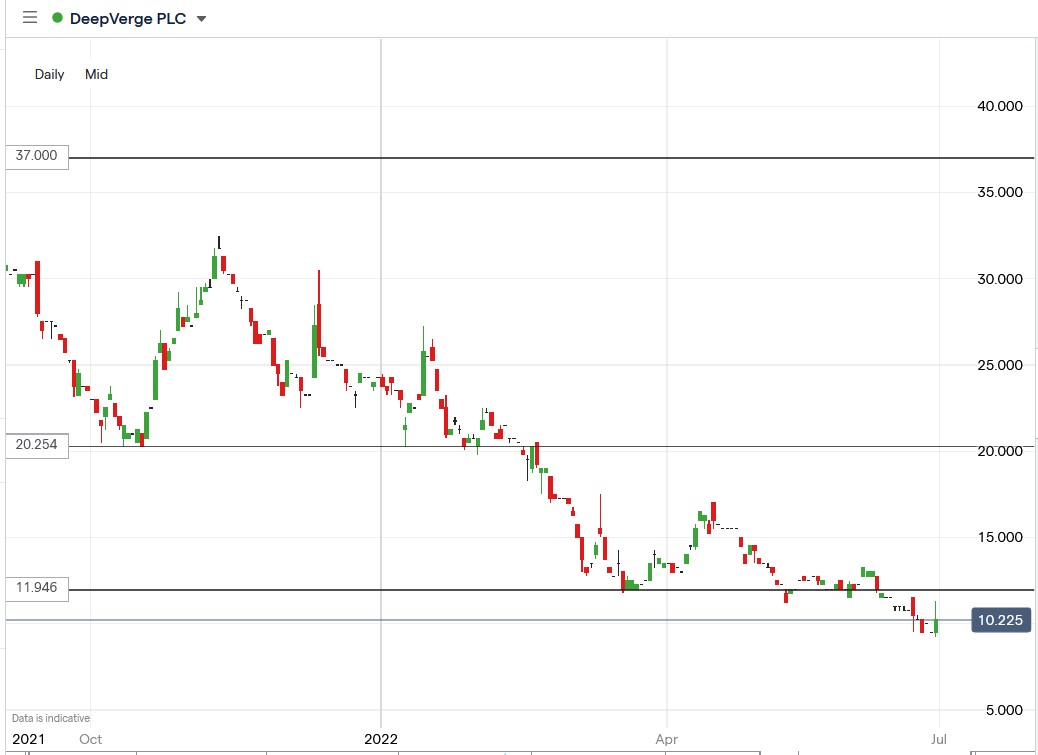 Deepverge shares soared 18.94% to trade at 11.30p, rising from Wednesday's closing price of 9.50p.