Key points:
The VTI stock price has fallen 9.15% in 2022 but could have bottomed.
The VTI's rally is underpinned by a double bottom pattern and third bounce.
The rally might extend higher if it breaks the $222 resistance zone outlined.
The Vanguard Total Stock Market Index Fund ETF (NYSEARCA: VTI) stock price has fallen 9.15% in 2022 but appears to have bottomed. Can the ETF that tracks the entire stock market's performance recoup its losses?

For many people, the US stock markets have been in a massive sell-off since early January after forming a double top pattern. As a result, some retail investors chose to stay out of the markets until stocks had recovered and were headed higher.
Investors who choose to stay away from the markets during sell-offs are usually looking for a chance to re-enter the markets when the sell-off is over.
However, it is tough to time a market bottom, with many investors doing a lousy job of determining when the markets have bottomed so that they can avoid catching a falling knife and simply pick it up from the floor.
There is a rule used by market experts that says "the third time is a charm", a common everyday phrase that is exceptionally accurate of the markets. Experienced investors know that the third bounce usually has the most gains when a stock or market is falling or rising.
This year, the same rule is true of what has transpired in the US stock markets, as reflected in the VTI stock price chart below on the daily timeframe.
Investors who have been monitoring the markets will know that the first bounce in VTI stock occurred from January 24 to February 10 but did not last as the beares took over and pushed VTI stock to a new low.
The second bounce (rally) started from February 24 to March 2, before the bears jumped in again to push prices. However, something interesting happened this time around, VTI stock bottomed twice at the $209 level, which is a bullish sign.
VTI stock has risen since March 15, and this time, there is a significant chance that the rally will last longer than before. The double bottom pattern on the third bounce are strong confluences that underpin the current rally.
However, the bullish thesis will be invalidated if the VTI stock price closes below the $209 support level. Those who missed the initial bounce should wait for VTI to cross above the $222 resistance zone before opening new positions. However, nothing is guaranteed in the markets.
*This is not investment advice. Always do your due diligence before making investment decisions.
VTI stock price.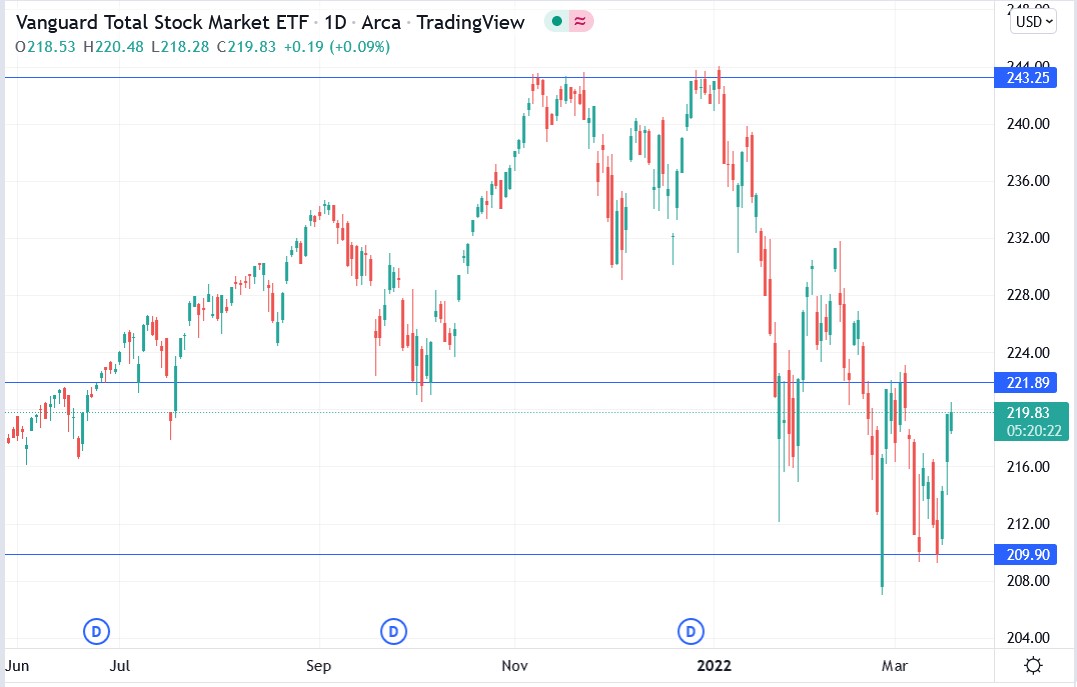 VTI stock price has fallen 9.15% in 2022 but appears to have bottomed. Will it recoup its losses?