Key points:
TheWorks share price is down 24% this morning
This is a result of the trading update
The problem is a quarter off online results – that's just not good
TheWorks.co.uk (LON: WRKS) shares are down 24% this morning on the back of their trading update. As can be gathered from the share price reaction here those numbers aren't good. But it's why they're not good which is the interesting little puzzle. For they're forcasting that EBITDA will be a little better than the market currently thinks, there will still be a dividend and so on. The particular problem is that online sales have fallen and fallen badly. Given TheWorks' claim to be a multichannel retailer this isn't welcome news of course.
That's the thing, the news isn't all bad: "In our trading update issued on 20 May 2022 we noted that the FY22 EBITDA result was expected to be £15.0m. Underlying EBITDA is now expected to be approximately £16.5m, primarily due to a lower than expected level of provisions relating to stock" And: "Board still anticipates recommending 2.4 pence per share dividend in relation to FY22". That's not bad news and we'd not expect it to lead to a quarter off the share price. Especially as we'd already seen a fall when those earlier numbers were announced. Beter numbers should lead to a higher price, right?
Except this is obviously not what has happened and the reason is almost certainly this: "Challenging online performance with LFL sales decline of 28.6%" If we think that online is going to eat retail – which is a fair guess – and one retailer sees more than a quarter off their online retail numbers then we'd worry more than a bit about the future of that particular retailer.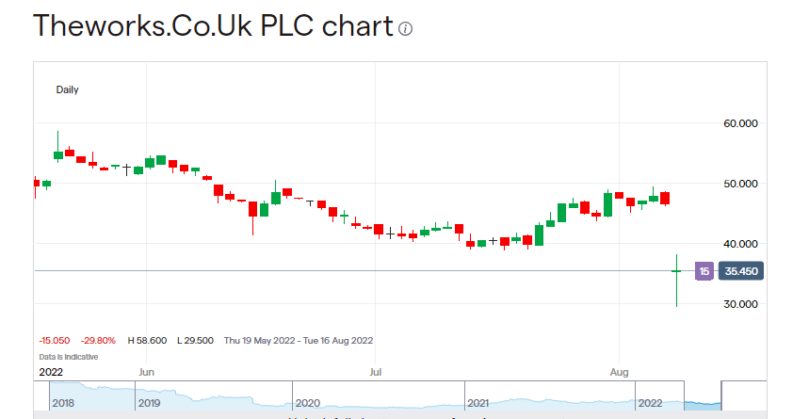 Also Read: How To Buy Amazon Shares
There are two entirely different worries here though. The first is, well, did we really think that the boom in online would survive the end of lockdown? Online has been eating physical retail at a steady pace, sure – 1% of the market or so each year. We'd got to perhaps 14% or so of the market being online by lockdown. That then jumped to 30% and change in lockdown. So, one question was will this be the new starting point, we'll add another 1% per year from there? Or will there be a falling back? As we've found out from many online retailers there was a considerable falling back. The lockdown jump was a phase, not a jump to that new starting point.
OK, that's fair enough and these results can just be seen as a confirmation of that. But there's another problem, which is that the online fade hasn't happened to everyone. It hasn't happened to Amazon for example. So it's possible – possible you understand – that what we're seeing is not just that change in general market conditions but instead, or perhaps also, a fading of other online retailers alongside the Amazon performance. That's a much more worrying idea of course.
That's really the worry here. Not that online has fallen as a market, but that the relative performance as compared to other retailers has fallen.