Gone are the days when investing in a Fairtrade-orientated firm meant you had to sacrifice financial return for the emotional satisfaction of supporting a worthy cause.
Fairtrade stocks are big business nowadays, and they are proving good for the bottom line as well as the planet. That might not be surprising, considering basic Fairtrade philosophies and changes in modern business management protocols overlap to some extent.
We've compiled a list of companies with shares that all have a strong case to be considered the best Fairtrade stocks to buy.
What are Fairtrade Stocks
Fairtrade stocks are those of companies that align themselves with the principles of the Fairtrade scheme. This can include selling items certified as Fairtrade compliant or promoting the ethos in other ways.
The charitable organisation Fairtrade.org was founded in 1992. It created a system of certification that aims to ensure a set of standards are met in the production and supply of a product or ingredient.
According to the organisation's protocols, farmers' and workers' rights are protected, and safer working conditions are accompanied by fairer pay. For consumers, it means high-quality, ethically produced products.
Fairtrade ties in with a shift by both consumers and investors to support firms which give greater emphasis to ethical business practices. It works in tandem with other movements, such as ESG (Environmental, Social, Governance) and CSR (Corporate Social Responsibility) investing.
Those similar protocols identify stocks sensitive to environmental, social and governance criteria. They are proving increasingly popular with investors. Bloomberg reports that global assets under management in schemes running ESG mandates will reach $50trn by 2025 and exceed $100trn by 2028.
Best Fairtrade Stocks
The decision about which Fairtrade stock to buy will be influenced by factors ranging from how strong an investor's desire is to make a meaningful difference, balanced against the potential for capital gains. To help you locate and buy the right stock, AskTraders has compiled the below list of the best Fairtrade stocks to purchase, each with a plausible reason to be included in your portfolio.
Sainsbury (J) Plc (LSE: SBRY)
UK grocer Sainsbury's has been a long-term flag carrier for the Fairtrade movement. It started selling Fairtrade-licensed products in 1994 and is now the world's largest retailer of the products.
From an investment perspective, the private equity buyout of Morrison's by Clayton, Dubilier & Rice (CD&R) in 2022 demonstrates that investors, including buyout funds, see the UK Grocery sector as undervalued. With Sainsbury's reporting a dividend yield of 5.03% and a P/E ratio of 9.92, it's clear why.
Sainsbury stock was caught up in the widespread sell-off of stock markets in 2022. It has since rebounded sharply from its 52-week price low of 194.35p recorded on 13th October 2022. That reflects investors taking the view that its business model makes it one of the best recession-proof stocks in the market.
Tate & Lyle Plc (LSE: TATE)
Since signing up to be Fairtrade certified in 2008, Tate & Lyle Sugars has supported many farmers' organisations. Today, it sources Fairtrade sugar from thousands of small-scale cane farmers in 14 different groups in four countries.
The dividend yield of 2.35% and P/E ratio of 12.46 make buying into the stock attractive. The Tate & Lyle P/E ratio is lower than the average of the FTSE 100 (15.34), which, in turn, is well below the ratios of other major global indices.
Tate & Lyle is undergoing a significant restructuring. The eponymous sugar brand has been sold off, with the firm concentrating on developing its divisions that focus on sweeteners, thickeners, and bulk commodities. This focus on higher-margin products looks set to generate returns for investors.
Marks & Spencer (LSE: MKS)
Marks & Spencer started selling Fairtrade products in 2006. Its commitment to income diversification initiatives, climate adaptation projects, and leadership programmes has also seen it set up its in-house project, the Global Community Programme.
The firm's share price has bottomed out after years of underperformance and current price levels. The company now offers an impressive dividend yield of 2.81 % and a P/E ratio of 9.42.
Ocado Group Plc (LSE: OCDO)
The food division of M&S includes Fairtrade products and benefits from high levels of customer brand loyalty. To expand market share, the firm has launched several initiatives, which include a partnership with Ocado, and the decision made in January 2023 to open 20 new high-street stores.
Online retailer Ocado offers an opportunity for investors to tap into the tech sector and Fairtrade products at the same time. The firm's share price has been building momentum over a few years. It surged from £2.58 in October 2017 to £28.53 in February 2021 – a 914% return to investors.
Since those all-time highs were recorded, the Ocado stock price has slumped to as low as £3.90. That represents a buying opportunity for those who believe the 2022 sell-off in growth stocks has been overdone.
Ocado stocks some of the most instantly recognisable Fairtrade brands, including Cadbury's, Ben & Jerry's, Green & Black's, and Clipper, and it even stocks Fairtrade wine. It offers a higher risk-reward ratio than the other Fairtrade stocks on our list but has a strong case to be included in a well-diversified portfolio.
United Natural Foods Inc (NYSE: UNFI)
Rhode Island-based United Natural Foods Inc (NYSE: UNFI) is the largest publicly traded wholesale distributor of health and speciality food in the US and Canada. It stocks over 900 Fairtrade food and beauty products and is a leading supplier to Whole Foods Market stores.
Since March 2020, the stock has bottomed out and has shown significant strength, but there is still room for upward movement, with the all-time high of $82.51 some way off. Momentum is building, and the P/E ratio of UNFI stock has fallen from 27.47 to 10.70.
United Natural Foods sits in a Fairtrade sweet spot. In some markets, +30% of bananas sold are registered as Fairtrade, and fruit and vegetables have long been an entry point for consumers who go on to expand their Fairtrade buying patterns. The firm also invests in a range of ethical and philanthropic initiatives.
Mondelez International Inc (NYSE: MDLZ)
American multinational food producer Mondelez International has a share price that continues to snowball year after year. It's worth looking out for share price dips such as those of 2019, 2020, and late 2022, which offered opportunities for investors to buy into a global operator with an eye on Fairtrade principles and which owns one of the strongest Fairtrade brands, Cadbury's.
Mondelez is currently trading with a PE ratio of 28.11, which is high in relation to the other stocks in our best Fairtrade stocks list. That reflects investors have already bought into the stock but doesn't necessarily mean further price rises aren't possible.
Mondelez is a favourite stock of many investors, meaning a lot of the good news is already priced in. It also means that upward momentum is confirmed. As there is some volatility naturally built into the MDLZ stock price, timing trade entry points right and waiting for a pullback can help optimise returns.
Why Invest in Fairtrade Stocks Now
Two incentives typically drive investors in Fairtrade stocks; right now, both are aligning to make pulling the trigger on a 'buy' trade worth considering.
The first incentive is the need to address societal imbalances. The residents of smaller and developing countries have long found themselves powerless in negotiations with large corporate partners. Fairtrade accreditation is a way to incentivise the bigger parties to share more of the proceeds of the relationship with the 'little guy.'
The second reason to invest in Fairtrade stocks is that recent moves in asset prices point to a groundswell in investor support. That means returns on capital. For many, profit and loss have been a secondary influence on investment decisions. An increasing number of buyers are coming into the market based on the investments being a way of growing their wealth.
Between March 2020 and January 2023, the iShares MSCI World ESG Screened UCITS ETF increased in value by 79.7%. The price chart for the index, which tracks companies with high ESG rankings, shows an impressive total return but also highlights the relatively low price volatility of the fund.
Any investment vehicle offering consistent and steady returns must be considered by sensible investors. Throw in the 'feel good' factor, and it's clear why Fairtrade investing is taking off.
The thought that ethical schemes are seen as cash cows by money-only orientated investors is a positive move towards better business practices. The influx of investment in the sector will ultimately put Fairtrade firms in a stronger position to achieve their long-term goals.
What to Know Before Investing in Fairtrade Stocks
Increased appetite for ethical investment products has led to some unscrupulous agents trying to present their products as greener than they are. Greenwashing has become such an issue that in late 2022 the FCA (Financial Conduct Authority) announced it would be bringing in new rules to ensure the sector's integrity.
Sacha Sadan, the FCA's Director of Environment, Social and Governance, said:
"Greenwashing misleads consumers and erodes trust in all ESG products. Consumers must be confident when products claim to be sustainable that they actually are. Our proposed rules will help consumers and firms build trust in this sector."

Source: FCA
The clampdown by regulators will help improve transparency and support ethical investors looking to buy Fairtrade stocks. Due diligence will still need to be carried out to ensure any stock purchase matches desired criteria.
If spending hours of research is off-putting, it is worth considering the advice given by Tariq Fancy, who once held the title of Head of Sustainable Investment at the world's biggest asset manager, BlackRock.
Speaking with the BBC, Fancy explained that after spending much of his career having difficulty trying to run comparisons on different firms around the globe, he started simplifying his approach. He stated:
"Having spent years digging through ESG data and trying to understand and disaggregate it, I would actually say that sometimes the level of work going into it is almost counterproductive. It tries to put precision onto things which are quite hard to measure.

"The simplest thing is to run a test that if this company doubles in size, is it good or bad for the world? Well, if it's an electric vehicle maker, it's probably good for the world… and if ExxonMobil doubles in size, it's probably not good for the world."

Source: ForexTraders.com
How to Start Trading Fairtrade Stocks Online
While Fairtrade stocks have been revolutionising investment decisions, online brokers have been equally hard at work transforming how people can gain exposure to the sector.
Online brokers offer a user-friendly way to put on trades and monitor positions. The onboarding process can be completed online using a desktop or hand-held device, and the whole process can take only minutes to complete.
There are some common-sense guidelines to follow, which will help you steer clear of scammers, and this range of hints and tips from experienced traders will lay out the basics.
The primary aim is to ensure your funds are secure. If you pick a rogue broker, your investment won't be going towards the new projects the firm is embarking on but into the pockets of criminals instead. For that reason, it's vital only to use brokers licensed by a Tier-1 regulatory authority, such as one of those listed below.
The Financial Conduct Authority (FCA)
The Australian Securities and Investments Commission (ASIC)
The US Securities and Exchange Commission (SEC)
The Monetary Authority of Singapore (MAS)
Cyprus Securities and Exchange Commission (CySEC)
1. RESEARCH FAIRTRADE SHARES
There is a range of ETF and fund-style products that offer exposure to a pool of different firms. However, some firms outperform the peer group over the long term, and some have a more passionate approach to Fairtrade principles. Picking single stocks can therefore result in a portfolio that is a better natural fit for a particular investor.
Fairtrade credentials can be screened by visiting the Fairtrade.org site for news and analysis of the sector. This site carries updates on the degree to which firms are behind their projects and flags up those who appear to be trying to hitch a ride on the ethical bus without really buying into the project. It's also possible to investigate each firm's approach to ethical issues by digging into its Corporate Social Responsibility (CSR) statement.
Investors looking to make the most out of the business side of their investment will find a lot of free research online. The broker sites are also a good source of material and signing up for a demo account takes seconds. They allow users to tap into the research and analysis sections of broker platforms.
Two schools of investment analysis are Technical Analysis and Fundamental Analysis.
The former studies historical price data to look for clues as to which way price will head. Indicators such as price data, moving averages, and trading volumes can all offer a pointer on future moves. They can also flag short-term price dips and spikes, helping investors optimise their trade entry and exit points.
Fundamental analysis looks into the core basics of a firm. Capital expenditure, dividend yields, trading margins and balance sheet reports can all shed light on a firm's prospects. As you're putting hard-earned cash into the positions, checking over the core business metrics is strongly recommended.
2. FIND A BROKER
As mentioned earlier, but worth repeating, is the fact that the most important filter to consider when choosing a broker is ensuring it is regulated by a highly regarded authority. The terms of the broker's licence will differ slightly from country to country but will include a range of client care protocols.
Regulated brokers will invariably have to hold enough cash to be viable, ensure client funds are held in segregated accounts and be subject to independent audits. These rubber stamps are time-consuming and expensive, so any broker that goes through with them is in it for the long haul.
This shortlist of brokers is an excellent place to start your search. Then it's a case of finding the best platform for your purposes.
Many of the platforms' features are generic, but there are some subtle and unsubtle differences. Some brokers specialise in offering a wide range of markets to trade, whereas others focus on providing research.
Most of the decision-making will ultimately be influenced by personal preference but trying out a demo account is recommended. They offer a risk-free way to try out a broker's functionality and get to grips with the mechanics of the investment process.
3. OPEN & FUND AN ACCOUNT
Whether upgrading from a demo account or setting up a live account from scratch, the pathway to putting on a trade is the same. Regulated brokers will require you to share personal details so they can make sure the account is accessible by you and only you.
There are also some questions relating to investment objectives and your personal experience of investing. There aren't any right and wrong answers; the information goes towards the broker complying with its Know Your Client rules.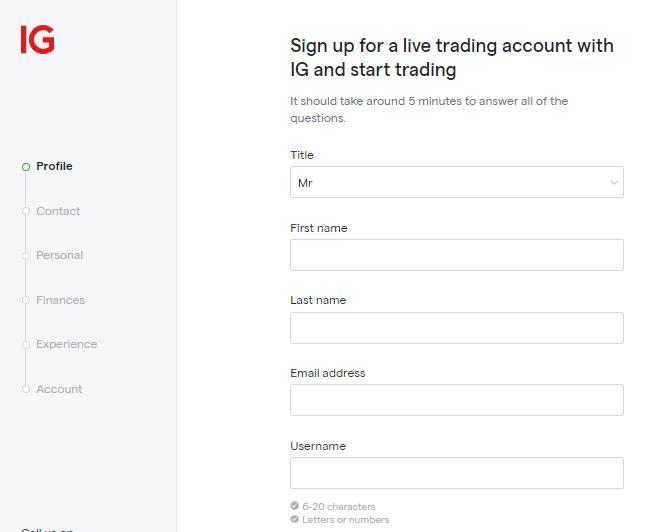 Most brokers offer an impressive range of payment options. Some are faster than others, and some involve admin fees. It's worth checking the T&Cs if you want to avoid giving money away unnecessarily.
One neat feature of regulated brokers is that they have to comply with anti-money laundering laws. These state that any cash paid into a brokerage account can only be returned to the original source account.
While AML laws were initially introduced to crack down on international crime, it provides an added layer of security for everyday users. There's no way for a regulated broker to wire funds to any account other than the one you used in the first place.
4. SET ORDER TYPES
Putting on a trade is as simple as entering the amount you want to buy into the data field on the platform. There are other order types to consider, which help traders manage risk. These include Stop Losses, Take Profits and Limit Orders.
These additional orders allow you to input instructions into the system to trade automatically if price reaches a certain level. They can help you cut losses on bad positions, take profits on good ones, and optimise your entry point into positions. The fact that they do it automatically means you don't have to watch the market 24/7.
5. SELECT AND BUY FAIRTRADE SHARES
Once everything is in place, buying Fairtrade shares is as easy as clicking or tapping 'buy.' At that point, some of the cash you deposited into your brokerage account will be converted into a stock position. As the market price of the Fairtrade stock fluctuates, so will the value of your holding.
Before putting the position to one side, it's worth double-checking that the trade details match what you intended. 'Fat finger' errors do occur, and even experienced traders make a habit of checking trade details immediately after trade execution. Any errors are best rectified immediately before the market price moves too far.
The Portfolio section of the site is where you can check your holding. It's also where you'll be able to follow the P&L (profit and loss) on the trade and where you'll head when the time comes to sell. At that point, just click on the position and follow the instructions to close the transaction. The equity holding will then be converted back to cash, and any trading profits or losses crystalised.
Final Thoughts
If you are ready to add some fairtrade stocks to your portfolio, you'll benefit from finding a regulated broker with low fees and a user-friendly platform. Locating one can be a daunting task, which is why we've compiled a list of trusted brokers that tick all of the boxes to help you get started.
There are many things to factor in when you start your trading 'journey.' Whether you're looking to invest in initiatives that match your personal objectives or are looking to profit from the increased interest in Fairtrade stocks, the basic principles are the same.
Choosing a trusted and regulated broker is crucial. From then on, it's a case of using your skills to allocate capital to the companies from which you will get the best returns. Whether you measure your returns in terms of capital gains or in improving the lives of others, choosing the right broker is the first step in that process.
People Who Read This Also Viewed: