Key points:
TomCo Energy shares rallied 6.11% higher on MoU with Vivakor.
The deal allows Greenfield Energy to supply oil sands to Vivakor.
TomCo has the option of acquiring the Tar Sands Holdings II site.
The TomCo Energy Plc (LON: TOM) share price rallied 6.11% after revealing that its subsidiary Greenfield Energy had signed a new lease agreement with Vivakor Inc to develop an oil sands processing plant on the Tar Sands Holdings II (TSHII) LLC site in Utah.

Vivakor entered into a five-year lease agreement will Greenfield to lease at least three acres of land on the TSHII site to construct the oil sands processing plant.
The agreements also cover the supply of oil sands by TSHII to Vivakor, for which Greenfield Energy will be paid $3 per ton of oil sands processed by Vivakor.
Vivakor has already paid $30,000 for the future supply of oil sands while signing the Memorandum of understanding with Greenfield Energy, covering the supply of 10,000 tons of oil sands.
Tomco Energy reiterated the fact that it owns a 10% interest in TSHII and has the option to acquire the remaining 90% upon meeting certain financial milestones at its sole discretion.
Vivakor intends to upgrade the oil sands processing facility already on the site and plans to produce at least 1,000 barrels of oil daily or the equivalent amount in tons of asphalt cement.
TSHII will supply up to 2,000 tons of oil sands daily to Vivakor based on the latter's requirements. In addition, the MoU between the two companies also covers the supply of professional services such as oil upscaling, sand treatment and other engineering services.
Greenfield will also be entitled to 50% of the revenues generated by Vivakor from the sales of any post-processed sand materials sold via offtake agreements signed by Greenfield. The agreements have a binding five-year exclusivity period.
Tomco Energy also issued an update regarding the drilling permissions granted to the firm by the Utah Division of Oil, Gas and Mining to drill three wells at TSHII. The firm has drilled two wells known as AC1 and AC6, where it did not encounter any water.
Investors cheered today's announcements, but the rally could have been much bigger but was not. The company also issued an update regarding the 8.58 million warrants issued to Turner Pope Investments (TPI) Ltd in December 2019.
TomCo shares are trading flat for the year, and shareholders are hoping that they will rally higher in the coming weeks.
*This is not investment advice. Always do your due diligence before making investment decisions.
TomCo Energy share price.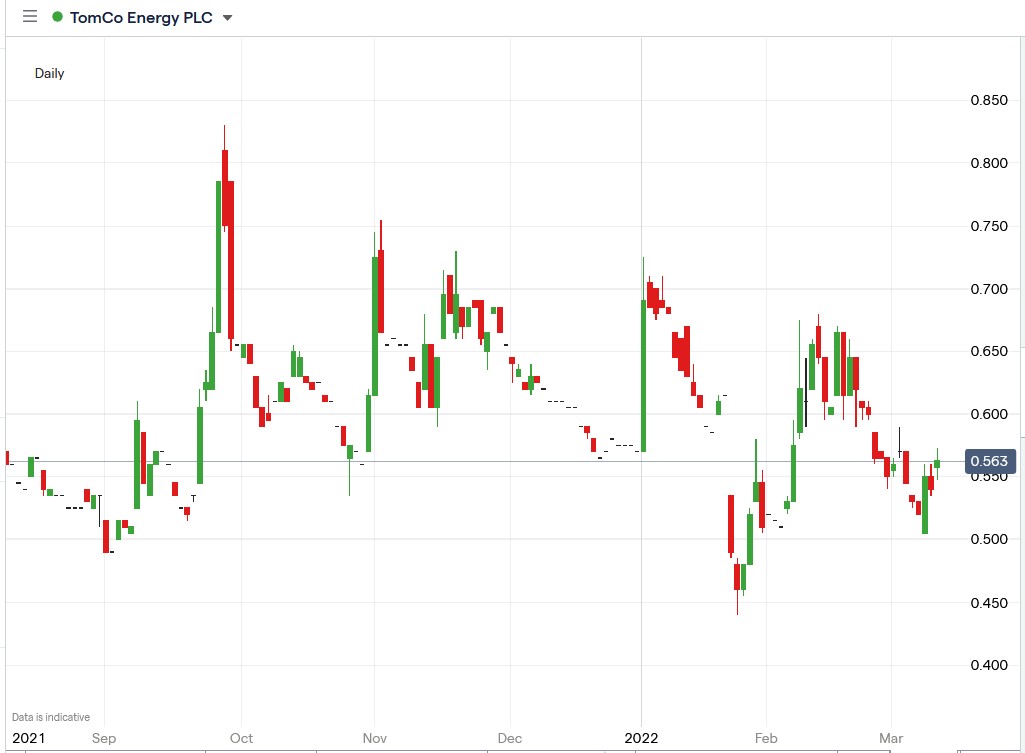 TomCo Energy's share price rallied 6.11% to trade at 0.573p, rising from Wednesday's closing price of 0.540p.