Key points:
Boohoo shares surged 20.9% after its Q4 and FY22 results met estimates.
The fast-fashion retailer is still facing significant delivery delays globally.
Many are watching to see if BOO shares can break above the 100p level.
The Boohoo Group PLC (LON: BOO) share price surged 20.6% after the fast-fashion retailer released an update about its performance in its fiscal Q4 ended 28 February 2022 and its full-year results for its fiscal 2022 year.

The retailer revealed that its net sales for Q4 grew 7%, rising to 48% compared to two years ago. The firm's full-year sales grew 14%, with the two-year growth figure rising to 61%.
In my last article on Boohoo, I urged investors to hold on to their shares, stating that we could be close to getting a rally in the retailer's share price. Here's a quote from the piece:
"For those long term Boohoo shareholders, I would encourage them to hold on to their shares since the good times will come back as the shares rally once again. Such a rally could be closer than many think."
While I wouldn't go as far as to say the good times are back, it seems like we could be in for a rally up to the 100p level. However, only time will tell whether today's momentum will translate into a lasting rally.
Boohoo is still facing challenges with its international distribution triggered by long delivery times, which the company said would linger for the first half of its 2023 fiscal year.
The fashion retailer also said that it expects the high return rates experienced in Q4 fiscal 2022 to continue in H1 fiscal 2023 due to its broad product mix.
The company said that it expects to make a pre-tax profit of £125 million for the just-ended fiscal year, in line with the guidance issued in December 2022, also meeting analysts' consensus estimates.
John Lyttle, Boohoo's Group CEO, commented: "The Group has delivered strong growth over the last two years, which has translated into significant market share gains. We are confident that pandemic-related headwinds are short-term in their nature, and our focus is to ensure the business is well-positioned for growth as these headwinds ease."
At the moment, Boohoo shareholders should celebrate today's rally as they wait to see if the rally shall extend to the next resistance zone and break above it.
*This is not investment advice. Always do your due diligence before making investment decisions.
Boohoo share price.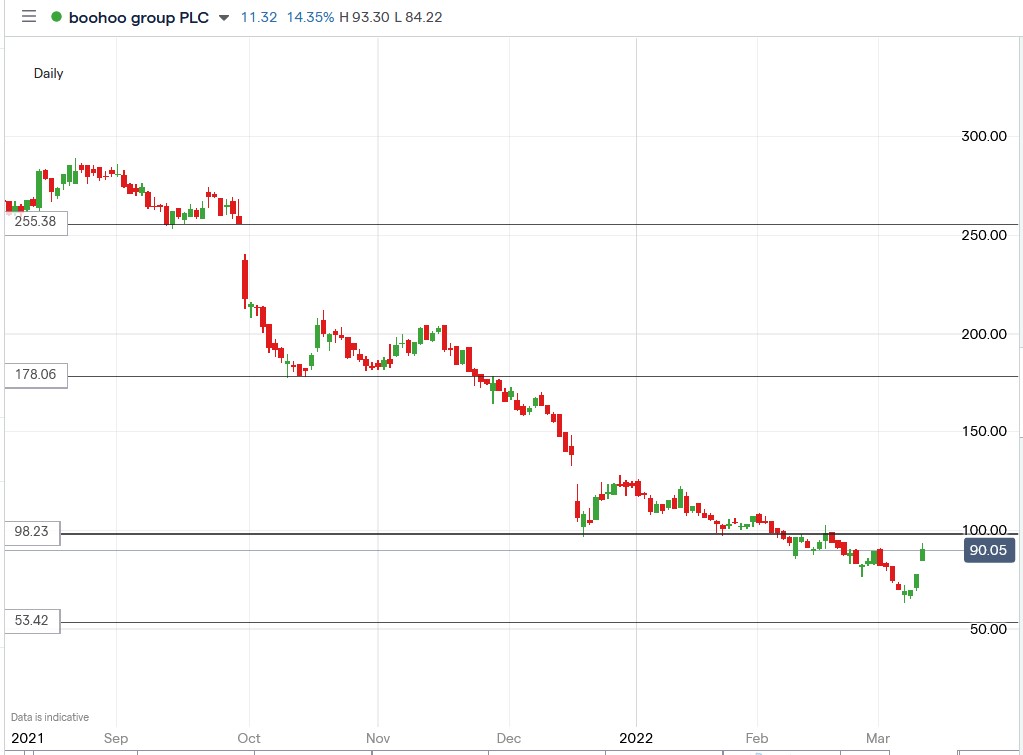 Boohoo shares surged 20.87% to trade at 93.62p, rising from Wednesday's closing price of 77.45p.