Key points:
Tonix Pharma shares soared 58.2% after being granted orphan drug designation.
The biotech company is developing a treatment for Prader-Willi syndrome in adults.
The treatments have significant potential given Tonix's exclusive rights to the drug.
The Tonix Pharmaceuticals Holding Corp (NASDAQ: TNXP) stock price soared 58.2% after the US Food and Drug Administration (FDA) granted it orphan drug designation for its TNX-2900 drug as a treatment for Prader-Willi syndrome.

The designation was granted yesterday, and investors cheered the significant milestone given today's impressive rally in Tonix Pharma stock.
Seth Lederman, M.D., Tonix Pharmaceuticals CEO, said: "Orphan-Drug Designation by the FDA is an important milestone and further validates our efforts to investigate the utility of TNX-2900 for Prader-Willi syndrome. It underscores the urgent, unmet medical need for patients diagnosed with this disease and will benefit us as we continue to advance our program."
Tonix Pharma announced a new research partnership with Inserm to investigate the impact of oxytocin in genetically engineered mouse models of Prader-Willi syndrome. This rare genetic syndrome causes pathological eating disorders.
Prader-Willi causes hyperphagia in adults, which is pathological overeating, leading to obesity and other weight-related complications with significant mortality rates. In addition, the syndrome causes a suckling deficiency in newborns and can be treated using oxytocin.
The biotech company is developing a treatment for Prader-Willi in adults based on oxytocin codenames TNX-2900.
The company is also developing another drug candidate codenamed TNX-1900* to treat migraines in patients with chronic migraines. The drug will enter phase II clinical trials in H2 2022.
Investors have noticed the significant potential in the two drug candidates being developed by Tonix Pharma, evidenced by today's share price rally. However, it remains to be seen whether the rally shall be sustained over time.
Tonix Pharma licensed the technology for treating Prader-Willi syndrome from Inserm, Centre Hospitalier Universitaire of Toulouse and Aix Marseille Universite in 2021. The technology patents give the co-licensees exclusive access to the EU and the US technology up to 2031.
The firms could extend the exclusivity period via Patent Term Extension in the US and a Supplemental Protection Certificate in Europe.
The phase II study will analyse how oxytocin normalises suckling in newborns by replicating the same behavior in infant mice. In addition, the study will influence the next steps taken by the company in developing a treatment for hyperphagia in adults.
*This is not investment advice. Always do your due diligence before making investment decisions.
Tonix Pharma share price.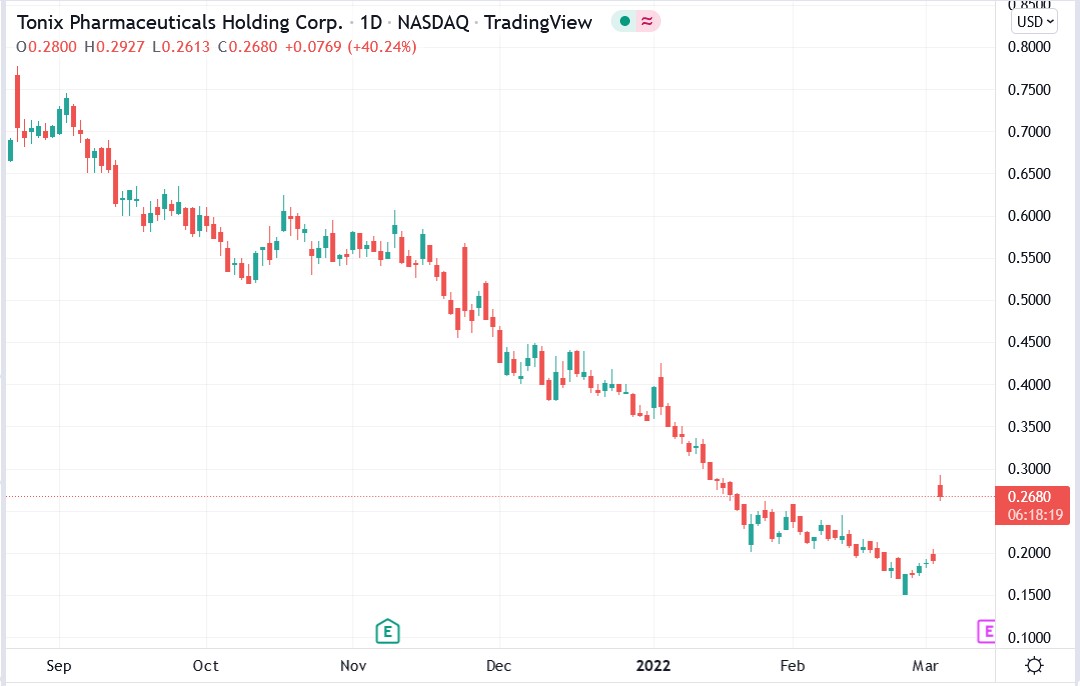 Tonix Pharma shares soared 58.18% to trade at $0.3023, rising from Wednesday's closing price of $0.1911.