Key points:
VeChain has fallen 38.53% in one month but could finally rally higher.
The VET token is trading at a crucial support level that could fuel a rally.
Finally, VeChain has multiple real-world use cases that make it attractive.
The Vechain crypto price has fallen 38.53% in the last month erasing all the gains made by the cryptocurrency in March. However, the trend might change since the Vechain price is now trading at the same support level that triggered the March rally.

As short-term traders, we look to capitalise on situations where an asset is trading at a supply or demand zones, also known as resistance and support zones. These zones offer the best risk-reward setups for investors and traders alike.
For those who might not be familiar with VeChain, it is a blockchain platform whose goal is to help companies manage their supply chains by tracking the movement of goods in real-time. The project was founded by Sunny Lu, who previously worked for Louis Vuitton China, where he built massive IT and cybersecurity systems for the global brand.
Therefore, investors can be assured that the team behind VeChain is qualified to build out the Vechian platform and ensure that it is solid. In addition, the platform has already signed contracts with some leading global brands such as Walmart China, PwC and BMW.
VeChain has the potential to be widely accepted in China and the broader Asia region. However, the project has struggled, given the Chinese government's distrust of cryptocurrencies.
The project has struggled to attract buying momentum even after Binance listed its token VET among nine currencies in its Bridge 2.0 solution.
VET was added to Bridge solution on 28 April 2022, yet the token kept falling. It seems like investors are not keen to buy VET now. However, the token's decline could also be attributed to the broader decline in the crypto industry as Bitcoin fell, dragging the sector lower.
Another crucial factor that could act as a tailwind behind VeChain's next rally is its partnership with Alchemy Pay which will see VET accepted in over 2 million stores globally. In addition, the token has many real-world applications that could fuel a rally higher.
Therefore, given the impressive risk-reward potential, I would buy VETUSD(T) at current prices.
*This is not investment advice. Always do your due diligence before making investment decisions.
VeChain crypto price.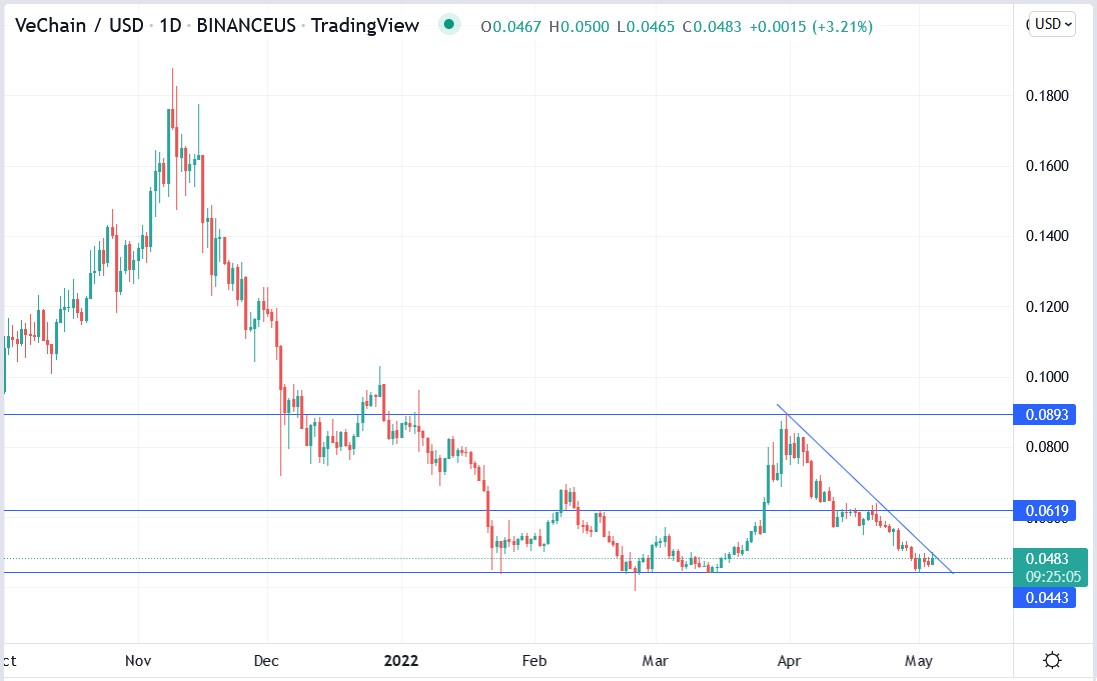 The Vechain price has fallen by 38.53% in the past month but could be ready to start a new uptrend.