Key points:
Despite higher revenues, Verizon's (VZ) stock price fell on Q3 results.
The telecommunications company added new broadband customers.
However, it lost mobile customers due to higher prices.
The Verizon Communications Inc. (NYSE: VZ) stock price fell 5.03% after releasing its Q3 results showing that its earnings per share fell to $1.17 compared to $1.55 in Q3 2021. In addition, the company reported its revenues surged 4% to $34.2 billion compared to Q3 2021.

However, the telecommunications firm's net income shrunk by 23.3% to $5.0 billion in Q3, which triggered the decline in its share price. The company's wireless service revenue surged 10% to $18.8 billion compared to last year.
Also read: The Best Tech Stocks To Buy Right Now.
Some of the report's highlights include Verizon's addition of 377,000 new broadband connections, including 342,000 fixed wireless net additions. The company's net broadband additions were 109,000 higher than Q2 2022 figures, with the wireless additions being 86,000 more than those in Q2.
However, the company lost 189,000 wireless retail postpaid phone customers primarily due to the higher prices implemented during Q3 to match the higher operating costs created by the record-high inflation in the country.
Hans Vestberg, Verizon's Chairman and CEO, said: "The pricing actions we took earlier this year, as well as our new cost savings program, show that we are being deliberate and strategic in our decisions to strengthen our business. At the same time, we are focused on executing our 5G strategy, as we are covering every major market and accelerating our C-Band network build. We are on track to reach 200 million POPs within first-quarter 2023."
The company's pretax profits were $12.2 billion before falling to $5.0 billion after taxes. The wireless carrier has generated $28.2 billion in free cash flow this year versus the $31.2 billion generated in a similar period last year.
Verizon's unsecured debt stood at $131.4 billion, having decreased by $1.1 billion in Q3, with its net unsecured debt standing at $129.3 billion. At this rate, the company will fully repay its debt within 100 quarters.
Investors looking to buy Verizon shares should keep in mind its massive debt pile, which is still worrying despite not being as bad as the debt held by companies such As Cineworld and Carnival Corp, whose debt exceeds their market valuation.
*This is not investment advice.
Verizon stock price.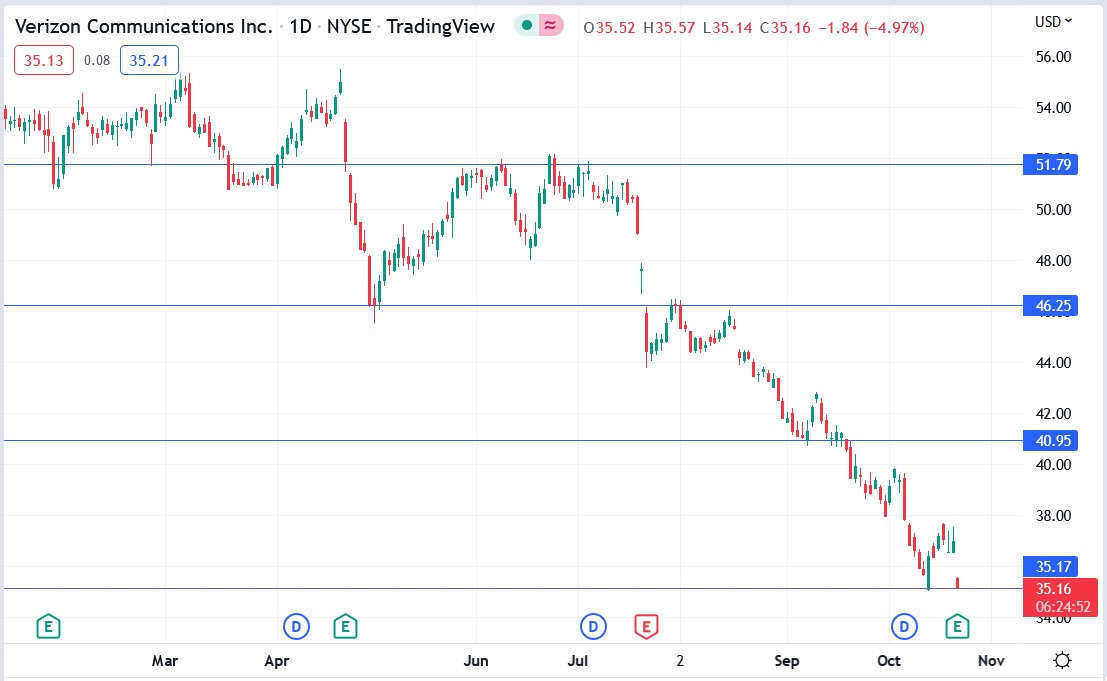 The Verizon stock price edged 5.03% lower to trade at $35.14, falling from Thursday's closing price of $37.00.