Shares of Versarien PLC (LON: VRS) have soared 21.6% over the past two days after its subsidiary Total Carbide won the Employer Recognition Scheme Silver Award 2021 from the UK military.
The company was recognised for playing a crucial role in providing employment opportunities for ex-armed forces personnel and supporting military staff who are reservists and supporting veterans through fundraising activities.
Total Carbide supplies extremely hard-wearing tungsten carbide parts used as parts within space rockets and hospital equipment, among other applications.

Versarien's CEO, Neill Ricketts, recently unveiled the company's new headquarters in the Forest of Dean, leased a 14,000 sqft facility.
The company intends to house its 3D printing business, graphene-enhanced concrete production, and an expanded testing laboratory at the site. It relocates from its previous HQ in Cheltenham, Gloucestershire.
Investors reacted positively to Total Carbide's win triggering the 2-day, which happened at a crucial support level shown in the chart below.
Versarien shares are likely to face resistance at the 40p level, and investors who profited from the latest move should consider banking some of their profits.
Meanwhile, traders who missed the move could get another trade opportunity once the shares fall back after the current rally is exhausted.
Versarien is well-positioned to profit from the surging global demand for graphene-related products and has signed multiple collaboration agreements with leading industry players that could generate significant revenues in future.
*This is not investment advice.
Versarien share price.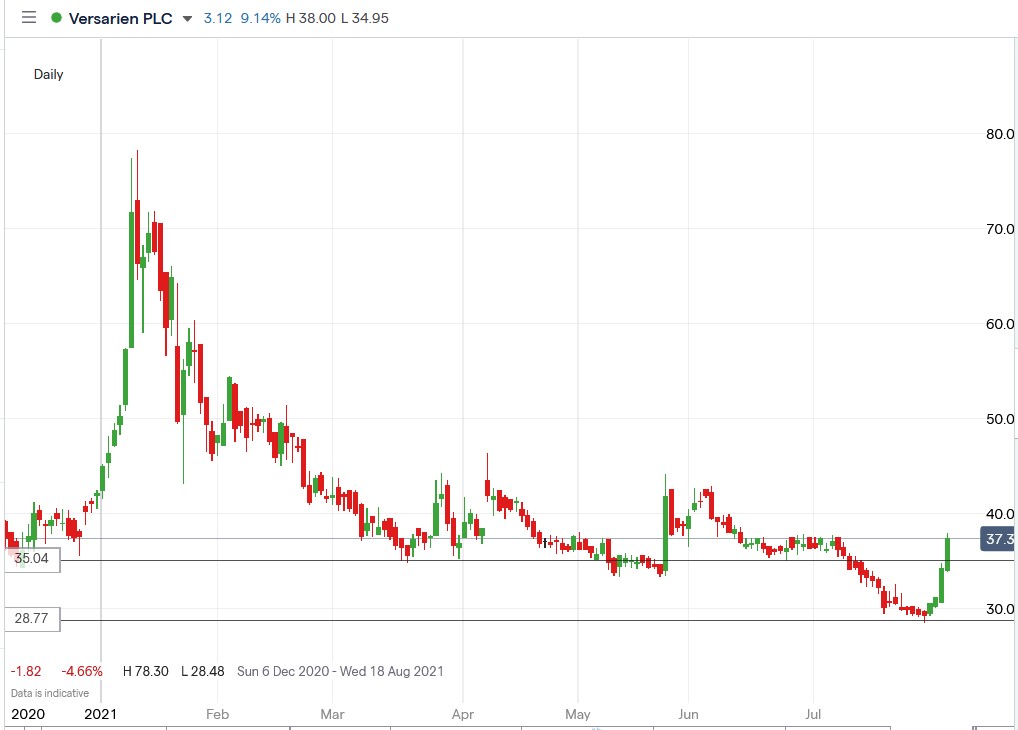 Versarien shares have soared 21.63% over the past two days from Monday's opening price of 31.20p to today's high of 37.95p.