Key points:
Vistry shares surged 8.26% on upbeat FY 2021 results and FY 2022 guidance.
The homebuilder has experienced strong demand for its homes and partnerships.
In addition, investors cheered news that the housing market was booming in 2022.
The Vistry Group PLC (LON: VTY) share price surged 8.26% after the British homebuilder reported better-than-expected results for and with upbeat forecasts for 2022.

Investors were pleased to hear that 2022 had gotten off to a strong start for the home construction company allaying investor fears that demand for news homes would decline this year after last year's impressive performance.
However, Vistry told investors that demand for its homes had been high since the year started, and forward sales were strong.
The company's full-year pre-tax profits were £346 million compared to last year's £143.9 million after the total number of homes built rose to 6,551 units versus 2020s 4,652 units.
Vistry's gross margins surged 4.70% to 22.3% against last year's 167.6% margins, a welcome relief for investors.
The homebuilder had net cash of £234.5 million at the end of 2021, marking a significant improvement to last year's £37.9 million, beating its expectations.
The company increased its return on capital employed to 25.5% from the 14.5% recorded in 2020, with the return on capital generated from partnerships being above the 40% medium-term target.
Vistry's partnerships generated significantly more revenue, up 66% in 2021, with operating margins from the partnerships rising to 9.2% from the 6.7% recorded in 2020.
The homebuilder also revealed that the year had started strongly as the private sales rates rose 20% to 0.79 from the 0.66 recorded in 2020. The rate has risen to 0.92 in the past five weeks, driven by the high demand for new homes despite price hikes.
The firm reassured investors that all its building sites are well equipped with adequate workers despite rising labour costs driven by the UK's high inflation levels.
Vistry has forward sales worth £2,155 million on 25 February 2022, representing a 23% increase compared to the £1,747 million forward sales recorded by 1 March 2021.
Investors were highly pleased with Vistry's results, as evidenced by today's rally in its share price.
Greg Fitzgerald, Vistry's CEO, commented: "Housebuilding and Partnerships both made excellent progress throughout the year, with strong demand across all areas of the business. This was consistent throughout the year and across the country, reflecting the huge efforts of all our people for which I am very grateful.
"Notwithstanding the shocking events in Europe and the attendant political uncertainties, 2022 has got off to an incredibly positive start, and the Group is in great shape to deliver on its strategy of maximising the strengths and opportunities from the valuable combination of our Housebuilding and Partnerships businesses, and on achieving sector-leading returns in the medium term."
Vistry shares were trading at 1021p at writing and could be headed higher in the future if the positive sentiment remains.
*This is not investment advice. Always do your due diligence before making investment decisions.
Vistry share price.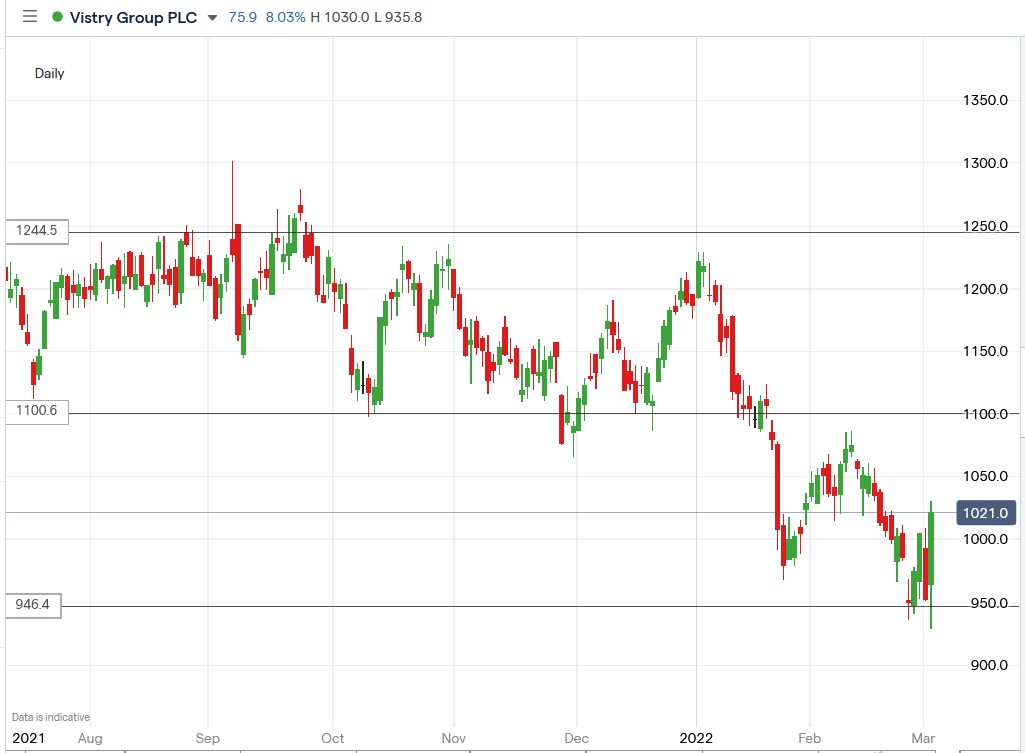 Vistry share price surged 8.26% to trade at 1030.5p, rising from Tuesday's closing price of 951.9p.