Key points:
Vyant Bio's stock price surged by 30.4% on the OrganoTherapeutics deal.
Investors cheered the move aimed at developing new Parkinson's disease drugs.
Many investors hope that the deal will yield positive results for PD patients.
The Vyant Bio Inc (NASDAQ: VYNT) stock price surged 30.4% after entering into a collaboration deal with OrganoTherapeutics to discover and develop innovative drugs that can treat Parkinson's' disease.

The two companies will utilise OrganoTherapeutics proprietary patient-specific organoids that recapitulate Parkinson's Disease (PD) pathology combined with Vyant Bio's iPSC expertise and its AnalytiXTM machine learning technology to discover drugs can treat Parkinson's disease.
Investors cheered the agreement that saw Vyant Bio's stock price rally, given the significant impact that Parkinson's disease has on the affected patients.
Vyant Bio and OrganoTherapeutcis will focus on identifying potential drug candidates that could rescue the PD phenotype by developing disease-linked, clinically- translatable assays and biomarkers through multiple molecular, biochemical, and cellular methods.
The global market for Parkinson's disease drugs was estimated to be worth $4.5 billion in 2018, with the figure expected to rise to $8.38 billion by 2026.
Vyant Bion will benefit from the Parkinson's Disease-specific midbrain organoids developed by OrganoTherapuetics from multiple PD patients, allowing scientists to more fully understand drug response based on genetic differences in patients.
Jay Roberts, Vyant Bio's CEO, said: "We know that therapies for diseases that affect the CNS are difficult to discover: it requires meaningful innovation and exceptional scientific expertise to tackle. This collaboration is another in a series of strategic moves to focus our efforts while accelerating our position in drug discovery through the use of technologies that allow insight into human biology early in the discovery of CNS drugs."
Robert Fremeau, PhD, Vyant Bio's Chief Scientific Officer, stated: "This collaboration with OrganoTherapeutics is another example of Vyant Bio's commitment to accelerate the discovery and development of transformative therapies for patients living with severe CNS diseases. We are pleased to announce this collaboration with OrganoTherapeutics as they bring deep knowledge and innovative approaches to Parkinson's Disease-based drug discovery. Together, we will expand our human-first platform in neurodevelopmental disorders such as Rett Syndrome and CDKL5 deficiency disorder into Parkinson's Disease and ultimately other neurodegenerative disorders."
Jens Schwamborn, PhD, the Co-Founder and CEO of OrganoTherapeutics, confirmed: "The specific genetic and environmental causes in most Parkinson's patients are unknown. By focusing initially on disease-linked genetic mutations, we plan to identify common causes and potential therapeutic approaches that can be expanded into the much larger patient population. We look forward to integrating our approaches with Vyant Bio."
Vyant Bio shares are trading flat for the year, and many investors hope that today's rally will trigger a sustained rally.
*This is not investment advice. Always do your due diligence before making investment decisions.
Vyant Bio stock price.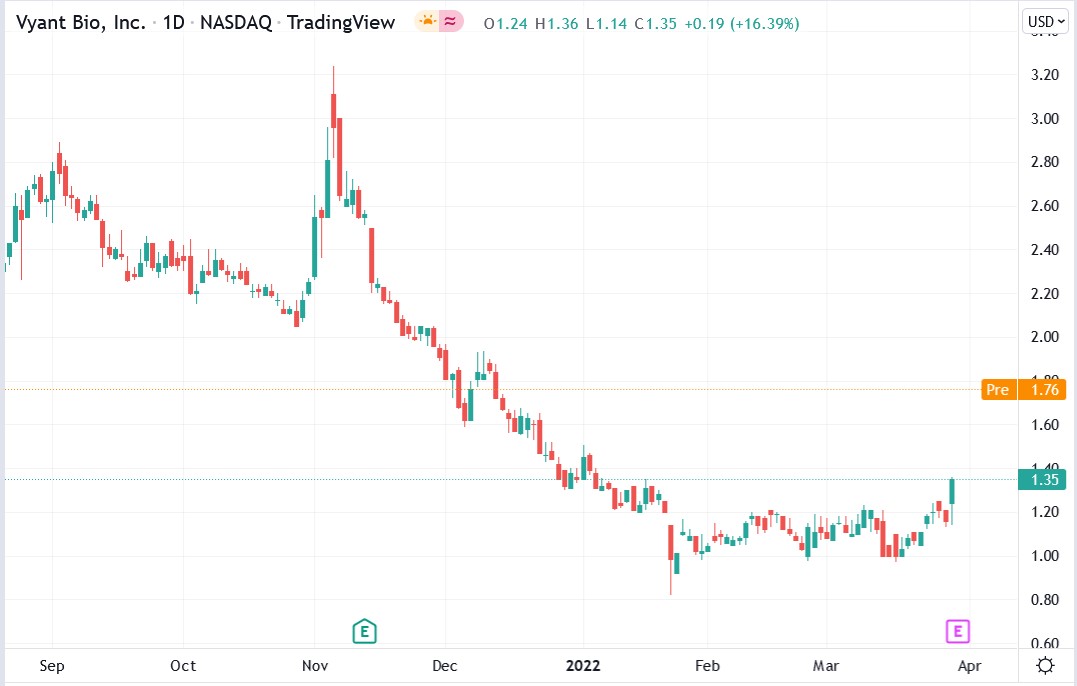 The Vyant Bio stock price surged 30.37% to trade at $1.76, rising from Tuesday's closing price of $1.35.