Key points:
Carnival shares rose 2.95% despite raising $2 billion in new debt.
The cruise ship company's total debt now exceeds $35 billion.
So, should you buy CCL shares? Read on to find out.
The Carnival plc (LON: CCL) share price rose 2.95% after announcing the upsizing of its 10.375% Senior Priority Notes due 2028 from the initial $1.25 billion to $2.03 billion due to investor demand. The move was well-received by investors as it indicates that institutional investors still believe in the viability of Carnival's business over the next few years.

The Senior Priority Notes are due in 2028, six years from now, and will start paying interest semi-annually on May 1 and November 1 of each year starting on May 1, 2023. The offer is open only to qualified institutional investors, generally regarded as the "smart money" due to their deeper understanding of the markets.
Also read: The Best Travel Stocks To Buy Right Now.
Additionally, the Senior Priority Notes are unsecured, indicating the company's confidence in its ability to repay the notes. The notes will not be registered under the Securities Act or state securities laws. Investors cheered the news due to the favourable terms that the company got from investors when pricing the notes.
Carnival has a significant debt burden of almost $35 billion, much of it accumulated during the COVID-19 lockdown period when it had to halt cruises while still paying its employees to maintain its ships. The funds raised from the latest debt issue will be used to repay the initial amounts drawn down by Carnival under the revolving credit facility.
The cruise ship operator said it still has access to the revolving credit facility that can be used to repay future principal debt payments and for general working capital purposes. Investor confidence in the company remains high despite its high indebtedness.
So, would I buy Carnival shares? Unfortunately, the short answer is no. While demand for the company's cruises is relatively high, it faces multiple challenges brought about by COVID-19-related restrictions on passenger capacity and limiting access to some ports.
Furthermore, the company's massive debt pile means it will always struggle to repay the debts, given that its current market capitalization of $10.04 billion is less than 3X  its debt burden of $35 billion.
*This is not investment advice.
Carnival share price.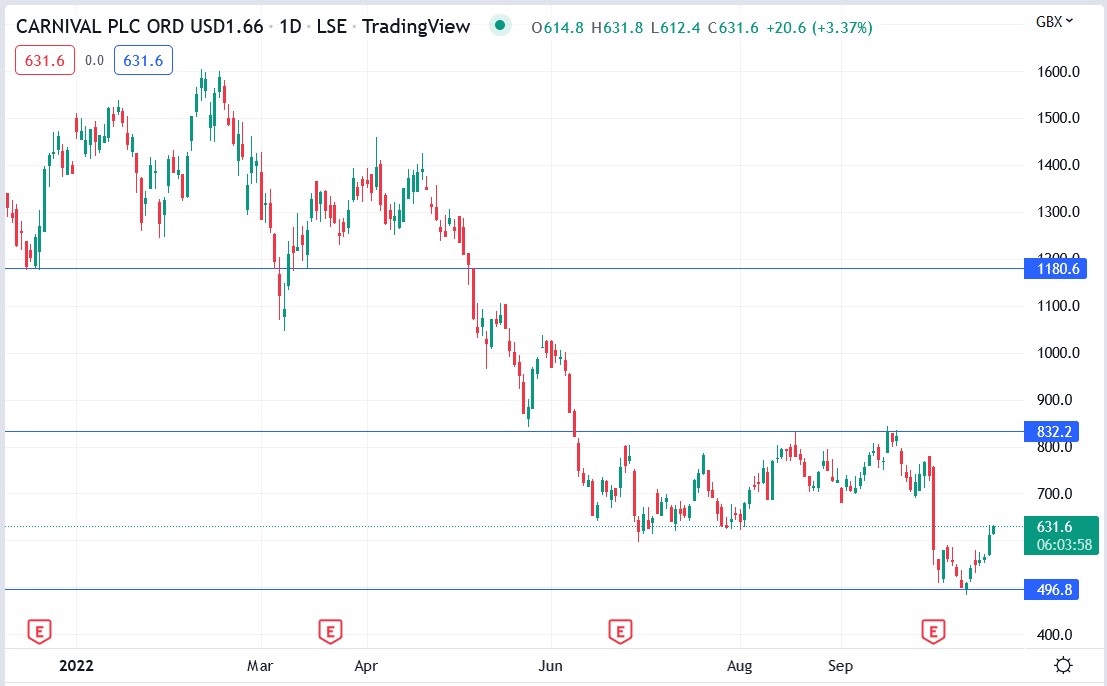 The Carnival share price rose 2.95% to trade at 629.0p, rising from Tuesday's closing price of 611.0p.