Key points:
Open Orphan shares spiked higher then fell despite a £7.3m contract.
Investor sentiment towards biotech shares fueled today's price action.
However, the biotech sector is currently out of favour with investors.
The Open Orphan PLC (LON: ORPH) share price spiked 9.12% higher and then fell back despite the company revealing that it had won a £7.3 million contract with a leading biotech company to conduct an influenza human challenge study.

One of the primary reasons behind the lack of bullish momentum could be because the study is expected to start next year, with the revenues set to be recognised during the 2023 and 2024 financial years.
Another crucial factor behind the recent selloff in medium-sized to small biotech stocks is the negative investor sentiment towards the sector. This year, the biotech sector is one of the worst-hit sectors as investors allocate their money to more defensive stocks.
Unfortunately for Open Orphan investors, the negative investor sentiment is unlikely to change until the US Federal Reserve and other leading central banks change their current hawkish policies.
The number of biotech companies trading at valuations lower than their cash balances is rising as investors ditch biotech shares en masse regardless of their prospects and cash balances.
Today's contact win was secured by Open Orphan's subsidiary hVIVO and will be conducted as a human challenge trial on healthy volunteers. The client wants to test its antiviral product using the hVIVO Influenza Human Challenge Study Model.
Investors cheered the move briefly before the bears took over and drove ORPH shares lower. The contract win shows that Open Orphan has positioned itself as the go-to contract research organisation (CRO) that runs human challenge trials and will likely attract more clients.
Yamin 'Mo' Khan, Open Orphan's CEO, said: "I am pleased to sign a contract with this leading biotechnology company to test its antiviral product using the hVIVO Influenza Human Challenge Study Model. hVIVO has seen a steady increase in flu studies, a reflection of the shift in market sentiment following recent scrutiny of infectious disease data that has outlined the significant threat of flu and the potential of human challenge studies to the advancement of drug development candidates."
Open Orphan remains one of the best biotech companies out there, and its current prices are attractive since they are trading just above support.
*This is not investment advice. Always do your due diligence before making investment decisions.
Open Orphan share price.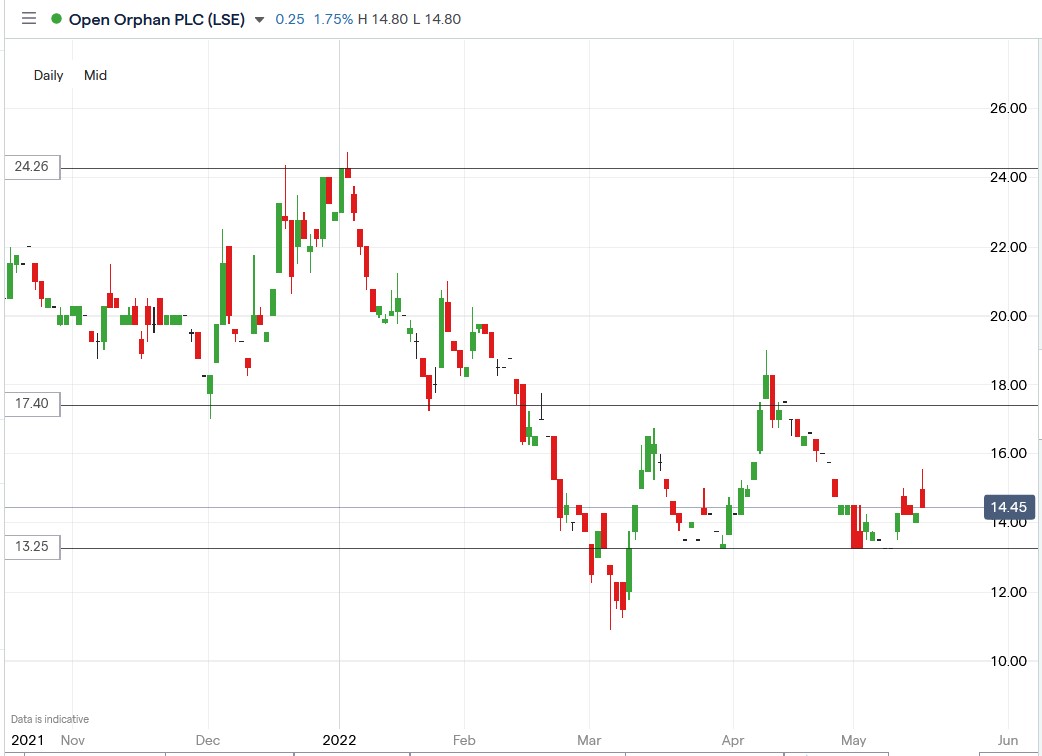 Open Orphan share price spiked 9.12% higher to trade at 15.55p, rising from Tuesday's closing price of 14.25p.