Key points:
Genedrive shares plunged 8.3% despite being included in NICE DAP.
The firm's CYP2C19 ID Kit was included in the latest NICE DAP program.
Investors muted reaction could be an excellent buying opportunity.
The Genedrive PLC (LON: GDR) share price plunged 8.3% despite announcing the inclusion of its CYP2C19 genotype test for Clopidogrel treatment in a new NICE Diagnostics Assessment Programme (DAP) by the UK's National Institute for Health and Clinical Excellence (NICE).

The company's CYP2C19 ID Kit, currently under development, was included in the assessment, which usually results in the issuance of new guidance by NICE. This is the second Genedrive genetic screening test included in the NICE assessment.
Also read: The Five Best Recession-Proof Stocks To Buy.
Investors muted reaction to the announcement may be driven by the fact that since the inclusion of the Genedrive® MT-RNR1 test in another DAP on 16 June 2022, nothing much has happened to the company's stock price, which has been trading sideways.
However, savvy investors are waiting to see the assessment's outcome, which could significantly boost Genedrive's share price, especially if the NICE guidelines favour Genedrive's genetic tests.
Genedrive's CYP2C19 genotype test is a new emergency Point of Care genetic screening test that can provide guidance on which patients will respond to Clopidogrel. Patients with gene variants that result in reduced or loss of function of CYP2C19 can be given alternative treatments.
The Genedrive® MT-RNR1 test is the world's first rapid point of care test to screen infants in an urgent care setting for a genetic variant that will cause life-long hearing loss when carriers of the variant are given certain antibiotics.
The approval of these two tests for use within the UK would unlock significant revenues for the company, as would their approval in other parts of the world, such as the United States and Europe.
Genedrive shares have fallen 61% this year and are trading at a bargain given the potential sales from the two tests. However, these tests are yet to be approved and may not be recommended by NICE. So while there is a risk in buying Genedrive shares now, the potential upside is quite tempting, especially for long-term investors in the healthcare and biotech sectors.
*This is not investment advice. Always do your due diligence before making investment decisions.
Genedrive share price.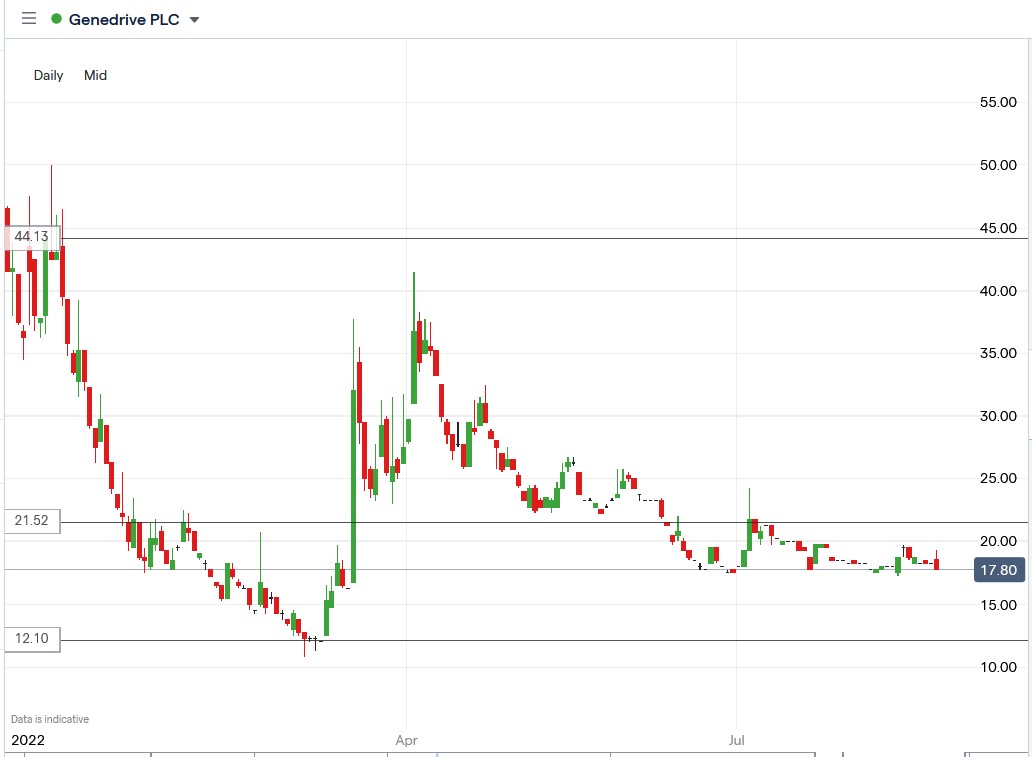 The Genedrive share price plunged 8.29% to trade at 17.70p, falling from today's high of 19.30p.