Key points:
The Kanabo share price surged 36.7% despite a lack of news.
Today's rally indicates renewed investor interest in the firm.
So, should you buy Kanabo shares? Read on to find out.
The Kanabo Group PLC (LON: KNB) share price surged 36.7% today despite a lack of announcements from the cannabis company, which specialises in a medical-grade unified ecosystem of cannabis products that users can consume through vapourisation.

The company is well-known for its VapePod® medically certified cannabis delivery system, which can be used by patients suffering from various diseases. However, the lack of any news triggers behind Kanabo's latest rally indicates that investors think the company is a buy.
Also read: 12 Best Shares To Buy As A Beginner.
In most cases, rallies similar to what we have seen with Kanabo shares today usually precede fundamental announcements by companies. However, today's rally saw Kanabo shares surge from critical support as buyers stepped in.
Therefore, investors should pay attention to Kanabo, which might release some real news in the coming days. Meanwhile, we could attribute the ally to renewed investor interest in cannabis stocks that have performed poorly this year.
Investors hope today's rally shall translate into a sustained rally in Kanabo shares marking a significant turning point in the company's share price action. One could also point out the recent arrests by police officers of people growing cannabis illegally in the UK and Spain.
Kanabo has a significant edge over other growers since its products are medically certified, allowing it to grow cannabis and hemp legally. As a result, such companies will continue benefitting from the rising demand for cannabis products.
As the police crackdown on illegal cannabis growers and farms, the market for legal cannabis products is set to keep expanding as cannabis users turn to legal cannabis products from regulated companies.
So, should you buy Kanabo shares? The shares look pretty attractive, and I would consider buying them, given that they just bounced off a crucial support level.
*This is not investment advice. Always do your due diligence before making investment decisions.
Kanabo share price.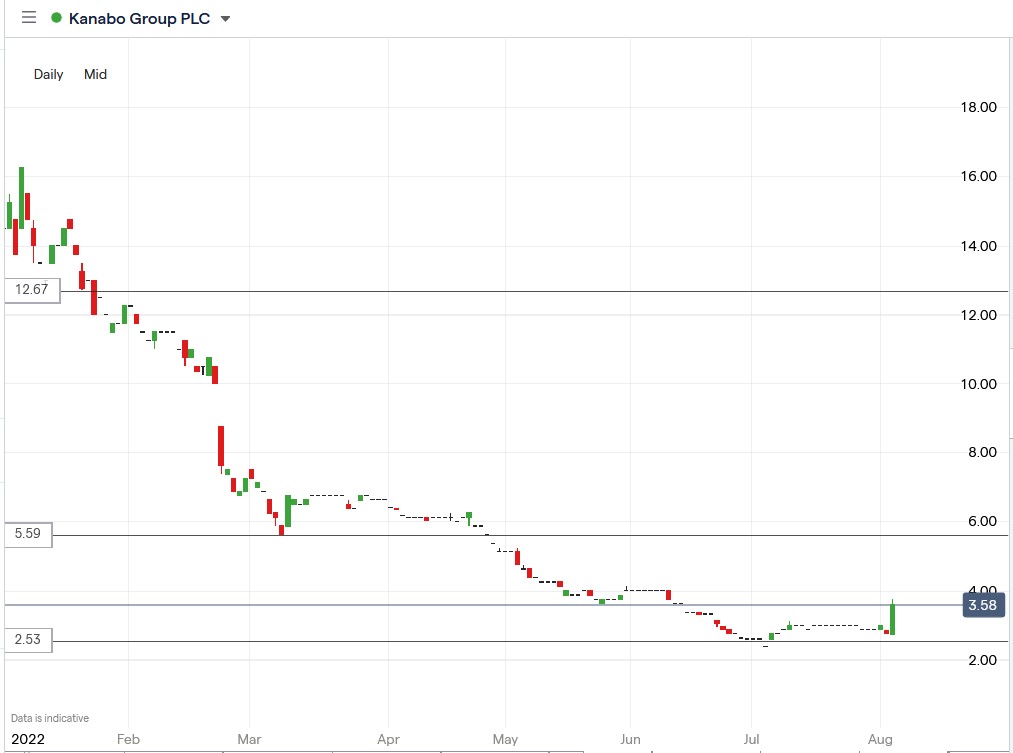 The Kanabo share price surged 36.73% to trade at 3.76p, rising from Tuesday's closing price of 2.75p.