Key points:
Royal Mail (RMG) shares rose 2.98% as the company rebranded today.
The company will now be known as International Distribution Systems.
However, Royal Mail's troubles with its employees are still brewing.
The Royal Mail PLC (LON: RMG) share price was up 2.98% after the mail and parcels delivery company rebranded to International Distribution Systems to shed its image and embrace a bright new future.

The parcels delivery firm announced its decision to rebrand on 20 July 2022 after releasing its Q1 2022 earnings results. The name change came into effect today, but it will not affect the current shareholding structure, with existing shareholders being instructed to keep their current share certificates since the firm will not be issuing new ones.
Also read: Five Best Shares For Beginners To Watch In 2022.
One of the main reasons behind the rebrand is a move by the company to reflect the structure of its two separate companies, Royal Mail and GLS. In addition, the move may allow it to distance itself from its image as a government entity, which it is not.
Royal Mail's switch to International Distribution Systems will make it more competitive on a global scale against other global parcel delivery companies such as DHL, a division of Deutsche Post, a German logistics company. In addition, the newly-rebranded company will now compete effectively with UPS and FedEx globally.
However, Royal Mail's rebranding does not resolve its problems with the Communication Workers Union (CWU), which plans multiple strikes throughout the festive season that could cost the company millions of pounds in lost revenues.
The planned strikes will also deny the company the much-need clean state to kickstart its operations as a new entity. In addition, the service disruptions will remind customers that the new company is still Royal Mail and has problems associated with its old name.
*This is not investment advice.
Royal Mail share price.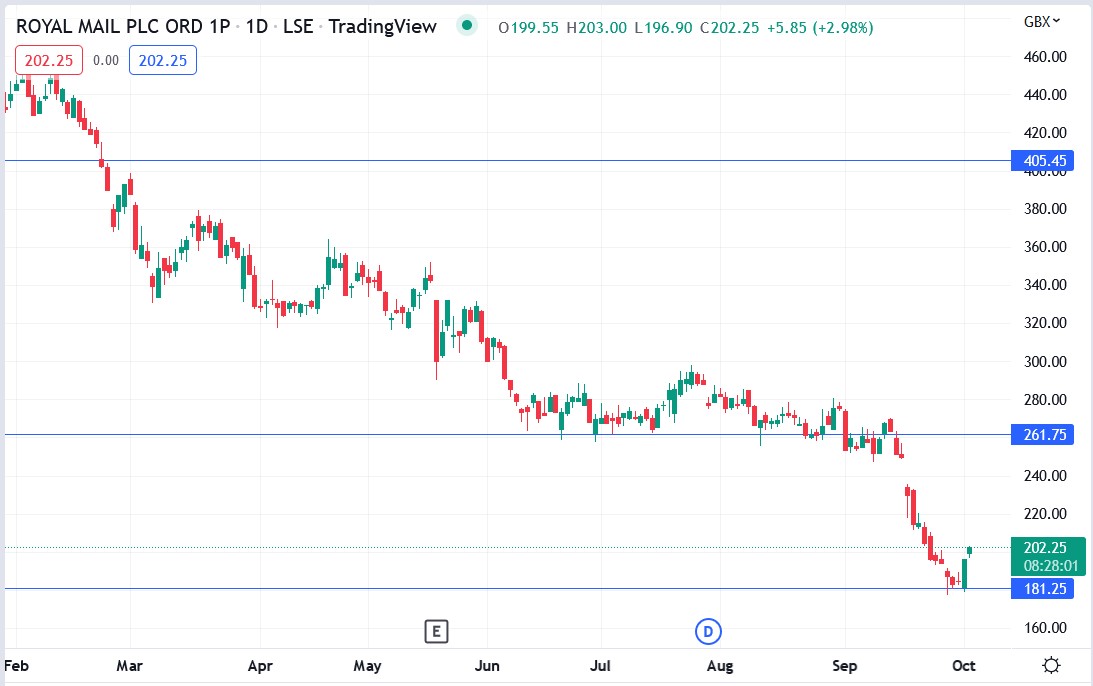 The Royal Mail share price edged 2.98% higher to trade at 202.25p, rising from Monday's closing price of 196.40p.