Key points:
Wizz Air shares barely moved after releasing its latest passenger data.
The budget airline ferried lesser passengers in January versus December.
However, the airline expects to become profitable during the summer.
The Wizz Air Holdings PLC (LON: WIZZ) share price barely moved after the budget airline revealed that the number of passengers it ferried in January 2022 was 9% lower than the December figures coming in at 2.4 million.

The airline attributed the low numbers to rising Omicron cases that saw many passengers cancel their flights.
However, today's figures represented a 318% improvement to the January 2021 figures. Investors were happy with the figures, given that Wiz Air shares did not fall after today's announcement.
Wizz Air also highlighted that it is one of the greenest airlines in the world based on its carbon dioxide emissions, with CO2 grams per passenger/km figures falling 24.4% to 59.9 compared to 79.2 in January 2021.
The airline launched its 'Wizz Air – Fly the Greenest' to highlight its leading position as one of the greenest airlines globally. The airline has the third youngest fleet of aeroplanes globally and the youngest fleet in Europe.
Wizz Air also unveiled a new car rental reward scheme with Green Motion, an online car rental company that specialises in hybrid cars, via a partnership with Rentalcars.com.
The airline's customers will receive a 10% cashback when renting a hybrid or electric car via rentalcars.com. Green Motions, which specialises in low carbon emissions car rental options, will provide the cars.
The low passenger numbers affected most UK airlines in January, with Ryanair also reporting lower passenger numbers. Ryanair carried 7 million passengers in January compared to 9.5 million in December.
However, analysts expect the airline industry to recover as the winter season ends and the summer season approaches.
Many are betting on governments lifting COVID-related restrictions as the world embraces a new normal where the virus no longer poses a significant health threat to countries.
Wizz Air shares are trading up 1.56% for the year, with the shares having fallen 11.16% in the past 12 months. So the airline's prospects are pretty promising as the year unfolds.
*This is not investment advice. Always do your due diligence before making investment decisions.
Wizz Air share price.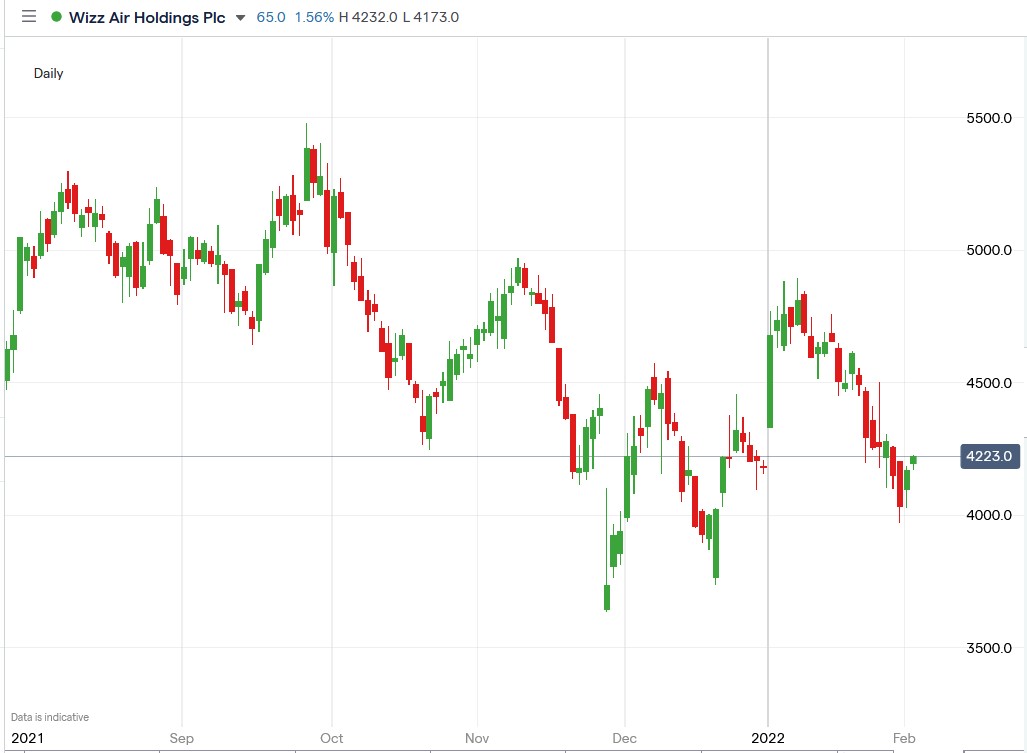 Wizz Air share price edged 2.19% higher to trade at 4249p, rising from Tuesday's closing price of 4169p.